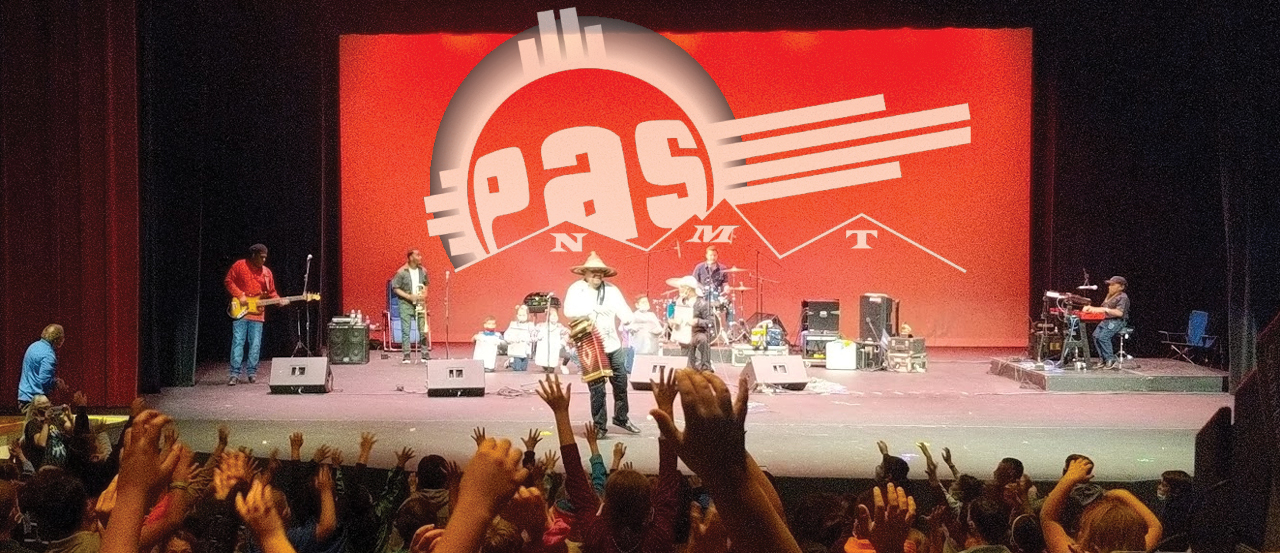 New Mexico Tech
Performing Arts Series
---
Time: 4:00 - 7:00pm
Tickets: Free
Event Location: Campus Drive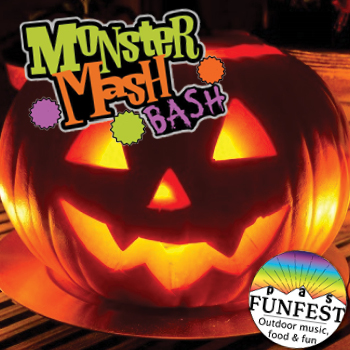 Celebrate Halloween Socorro-style with stress-free trunk or treating, live music, games, food vendors, rugby, spirits area, burning Mr. Gloom, and more at the second annual Monster Mash Bash! This PAS-initiate is an NMT and community wide collaboration with NMT's Residential Life and Recreation Departments, City of Socorro, lots of local organizations, businesses and individuals, on the New Mexico Tech Athletic Field and Campus Drive. The early eve begins at 5:00pm and continues until dark with plenty of activities for people of all ages and from all walks of life. Expect a sneak preview of Horror Channel, Socorro's original musical where nightmares become real life, which will be shown in full-length at Macey Center on November 4 and 5, and NM Tech's student band, Fundamental.
About the Artists
Horror Channel is a sung-through musical consisting of 15 original songs. As you can guess from the title, the songs are horror-themed and talk about the trials, tribulations, loves, losses and lives of such creatures as vampires, werewolves, aliens, zombies, monstrous doctors, and psycho killers. The premise is based on the main character wanting to unwind on a Friday night after a stressful week of work, and deciding to stay at home with her cats, drink some wine, and watch scary movies on the Horror Channel. As she dips in and out of sleep she dreams up characters and situations based on what she's hearing on TV. The characters she creates in her dreams are humorous, silly, creepy, and often irreverent, but always genuine and relatable, experiencing emotions we all have, even if we're not monsters. The musical styles range from pop and rock to folk and blues, with heart-wrenching ballads, up-tempo rockers, a waltz and even a little rap thrown in. "Horror Channel" will take you on a musical trip full of crazy characters, both good and maybe not so good, and leave you with a smile on your face and catchy tunes running through your head. Horror Channel was written and produced by Colleen Gino, local Socorro musician and visual artist.
THE BAND Ben Thomas, Lead Guitar; Kenny Aerts, Rhythm Guitar; Dylan Etscorn, Bass Guitar; Danny Moreno, Saxophone; Colleen Gino, Drums; Terri Sunflower, Percussion
THE CAST Julie Ford, Neil Haverstick, Robin Howard, Amy Kimball, John Leeper, Katie Norris, Ryan Norris, Enrique Rodriquez, Dave Thomas, Madison Thomas, Rory Thomas, Val Thomas

Fundamental is a foursome of Tech students playing a mix of indie and alt-rock covers with some punk thrown in. They have a growing body of original songs. Chris Roy, guitar and vocals, and Russell Durham, on drums, were suite-mates in the NMT dorms who wanted to form a band. They added Jackson Vaughn Furr, bass and vocals. Jackson met David Padilla on campus and found out he was an experienced guitarist. Chris said he comes up with the main ideas for originals, which he brings to the band to develop. The songs are then mostly made up of choices like 'what if we did this' and 'let's see if this works.' Band members all bring in influences from different genres of music so the songs end up in unique directions. Chris and Jackson are Computer Science majors; Russell is a Chemical Engineering major and David majors in civil engineering. The band's name was originally 'Fundamental Lack of Idea' because the group felt it represented their sound and style. They later shortened it to Lax Idea and now, they have brought it back home to Fundamental.
Event Sponsors