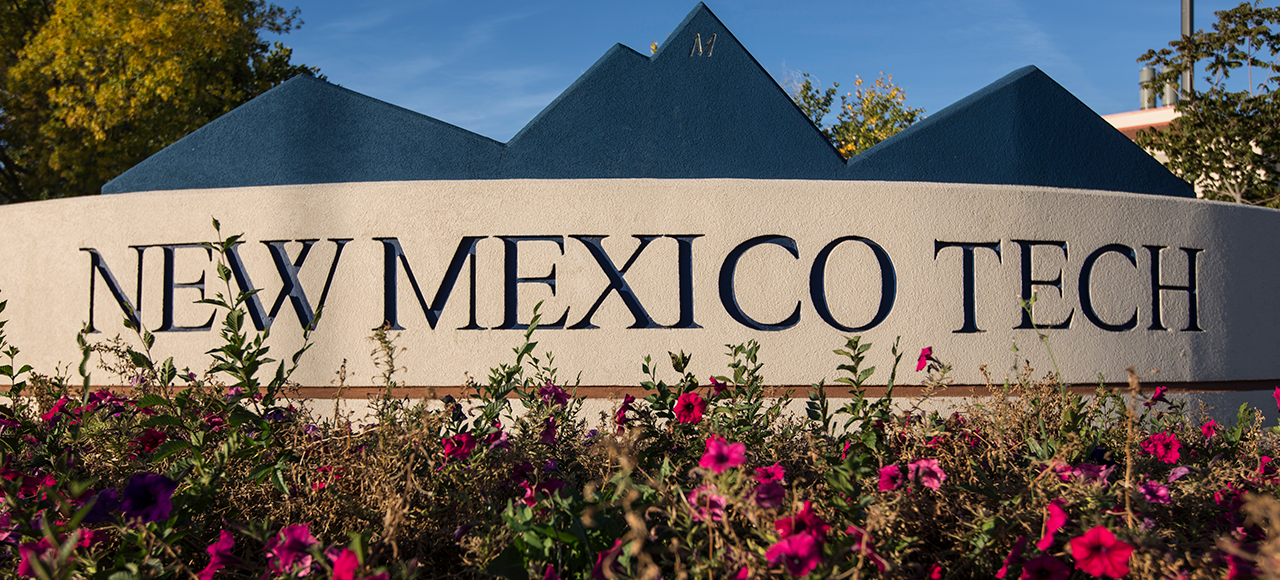 NMT Student and University Relations
Title IX Office
"No person in the United States shall, on the basis of sex, be excluded from participation in, be denied the benefits of, or be subjected to discrimination under any education program or activity receiving Federal financial assistance."

Title IX of the Education Amendments of 1972
Dr. Peter Phaiah is NMT's Title IX Coordinator. Dr. Phaiah may be reached at Brown Hall, Room 21A, New Mexico Tech, 801 Leroy Place, Socorro, New Mexico 87801, 575-835-5187 or via email at titleixcoordinator@nmt.edu. Dr. Phaiah is available to meet with students or employees who need information or guidance about Title IX Offenses.
Employee Reporting Obligations Under Title IX
Employees of the University have a responsibility to report to NMT's designated Title IX Coordinator any known incidents of sexual misconduct.
NMT faculty, administrators, professional staff, Teaching Assistants (TA), and Resident Assistants RA) are considered "responsible employees." A responsible employee is anyone who has the authority to take action to redress sexual violence; anyone who has been given the duty of reporting incidents of sexual violence or any other misconduct by students, faculty or staff to the Title IX coordinator or other appropriate school designee; or anyone whom a student could reasonably believe has this authority or duty.
This designation requires that any report of gender-based discrimination, which includes sexual harassment, sexual misconduct, and sexual violence made to a faculty member, administrator, professional staff, TA, or RA must be reported to NMT's Title IX Coordinator.
For more information on the campus policy regarding sexual misconduct, please visit our current policy online.
Any NMT faculty or professional staff member who does not have other requirements to maintain confidentiality under law or license, are considered "responsible employees" under Title IX and have this same designation.
For more information regarding Title IX and reporting requirements, you may contact the Title IX Coordinator, Peter Phaiah at titleixcoordinator@nmt.edu or 21A Brown Hall.
Title IX Guidelines for Faculty and Staff
It is important to provide anyone reporting sexual violence or harassment with information and resources and allow them to make the decisions for themselves. Empowering victims/survivors with the opportunity to determine what is best for them provides them with a sense of autonomy and empowerment they may need to continue to be successful. Do not force your opinions, or what you think they need, onto the victim/survivor.
I. Respond
Before a student (or employee) discloses an incident to you, if possible, make them aware of your reporting obligations.
If a student chooses not to disclose any information, you can offer to walk them over to the Office of Counseling and Disabilities in Fidel where they can meet with a licensed counselor confidentially.
Health Care professionals in the Student Health Center (Fidel) are also a confidential resource.
If an employee chooses not to disclose any information, you can encourage them to take advantage of Employee Assistance Program (EAP), the prepaid benefit provides confidential and professional assessment; a link for the service is provided on NMT's Human Resources page.
Ask the person what they are comfortable sharing.
Remind the victim/survivor it is not their fault.
Let them know resources and support are available (resources are listed at the end of our policy).
Assist the victim/survivor in identifying support systems and available resources.
Talk to them about safety concerns, including fear associated with making a report or seeing the perpetrator.
Allow the victim/survivor to make decisions.
II. Refer
There are a number of counseling resources available to students on campus and within the community, some of which are provided free of cost. Please refer to the resource guide at the bottom of our New Mexico Tech Interim Sexual Misconduct & Title IX Offenses Policy.
If a sexual assault occurred within the past 120 hours (5 days), the student victim/survivor can obtain a medical examination through SANE services in Albuquerque. A SANE nurse will provide a medical exam for the purpose of evidence collection. The student does not need to file a report or press charges to utilize these services. The services provided by SANE are FREE of charge. Transportation can be arranged through the Title IX Coordinator and/or Campus Police.
Review what was discussed with the student and explore possible next steps of action.
III. Report
When you hear of an allegation or potential of abuse, as a person with "authority" you must report the allegation to NMT's Title IX Coordinator.
While you are obligated to share information with the University's Title IX Coordinator, in most cases, incidents involving sexual misconduct should not be reported to the police without the consent of the victim/survivor. Please get in touch with the Title IX Coordinator if you have questions.
Under Title IX, sexual violence is a severe form of sexual harassment. Sexual violence is unacceptable and cannot be tolerated at the New Mexico Tech. Sexual violence may be committed by a stranger, an acquaintance or someone with whom the victim is involved in an intimate or sexual relationship.
Victims of sexual violence are encouraged to report what happened to law enforcement and seek assistance from any of the resources, on and off campus.
Please contact NMT's Title IX Coordinator at titleixcoordinator@nmt.edu for more information.