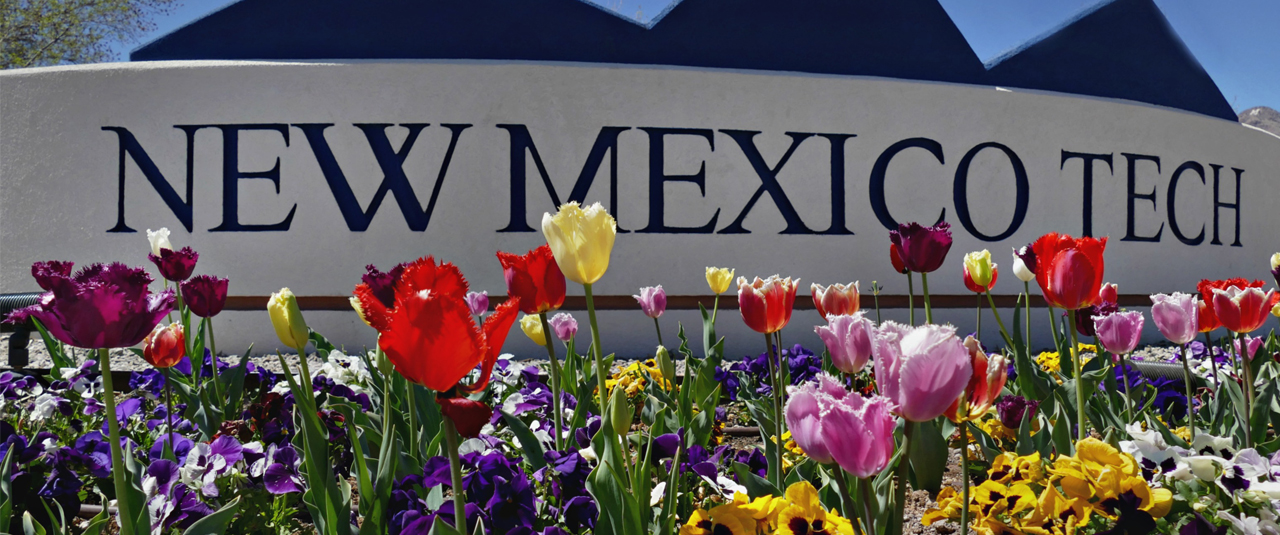 NMT Facilities Management
Grounds and Greenhouse
The New Mexico Tech campus has been called an oasis in the desert, a testimonial to its well cared for grounds and landscaping. From the foliage planters that line the ramp leading to the entrance to Brown Hall, to the thousands of perennials and annuals that bloom across the campus, New Mexico Tech enjoys a reputation for providing a shady, restful environment for the university, the community, and its many visitors. Joggers, walkers and strollers frequent campus streets and sidewalks; and the Duck Pond near Macey Center serves as a favorite gathering place for families. Hundreds of people also meet on the grounds each Independence Day for the annual 4th of July celebration, and the college Athletic Field is host to visiting teams for regional soccer tournaments.
The department is responsible for landscaping and maintenance for the entire campus with the exception of the Golf Course. A well maintained campus serves as a recruitment tool for both students and faculty, a belief reflected in the department's commitment to keeping the campus in peak condition year-round.
The Grounds Manager together with the Grounds Supervisor, supervise the Certified Groundskeeper crew.
The NMT Grounds Supervisor oversees the following:
New landscape installation. Over the past five years, the department has designed and installed drought-resistant landscapes for new construction projects, and has replaced some of the older plantings with more drought-tolerant native species.
Turfgrass maintenance throughout campus including cutting, watering and fertilizer, pesticide, and herbicide applications.
Landscape maintenance including tree and shrub planting and pruning and watering. Most of the trees in the central part of campus date back 50 years or more, and consist primarily of elm and mulberry. These trees were recently evaluated by a professional arborist. Several hazardous trees were removed and others were pruned to maintain safety. Hundreds of newer trees have been planted which are chosen for their variety, durability and drought-resistance.
Flower bed design, planting and maintenance. The annual beds located throughout campus are one of the landscaping highlights of the university; thousands of bulbs bloom each spring and annuals grown in New Mexico Tech's Greenhouse provide color throughout the year.
Other duties of the grounds department include preparation and cleanup for special events, trash removal, sidewalk edging, weed removal, street, sidewalk and parking lot sweeping and snow and ice removal.