Students' Research and Presentation Skills Showcased at Annual Exhibition
April 24, 2023
---
New Mexico Tech's Student Research Symposium displays students' knowledge, problem-solving
Riley Oesch, left, and Noah Patterson pose next to their research poster on new bacteria phages discovered in the desert. Information about the phages will be entered into a database scientists can draw from in their work with antibiotic-resistant infections and oil spills. Both Oesch, of Albuquerque, and Patterson, of Los Alamos, are freshmen studying biology and biomedical science. The students participated in New Mexico Tech's Student Research Symposium April 18 to 21, 2023, at Skeen Library.
SOCORRO, N.M. – Whether giving a speech, explaining a poster, or participating in a team presentation of a yearlong design project, New Mexico Tech students' passion for knowledge and problem-solving was on display at a four-day showcase of their research projects. The months of preparation for the 13th annual Student Research Symposium (SRS) – attending workshops on designing posters, writing abstracts, delivering presentations and elevator speeches; rehearsing; and incorporating feedback into their presentations – paid off as 97 undergraduate and 45 graduate students alike shone brightly before judges, evaluators, faculty, staff, alumni, fellow students, and community members who attended the annual event held April 18 to 21, 2023, at the Joseph R. Skeen Library.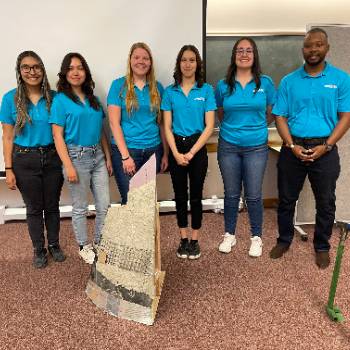 With a theme of "educate to communicate," students participated in four parts of the symposium over four days: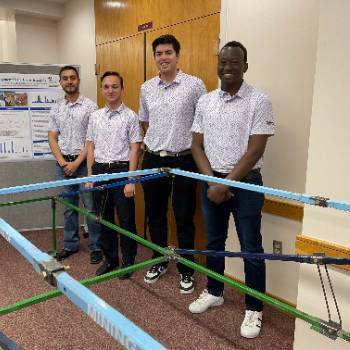 Poster sessions: Four poster sessions each featured about 20 posters, often with multi-person teams. The Sophomore Research Program, which encourages underclass engagement with research, included another 20 posters from 20 presenters. The Graduate Student Association held a poster competition April 21, with 32 posters presented. Students explained their posters, providing an overview of their research projects, including abstracts, background, hypotheses, research approaches, findings, and conclusions.



Casie Taylor, originally from Gallup, left, and Adrian Maez, originally from Belen, both juniors studying electrical engineering, pose next to their research poster analyzing the role solar panels on the New Mexico play in the system's power flow. The students presented their project at the Mechanical Engineering Department's Student Research Symposium showcase April 18, 2023, at Skeen Library.

Oral presentations: For the symposium's premier event, all abstracts are reviewed at registration, with the abstracts of the top six being awarded the distinction to present in the oral presentation category.



David Bennecke participates in the Three-Minute Speech Competition April 19, 2023, at Macey Center, part of New Mexico Tech's Student Research Symposium. Bennecke's presentation, titled, "On the Trail of Sparks: Investigating Initial Breakdown in Thunderstorms," took second place in the competition.

Three-minute presentations: Students use one slide while presenting a research concept in under three minutes to a room full of listeners at the Macey Center. This competition provides awards for the top three qualifiers, as well as a place in a Western States Research Competition representing New Mexico Tech. Eight graduate students and six undergraduates participated in the competition this year.



Abigail Brown, originally from Belen, displays her poster detailing her research into microbes at the Valles Caldera in Northern New Mexico. Brown, a biology major who is taking undergraduate and graduate classes at the same time for an accelerated master's degree, participated in New Mexico Tech's Student Research Symposium April 19, 2023.

Departmental showcases: The Civil and Environmental Engineering, Mechanical Engineering, Communication, Liberal Arts, and Social Sciences (CLASS), and Mineral Engineering departments held group presentations. Students represent their departments in a combination of poster, PowerPoint, and oral styles exhibiting projects such as the SunChaser solar energy trailer, the concrete canoe, and the wildlife bridge.



Jason Le Boeuf, a chemistry major from Carlsbad who plans to continue his studies this fall at New Mexico Tech as a graduate student, presents his poster examining the effects on the lungs of dust in coal mines. Le Boeuf participated in the Student Research Symposium poster session April 20, 2023, at New Mexico Tech's Skeen Library.
Going through the process of preparing, reviewing, and training for the SRS means students are better equipped to present and share their research, according to Dr. David Cox, director of the Office of Student Learning and library.

"The confidence in our presenters after the workshops and presentation venues is a testament to the program," he said.
In this video, Hector Grijalva explains the components of the SunChaser 2K22 solar education vehicle, which was outfitted by an engineering design class during the 2022-2023 academic year. Mechanical engineering students are working with Dr. Ashok Ghosh, associate professor of Mechanical Engineering and New Mexico Solar Energy Association (NMSEA) past president, and Gabriel Maestas, graduate student in Mechanical Engineering and NMSEA noard member, on outfitting the trailer with renewable energy systems. The students presented their work April 20, 2023, at the Mechanical Engineering Departmental Showcase, part of New Mexico Tech's Student Research Symposium.