Dr. Gregory R. Yandek To Lead Energetic Materials Research and Training Center
March 9, 2023
---
New Mexico Tech hires engineer from Air Force Research Laboratory for key role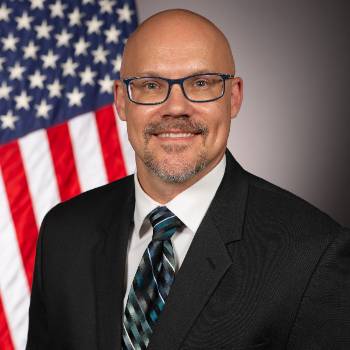 SOCORRO, N.M. – After a yearlong national search, New Mexico Tech has hired a new leader for its world-class research, development, and evaluation facility. Dr. Gregory R. Yandek has been hired to lead the Energetic Materials Research and Training Center (EMRTC), NMT's largest division, overseeing 116 highly experienced, specifically trained, and technically proficient employees who perform research, development, and testing of all types of energetic materials — from improvised explosive devices (IEDs) to military munitions — and provides homeland security courses for first responders. Dr. Yandek starts as EMRTC director May 1, 2023.
Dr. Yandek comes to EMRTC from the Air Force Research Laboratory's (AFRL) Rocket Propulsion Division at Edwards Air Force Base in California, where he has worked since 2007. His most recent position, deputy chief engineer, involved assisting in solid rocket propulsion research and development and acquisition strategy for AFRL, providing technical oversight for a portfolio budget of $20 million and a workforce of 100 personnel. Dr. Yandek also worked in AFRL's Propellants Branch at Edwards AFB as a group lead and chief engineer.
Dr. Yandek received his doctorate from the University of Akron, Ohio, in polymer engineering in 2005 and his bachelor of science degree in chemical engineering from the same institution in 1998. He also received a Level III Certification in Systems Acquisition and Engineering from the Defense Acquisition University. In addition to his expertise in missile and missile component design and energetic materials, Dr. Yandek is the author or co-author of 90 publications and patents.
Dr. Yandek succeeds Mike Stanley, who retired as EMRTC director in January 2022 after 36 years with the organization, the last five of which he served as director. Dr. Yandek will report to Associate Vice President for Research Carlos Rey Romero.
Dr. Yandek will oversee the self-supporting and largest of NMT's research divisions, which is located west of the NMT campus on a secure, 40-square-mile site featuring rugged terrain with elevations ranging from 4,000 to 10,500 feet above sea level, 270 locations or buildings on its property, and more than 30 testing sites. EMRTC serves customers from all branches of the military to federal agencies such as the departments of State and Defense, national labs, and private entities including defense contractors. Throughout its 75-year history, EMRTC has evolved into a multipurpose facility with a safety and security focus. Its staff have responded to national security needs with ingenious solutions, displaying their fierce dedication to keeping our country's soldiers safe — on the battlefield and at home.
"As our new leader for EMRTC, Dr. Yandek will take over a key research division for our university, which not only serves its many varied customers, but contributes to our community and provides research and training opportunities for our students," said NMT President Stephen G. Wells. "EMRTC has a well-earned reputation for high-quality, responsive, and technically reliable work. I am excited to see how its mission develops further under Dr. Yandek's leadership."