New Mexico Tech Chemical Engineering Students Score at Conference
April 28, 2023
---
Students participate in research poster and Jeopardy competitions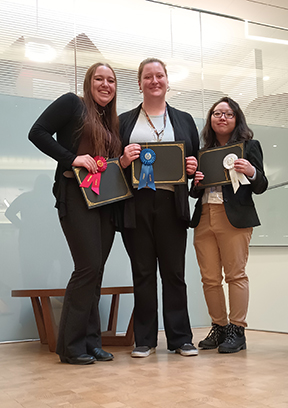 Two New Mexico Tech students were among the top competitors for their research posters at the 2023 American Institute of Chemical Engineers (AIChE) Rocky Mountain Regional Student Conference in Laramie, Wyoming. Arrika Duran, center, took first place in the poster competition for her entry titled "Synthetic Optimization of Lipid Prodrugs of Camptothecin Derivatives, SN-38 and Topotecan, For Targeted Drug Delivery." Gaeun (Grace) Kim, right, took third place for her poster titled "Control of Thermomechanical Properties of a Reversible Epoxy Using Diels-Alder Chemistry."
SOCORRO, N.M. – Students from New Mexico Tech pursuing degrees in chemical engineering had a successful showing at a conference attended by delegations from schools across the western states, winning the Jeopardy championship and taking two top places in the research poster competition. The 2023 American Institute of Chemical Engineers (AIChE) held its Rocky Mountain Regional Student Conference at the University of Wyoming in Laramie April 21 to 23, 2023.
Two NMT chemical engineering students earned ribbons in the poster competition. Arrika Duran took first place in the poster competition for her entry titled "Synthetic Optimization of Lipid Prodrugs of Camptothecin Derivatives, SN-38 and Topotecan, For Targeted Drug Delivery." Gaeun (Grace) Kim took third place for her poster titled "Control of Thermomechanical Properties of a Reversible Epoxy Using Diels-Alder Chemistry."
The NMT team took first place in the ChemE Jeopardy Competition, which uses questions from chemical engineering undergraduate coursework. Qualifying at the regional meetings advances the team to compete at the national level in the fall.
Chemical Engineering Associate Professor and Department Chair Michaelann Tartis, Ph.D., said attending the AIChE conferences provide students with valuable networking and professional development opportunities.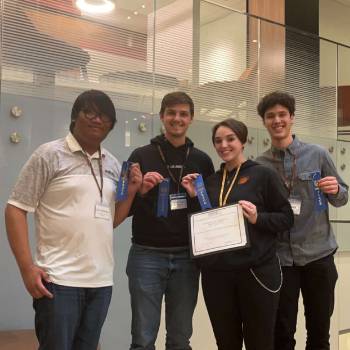 "Our students attend, compete, and present research at regional (spring) and national (fall) AIChE meetings each year," she said. "The national meeting provides students with career and graduate school fairs and, in some cases, bragging rights after out-performing other schools in these engineering competitions."
AIChE is the world's leading organization for chemical engineering professionals, with more than 60,000 members from more than 110 countries. NMT has a student chapter that provides volunteering, fellowship, and career development opportunities for its members. Regional and national AIChE conferences provide opportunities for students to network with students from other universities and with professionals, learn about career opportunities in chemical engineering, and obtain information for graduate school.