New Mexico Tech Draws Enthusiasts to Combat Robotics Tournament
May 1, 2023
---
Miner Mayhem match attracts 55 teams from across the state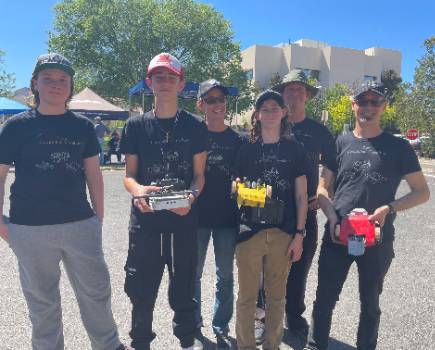 Team Complified Creations, an independent team from Albuquerque, shows off their three combat robots that competed in New Mexico Tech's Miner Mayhem tournament April 29, 2023. From left: Max Price, Sebastian Stoker, Jaime Aagaard, Andy Stoker, Alex Price, Cameron Stoker.
SOCORRO, N.M. – Fierce competitors, innovative robot designs, and ardent fans were featured at the annual Miner Mayhem tournament April 29, 2023, at New Mexico Tech. Fifty-five teams competed at the combat robotics tournament hosted by the STEM University's Mechanical Engineering Department, including 10 New Mexico high schools, four middle schools, three colleges, and some independent teams.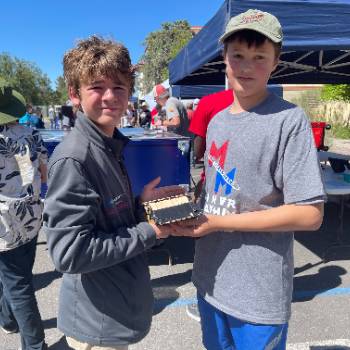 According to organizer Curtis O'Malley, Ph.D., assistant professor of mechanical engineering, the daylong Miner Mayhem match is the only combat robotics tournament in New Mexico. It's also, he said, a great showcase for mechanical engineering – the knowledge, skills, creativity, and teamwork needed to design, build, and constantly improve the combat robots. This year's tournament was the first that welcomed competitors from other universities. The program began in 2020 with 12 competitors and three teams.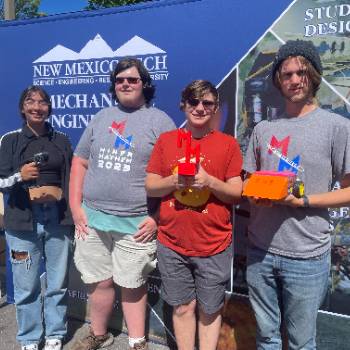 "There are dozens of competitions all over the country, just not in New Mexico," he said. "There's only more interest in combat robotics over time."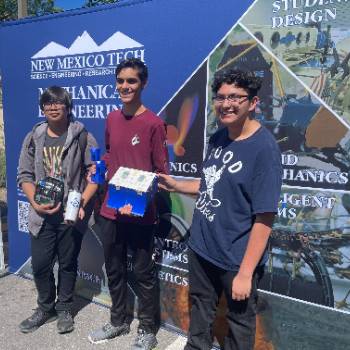 Alex Price, father of competitor Max Price, and a member of the "Team Complified Creations" independent team from Albuquerque, said he was impressed by the amount of planning and preparation competitors involved before the tournament. Competing in Miner Mayhem, his five-member team learned valuable lessons.
"They get to see how things fail," he said. "It's amazing what you learn."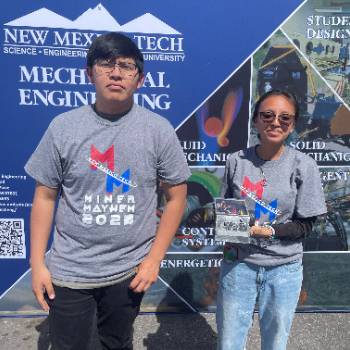 Kai Shorty, a competitor from Tohatchi High School in Gallup, said that the tournament was entertaining and that he enjoyed seeing other competitors. His teammate, DeShawn Hernandez, agreed, saying he was having a great time at the tournament and appreciated the opportunity to learn more about wiring.
"It's so much fun," he said. "I like seeing others' work."