Big Richard To Perform at Macey Center Jan. 20
Jan. 9, 2023
---
Quartet of Colorado musicians to feature Americana Bluegrass music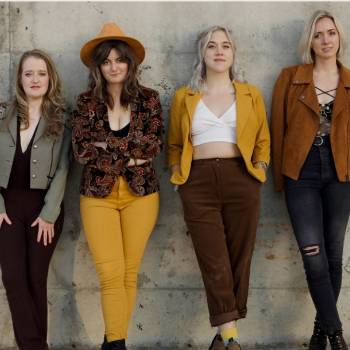 SOCORRO, N.M. – A quartet of female musicians from Colorado with a rich cross-genre background will perform bluegrass, old time, classical, country and pop music at Macey Center Friday, Jan. 20, at 7:30 p.m. Tickets for Big Richard are $15 for adults, $12 for seniors age 65 and older, $5 for youth age 17 and younger, and free for New Mexico Tech students, and are available online at at nmt.edu/pas. The performance will be preceded by a Performing Arts Series (PAS) Social Hour featuring home style comfort food and drink specials from 6 to 7:30 p.m. The cost is $10 for the general public and $5 for NMT students.

Big Richard features Bonnie Sims on mandolin, Joy Adams on cello, Emma Rose on bass and guitar, and Eve Panning on fiddle. The four musicians came together in late 2021 to form the band, which gained quick notoriety for their jaw-dropping virtuosity; playfully irreverent stage banter; stunning four-part harmony; imaginative arrangements; a refreshingly eclectic repertoire; and a healthy dose of lady rage. After selling out all of their club shows, Big Richard quickly started confirming festival appearances across America. The quartet has issued three singles and an album, "Live from Telluride."

"This is quite the super group," quips PAS Director Ronna Kalish. "I am a big fan of all-women bands, but these gals top it all," states Kalish. "They are amazing singers and top-notch instrumentalists, with strong female humor. I would call this concert the 'Director's Choice!'"

The show also will be live streamed on the PAS Facebook and YouTube pages, with links to those sites through the PAS website, nmt.edu/pas. Sponsors of the show are IRIS-PASSCAL, Desert Herbals, Mine Country Radio, Bob & Kathy Markwell, the Deborah Treder Memorial, NMT SGA and KUNM-FM.