---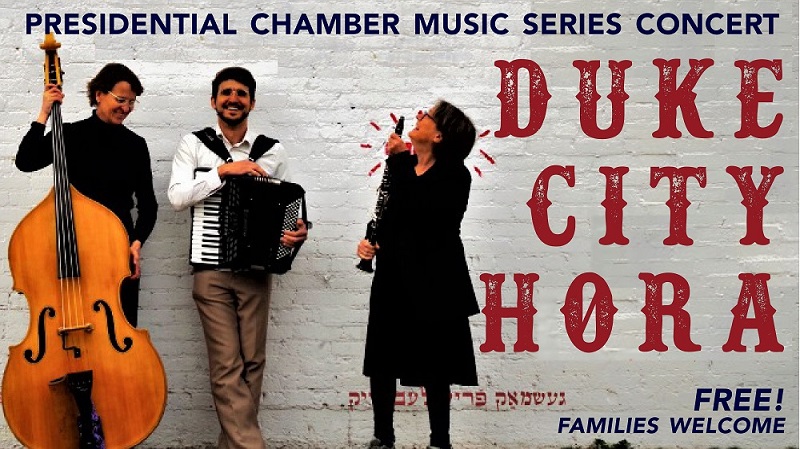 About the Show
Margot Leverett is a living master of klezmer, an infectiously joyous and heart-breakingly poignant musical tradition she inherited from the generation of clarinetists who brought the tradition to America. Accompanied by Jordan Wax (accordion, Yiddish vocals) and Charlotte Overby (upright bass), the trio will play a selection of the diverse styles, rhythms, and Yiddish songs that make up the klezmer repertoire, as well as share cultural context and stories about the vibrant culture alive in the melodies.

About the Artist
Margot Leverett is one of the foremost clarinetists of the klezmer revival. Classically trained at Indiana University School of Music, she was involved in avant-garde music when she first heard klezmer, the dynamic East European music traditionally played at Jewish weddings. Leverett was a founding member of the Klezmatics in 1985 before moving on to establish a solo career. Her first CD, "The Art of Klezmer Clarinet," a tribute to classic klezmer of the 20's and 30's, was released in 2001 on Traditional Crossroads (CD4296) to glowing reviews.
Margot's second album, "Margot Leverett and the Klezmer Mountain Boys" (2002), was choreographed by the Paul Taylor Dance Company in a new work entitled "Klezmerbluegrass." Their second release "Second Avenue Square Dance" features guest artists Jorma Kaukonen and Hazel Dickens and is available now from Traditional Crossroads.
Margot Leverett was recently featured as a guest soloist with the Philadelphia Orchestra, along with Udi Bar-David and the artists of Intercultural Journeys, a concert and cultural organization to promote intercultural dialogue. She has toured Japan twice with The New York Ragtime Orchestra and has been featured in several Off-Broadway productions.
Margot Leverett was a staff instructor at KlezKamp for over 10 years and has also taught at KlezKanada, Klezkamp West, Klezmerquerque, and at colleges, music festivals, and Jewish organizations across the country and Europe. She is currently a master in the New Mexico FolkArts Apprenticeship Program.
"Margot Leverett is one of the finest clarinetists to emerge from the klezmer revival...Leverett's clarinet, crying with sorrow or bursting with shouts of joy, speaks with the highly inflected vocabulary of the great players to whom the recording pays tribute." -Rhythm Magazine
"This is the classic sound of Eastern European-derived clarinet played by a master and a worthy addition to the new generation of klezmer recording... Among the stellar soloists on the scene." -Boston Globe
"Klezmer clarinet virtuoso" -Philadelphia Enquirer
"Her extensive classical training lends an elegance and seriousness that makes the music even more riveting. Her early avant-garde background keeps the music fresh and exciting. And her first-hand lessons learned with true klezmer masters gives her music authenticity and poignancy." -CMJ New Music Report
Jordan Wax (accordion, vocals) is a multi-instrumentalist, singer, and traditional musician. For the past twenty years he has studied non-classical musical traditions with elders from a variety of cultural lineages in New Mexico, Mexico, and the Midwest. He is currently studying klezmer music with clarinetist Margot Leverett through a grant from the National Endowment for the Arts via the New Mexico FolkArts Apprenticeship Program, a project that pairs artists with masters of a traditional style to help keep diverse traditions alive in our state. He studied Yiddish language at the Oxford Instute of Yiddish Studies, studies currently with Paula Teitelbaum, and teaches a language class for beginners and heritage speakers in Santa Fe, NM.
Charlotte Overby (upright bass) has collaborated with Jordan for years, as well as with a number of bands in a broad range of roots music styles. She currently performs klezmer with Duke City Hora and swing-jazz manouche with the Santa Fe based "Swing Soleil".
---
Our Partner & Sponsor