New Mexico Tech golf tournament renamed for Interim President
Oct. 16, 2023
---
The Daniel H. López President's Golf Tournament honors longtime university leader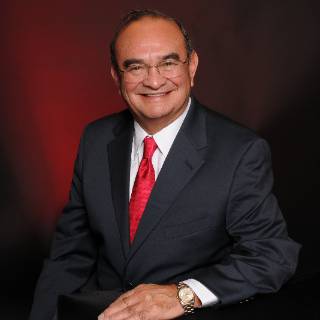 SOCORRO, N.M. (Oct. 16, 2023) —Citing his energy, enthusiasm, and outstanding leadership as a goodwill ambassador for the university, the New Mexico Tech Board of Regents voted unanimously Oct. 9, 2023, to permanently rename the annual President's Golf Tournament in honor of Interim President Daniel H. López. López, who served as the STEM university's president from 1993 to 2016 and took over as interim president last spring, recently oversaw the most successful golf tournament NMT has ever held.
According to the Office for Advancement, the 30th Annual President's Golf Tournament, held Sept. 14 and 25, 2023, at the NMT Golf Course raised $345,062.50 for scholarships helping students complete their education. This year's tournament attracted 420 participants, including alumni, community members, students and staff.
Board of Regents Chairman Jerry A. Armijo cited the tournament's achievements in assisting more than 480 students over 30 years and as an event that brings the community together.
"It has been phenomenally successful" over the tournament's long history, he said. "It's something everyone looks forward to."
Chair Armijo said it was fitting to rename the tournament to honor Interim President López because of his leadership, personal involvement and because "he has so much goodwill built up in the community."
Interim President López expressed gratitude and thanked the regents for the honor. He credited NMT staff and volunteers who put in long hours to ensure the golf tournament's success.
The 31st annual NMT golf tournament, now renamed The Daniel H. López President's Golf Tournament, will be held Sept. 19 and 20, 2024. More information about sponsoring and participating in the tournament will be posted on the NMT website at: https://www.nmt.edu/advancement/golf-tournament.php