---
26th

Annual President's Golf Tournament
September 17, 18, & 19 2020
Like the state and country, New Mexico Tech has faced unique challenges this year adapting to a new normal with COVID-19. Students stayed home, faculty transitioned to online instruction, and, most importantly, we kept each other safe. We adapted and overcame, a skill I have learned
comes naturally to Techies and this community.
As the world starts to slowly open again, and as we shift to a more regular routine, we are cogni-
zant of the fact that the past few months have brought lasting hardships to many of our local businesses and long-time supporters. That is why, when deciding whether to hold the President's Golf Tournament this fall, we turned to you for direction.
You responded with the spirit of resilience characteristic of this community and asked us to move forward. We cannot imagine a year without this great tournament and are glad you cannot either.
It is with gratitude that I ask if you will consider participating in the 2020 President's Golf Tournament as a sponsor this year.
The President's Golf Tournament has grown in the hearts of so many over the last 26 years. Funds raised have provided tuition assistance for more than 350 NMT students, helping them graduate on time and lessening the burdens of student debt.
Students need your support now more than ever. This spring more than 550 NMT students
requested, and were awarded, assistance from our COVID-19 Student Emergency Fund. Many
lost their job or internship placement this summer, leaving them with little savings to pay for
tuition.
The 2020 President's Golf Tournament may look a bit different this year as we will be adopting the best practices for social distancing to maintain health and safety, but I look forward to coming together for a game of golf and showing our students how much the NMT community supports them.
Thank you for your continuing friendship, participation, and contribution to the great cause this
event supports.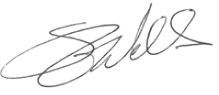 Click here to download the brochure.
Click here to download the registration form.
Click here to view the COVID-19 guidelines.
Dr. Stephen G. Wells continues the 26 year tradition that has helped more than 350 students complete their education at New Mexico Tech. Proceeds go to support students' scholarly endeavors and the creation of additional resources to support the mission of the University.
Questions? Contact Sandi Lucero at 575.835.5618 or sandi.lucero@nmt.edu
Alternatively, donations to the President's Scholarship Fund can be made by contacting LaVern Robinson at lavern.robinson@nmt.edu
2020 Sponsors
Platinum Sponsors
Gold Sponsors
Silver Sponsors
Copper Sponsors
Team Sponsors
Hole Sponsors
Co-Hole Sponsors
Donors
Door Prize/Goody Bag Sponsors
Note: In addition to helping students complete their education, proceeds from the President's Golf Tournament are used to steward donors and support fundraising.