New Mexico Tech Selects Dr. Jeffrey Altig for Distinguished Teaching Award
May 13, 2023
---
Top faculty teaching honor presented to chemistry professor at 2023 Commencement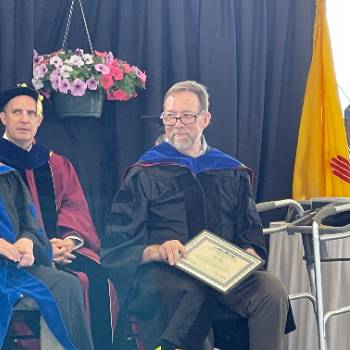 SOCORRO, N.M. – An instructor known for innovative teaching methods has been chosen by students, fellow faculty members, and alumni for New Mexico Tech's top teaching honor. Dr. Jeffrey Altig, associate professor of chemistry and director of laboratories, received the 2023 Distinguished Teaching Award at the university's Commencement ceremony, held May 13, 2023, at the Socorro Sports Complex and Rodeo Grounds. Ten individuals nominated Dr. Altig, offering detailed praise for his teaching skills along with his ability to engage and connect with students.
The Distinguished Teaching Award is presented each year to a faculty member based on recommendations and nominations from students, alumni, and other faculty. The winner receives a plaque and a $2,500 cash award. Dr. Altig earned a bachelor's degree in biochemistry from the University of Oregon and a Ph.D. in physical chemistry from the University of Wisconsin-Madison. He came to New Mexico Tech in 2006 as a visiting professor and joined the Chemistry Department faculty in 2007.
According to Interim Vice President for Academic Affairs Michael Jackson, Dr. Altig boasts a vast disciplinary expertise that spans various areas of descriptive and theoretical chemistry, making him an exceptional asset to the institution. One of Dr. Altig's primary areas of focus is the development of innovative curricula for the chemistry laboratory and classroom. His commitment to scholarship has resulted in groundbreaking transformations in the chemistry teaching laboratory program. Under his tutelage, students at NMT enjoy a unique experience of in-depth chemistry and engaging experiments that sets the institution apart from others.
Dr. Altig's students admire and respect him for his teaching style and dedication to their education. He has also been recognized by his peers in the Chemistry Department for his outstanding contributions, and his innovative teaching methods have been adopted by many faculty members. Dr. Altig's exemplary teaching abilities have been acknowledged by the institution on numerous occasions, including being a recipient of this prestigious award in 2009.
As one of his students aptly summarized, "His commitment to teaching and his dedication to his students make him an outstanding candidate for this honor."