New Mexico Tech Biology Major Named a Goldwater Scholar
May 8, 2023
---
Cassandra Skaar nominated for her research contributions as an undergraduate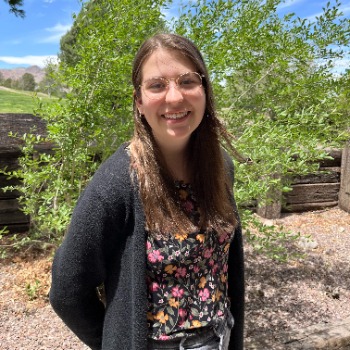 SOCORRO, N.M. – A biology major who has made major contributions to research projects as an undergraduate under the guidance of New Mexico Tech faculty members has been selected for a prestigious national scholarship. Cassandra Skaar, who attended Wake STEM Early College High School in Raleigh, North Carolina, is one of 413 recipients of the Barry Goldwater Scholarship, one of three Goldwater Scholars from New Mexico universities in 2023. Nominated by NMT Biology Department faculty members, Skaar has excelled in the classroom and is interested in pursuing graduate studies in microbiology with plans to seek a career conducting research in a professional setting.
Skaar, a junior who will graduate in 2024, has participated in multiple research projects during her undergraduate career at NMT. She completed her first research project under the guidance of biology faculty members Dr. Kaarin Goncz and Dr. Linda DeVeaux as part of a class whose research focused on phages, novel viruses also called bacteriophages. Eight students who participated in the two-semester Science Education Alliance Phage Hunters Advancing Genomics and Evolutionary Science (SEA-PHAGES) curriculum during their freshman year are listed as authors on a genome announcement article published in the American Society for Microbiology's journal, Microbiology Resource Announcements.
Skaar also participated in two microbiology projects under biology Professor Tom Kieft, Ph.D. The first, funded by the National Park Service, focused on addressing the problem of unsightly algal and cyanobacterial growth in Carlsbad Caverns. For the second project, Skaar worked on isolating and characterizing viruses from deep (3 km), ancient (1.2 billion-year-old) brine collected in South Africa as part of an National Science Foundation-funded project on the geomicrobiology of very deep groundwater.
"Cassandra is very deserving of this academic honor," said Dr. Kieft. "She's a great student and a talented researcher. She's already co-authored a scientific paper as an undergraduate and she's been accepted into New Mexico Tech's Accelerated Masters Program. Cassandra will go far in her scientific career."
The scholarship program honoring the late Senator Barry Goldwater of Arizona was designed to foster and encourage outstanding students to pursue research careers in the fields of the natural sciences, engineering, and mathematics.