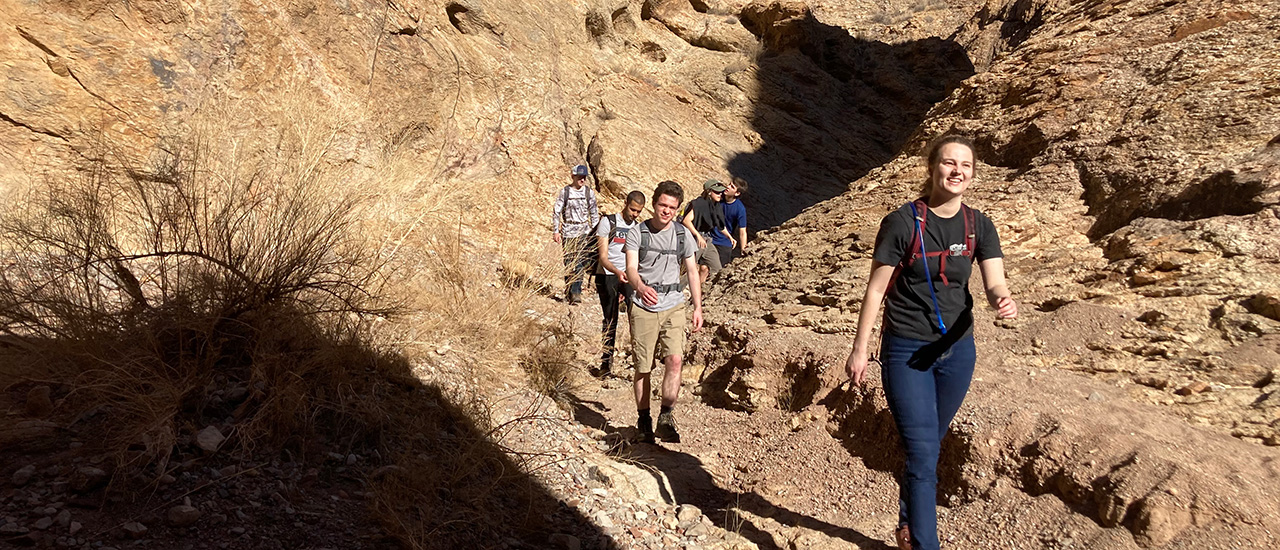 NMT Student Life
Health and Wellbeing
Division of Student Life's Well-being Goal
Tech's Division of Student Life (DSL) has created several strategic goals that are in alignment with the NMT 2027 Strategic Plan. Below is that goal:
Theme III: Promote Well-Being
Our goal is to create a culture that recognizes the holistic lives of our students by integrating our "Well-Being Wheel" into all facets of the student experience.
Wellness is the optimal state of living well, regardless of an individual's spectrum of health. It encompasses nine dimensions, including physical, intellectual, emotional, social, career, creative, financial, environmental, and spiritual well-being.
Goals

Institutional Goal Mapping

Key Strategies

Possible Metrics

III.1

Integrate the Student Life Well-Being Wheel into co-curricular and extra-curricular efforts.

I.3.3.1

Introduce the Student Life Well-Being Wheel.

Fresh check day

Number of participation in wellness series

Number of programs that fit in each wellness wheel section.

III.2

Provide skills that allow students to take ownership of their own well-being.

I.2.2.1

V.1.3

Provide financial planning workshops

Evaluate job decision from a holistic perspective (values more than paycheck)

Reduce stigma and increase knowledge of mental health resiliency and wellness

Students can identify the key components of a basic budget

Students can articulate at least 5 things beside salary to consider in making employment decisions.
Related Resources
If you are in crisis, or know someone who is, there are many resources that can help. These hotlines and organizations are free and available to anyone who is struggling.
For suicide prevention:
If you or someone you know is in crisis, call 988 to reach the Suicide and Crisis Lifeline. You can also call the National Suicide Prevention Lifeline at 800-273-8255, text HOME to 741741 or visit SpeakingOfSuicide.com/resources for additional resources.
For sexual assault:
If you or someone you know has been sexually assaulted, call the National Sexual Assault Telephone Hotline at 1-800-656-4673. The hotline, run by the Rape, Abuse & Incest National Network (RAINN), can put you in contact with your local rape crisis center. You can also access RAINN's online chat service at https://www.rainn.org/get-help. Confidential chats are available in English and in Spanish.
Reporting Options & Procedures on the Tech Campus
For domestic violence:
If you or someone you know is experiencing domestic violence or the threat of domestic violence, call the National Domestic Violence Hotline for help at 1-800-799-SAFE (7233), or go to www.thehotline.org for anonymous, confidential online chats, available in English and Spanish. Individual states often have their own domestic violence hotlines as well.
Advocates at the National Domestic Violence Hotline field calls from both survivors of domestic violence as well as individuals who are concerned that they may be abusive toward their partners.
For members of the LGBTQ+ community who are in crisis:
Trans Lifeline is a peer phone service run by trans individuals for other trans individuals who are in need of emotional support. The hotline can be reached at 877-565-8860. More resources are available at translifeline.org.
The Trevor Project offers a 24/7 suicide prevention and crisis intervention hotline for LGBTQ youth and their loved ones. Call 1-866-488-7386, text START to 678-678 or send a confidential instant message to a counselor through TrevorChat. More resources are available at thetrevorproject.org.
For alcohol or other substance abuse problems:
The Substance Abuse and Mental Health Services Administration has a 24/7 National Helpline for individuals with substance abuse issues and their family members. The hotline, which offers assistance in English and Spanish, can be reached at 1-800-662-HELP (4357). To find behavioral health treatment services, visit SAMHSA's website.
DEA's Debuts 2022 Drugs of Abuse
Socorro County Resource Guide-Local resorces to help folks Survive and Thrive.