---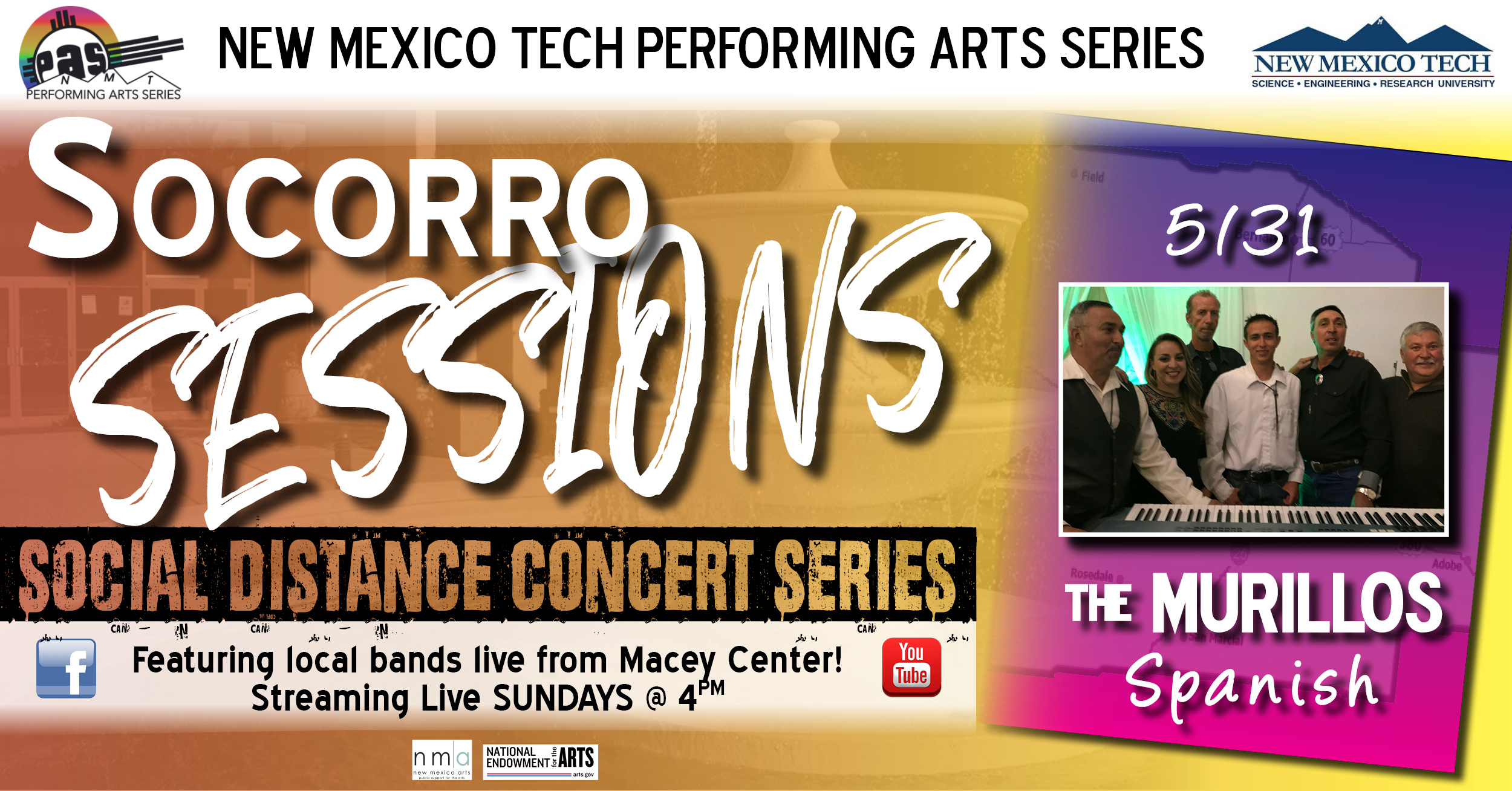 About the Show
Tori Murillo: the Young Singer Fronting The Murillos – by Valerie Kimble
The first time Victoria Murillo sang in front of people other than family, she was seven years old, when she was entreated to take the stage at the San Miguel Fiestas. "I sang along with the song 'Mi Vida Loca' by Pam Tellis," said Murillo. "I was terrified."
That's no longer the case. Murillo – who goes by the nickname, Tori – has been performing for audiences for some 18 years now, ever since she joined her father's band. And this Sunday afternoon, she'll once again perform with the band at the first-ever Socorro Sessions live-stream virtual concert series at Macey Center, airing at 4pm on Sunday, May 31, on facebook.com/NMTPAS or youtube's NMT Performing Arts Series channel.
Tori comes by her musical talents and stage presence quite honestly. Murillo, the youngest of the three children of Richard and Yvonne Murillo, is a third-generation singer/musician who seems to have been born with rhythm in her blood. In addition to her father, Tori will be backed on stage by her three Murillo uncles – George, Patrick and Gilbert – and a cousin, Matthew Belmontez-Murillo.
A little history, here: Richard Murillo is the middle of 11 children born to Angie and George Murillo, Sr. Interestingly, all four of the Murillo brothers are, like their father, musicians, but none of the daughters followed suit. Tori also is related to Vicente Torres of Luis Lopez, a well-known musician in his own right.
Just to give you a glimpse into the complicated maze that links local families, Tori's grandmother, Agnes Torres, Vicente's wife, and Rosalie Torres, married to Joe Torres, are sisters. Joe and Vicente are brothers. Continuing with this theme, Tori is married to Gabriel Baca, who recently lost his father, Lino Baca, another man known for his musical talents and love of performing.
Tori, in fact, used to sing with her father-in-law at funerals and other social gatherings. And while Gabriel does play guitar, he is not a part of his wife's musical backup. It may have been Gabriel's fancy footwork that sealed the deal for Tori, who recalls meeting her future spouse at one of her birthday parties. "He showed up at my mom's with one of my cousins," said Tori. "And we danced . . ."
Surely every singer, musician or entertainer can name at least one person whose work they found inspiring. For Tori, that first musical idol was the late Tex-Mex singer, Selena. "Listening to Selena – that's how I learned to sing in Spanish," Murillo said. Another idol is Linda Ronstadt. Tori recalled riding with her grandmother and listening to the versatile Tucson, Ariz. singer celebrate her Hispanic roots in song. Tori laughed: "I listened to a lot of 89.1 FM growing up."
Tori and her band have a repertoire that comprises New Mexico Spanish songs, famous country selections and classic rock. "I feel most passionate about singing in Spanish," she said. "Both sides of my family play Spanish music – it's just part of my heritage." She cites two rancheras that are fan-favorites: "Flora de las Flores" and "La Puerta Negra."
The singer has her own fans "who follow me wherever I go," including a group of "older ladies" and various members of her family, of course. Her youngest fan is Aliyah, Tori and Gabriel's six-year-old daughter, who is taking piano lessons with her mother. It's no surprise that Aliyah loves to sing and dance as well.
Tori took piano lessons for 14 years, and is currently the pianist at the 8 a.m. Sunday Mass at San Miguel, known as the Spanish Mass. She enjoys singing at weddings, fiestas and other cheerful gatherings. "I prefer not to play clubs or bars," Tori said. One Saturday found Murillo and band playing for the Kelly Fiestas. "We've also played for the La Joya Fiestas."
Murillo has released three CDs: Her first, "Por Primera Vez," followed by "Murillo's Third Generation," a tribute to her grandfather, George Murillo; and "Canta Tori con Mariachi Tenampa."
Her musical aspirations include making several more CDs – that is, when she can find the time. Murillo has two day jobs. Mornings and afternoons (before the Covid-19 closure of schools) she spent at Parkview Elementary, where she works as the assistant for Physical Education classes. Late afternoons and evenings (again, before all the temporary closures) will find her teaching Zumba classes through New Mexico Tech's Community Education and Outreach (CEO) program. "I was looking for some dance instruction when my mom took me to a salsa aerobics class," Murillo said. "At first I was shy and stayed in the back of the room. But my teacher, Peggy Lopez, encouraged me." Murillo decided to buy a Zumba DVD set for herself. "I fell in love with the rhythms and music," she said. "It's a good way to clear your mind, a great stress reliever."
Tori, who eventually succeeded Lopez as a Zumba instructor, is certified to teach Zumba Basics I and II plus Zumba Step Aerobics. She has been teaching since 2008. Last two summers she taught Aqua Zumba, a water fitness class, at the Tech Swim Center, on Tuesdays and Thursdays. During the regular academic year, Tori teaches CEO Zumba classes four days a week. But music will always be her first love, as it has been for so many of Tori's relatives.
Remember, we're talking about a very versatile musical family here. Her father, Richard, plays five instruments, but bass guitar and trumpet are his favorites. Of the uncles, Patrick plays guitar, George, keyboard and trumpet; and Gilbert, drums and trumpet. Watch them put it all together this Sunday, May 31, in the first of five Socorro Sessions social distance concerts, live-streamed at 4pm on the facebook and youtube channels of the NMT Performing Arts Series.
And on the 4th of July, recordings of all the Socorro Sessions concerts will be up on NMT Performing Arts Series youtube channel to blast from your phones, computers, tablets, or hook up to your large TV screens; not quite as good as at Macey Center, but still, pretty good, a celebration of local Socorro music!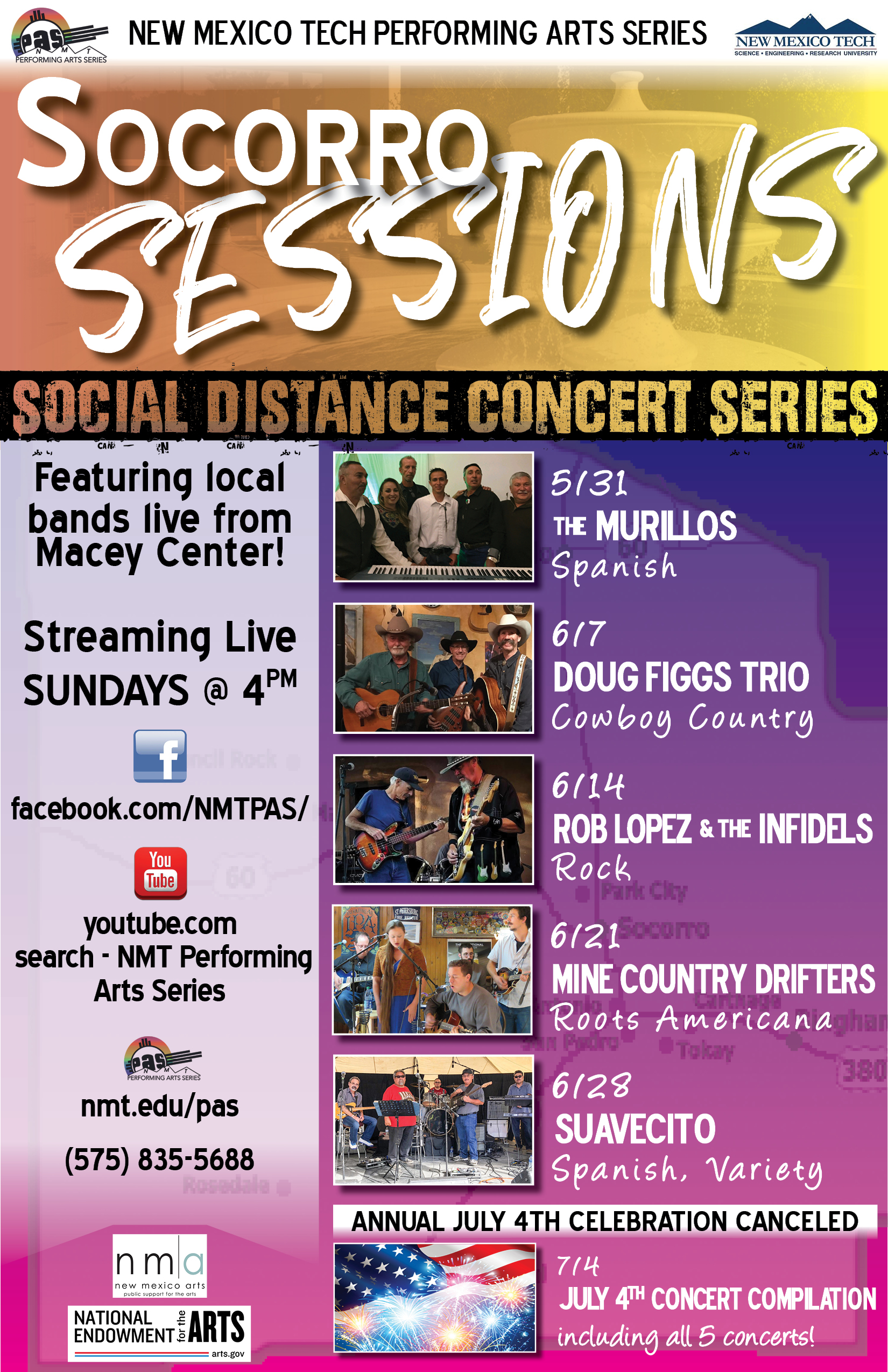 ---
Our Partners and Sponsors