New Mexico Tech selects Macey scholars for 2023
October 30, 2023
---
Four students will receive the university's highest academic honor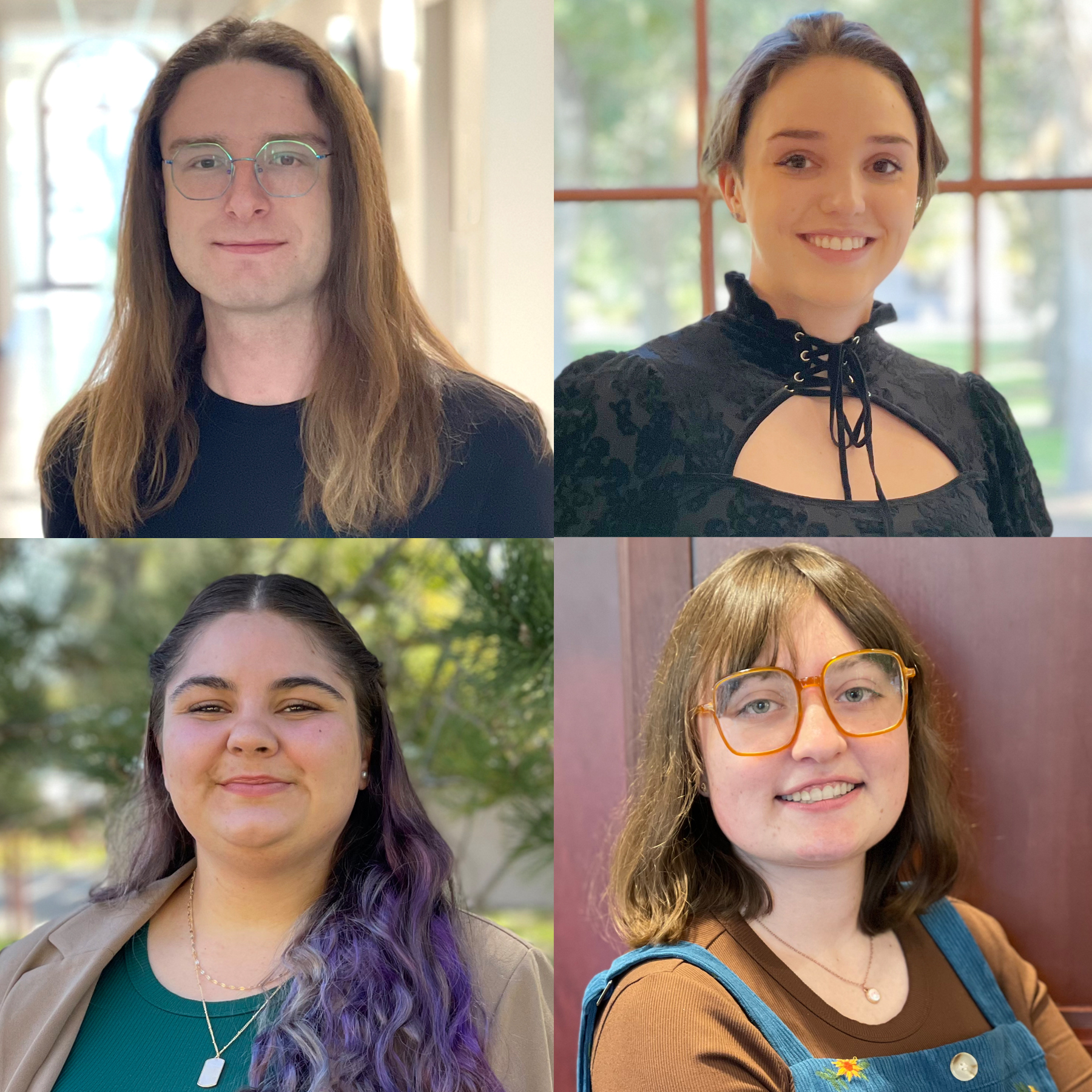 Although they come from different parts of the state, the four Macey scholars for 2023 have one thing in common – an exemplary dedication to learning, service and research as undergraduate students at New Mexico Tech. They all began their college careers during the earth-shattering COVID pandemic, and have managed to navigate their way to excellence.
The four scholars are James Angelos from Roswell, Calyssa Huff from Albuquerque, Samantha (Lindholm) Knight from Albuquerque, and Ruthie Mulvaney from Gallup.
The criteria for the Macey Scholars are exemplary accomplishments in the classroom and research laboratory, institutional service and other activities. Candidates must have at least a 3.4 GPA and a minimum of 30 hours coursework taken at New Mexico Tech. The award for a Macey Scholar is $5,000 in scholarship money.
New Mexico Tech congratulates these young scientists for their accomplishments and wishes them all the very best in the future.
James Angelos graduated with his bachelor's in May 2023, and is now in the accelerated master's degree program in chemical engineering. During his time at Tech, he has worked under Dr. Michaelann Tartis on the blast-induced traumatic brain injury team, where he developed a brain model that accurately resembles human tissue using polymers, various imaging techniques, and additive manufacturing. Angelos has presented his research on adding linear acrylamide chains to the gel matrix at Sandia National Labs, the Rio Grande Symposium on Advanced Materials, and at the American Institute of Chemical Engineers meetings. As an upperclassman, he has been a peer mentor and teaching assistant for first-year students. Angelos is also a member of Tau Beta Pi, and has assisted with trash clean-ups, food drives and the Science Olympiad held at New Mexico Tech.
About James, Dr. Pabritra Choudhury, associate professor in Chemical Engineering, spoke highly of his problem-solving skills. "James has an ability to work ceaselessly and has noteworthy foresight in approaching any problem competently." Dr. Corey Leclerc, Dean of Engineering, said that not only does Angelos help the department above and beyond class and lab duties, but also "Jimmie is a standout in his senior project group for being the simulation guru…. His group has a working simulation because of his effort in this area."
Calyssa Huff majors in biology and is in her senior year. Huff has pursued a rigorous course of study and plans to earn a master's in Biology after graduation in May 2024. In Summer 2023, she was accepted into a research experience at the University of Iowa Carver College of Medicine, working on a project in virology and will have several opportunities to present her research. Huff is an undergraduate researcher in Dr. Daniel Jones' geobiology lab group, focusing on geomicrobiology and microbes surviving under extreme conditions. In conjunction with colleagues at NASA, the group has investigated cleaning procedures in the clean rooms at Johnson Space Center and their efficacy in handling samples from space exploration. These procedures and findings apply to other analysis that Huff is doing on living organisms in samples from Valles Caldera in northern New Mexico. During COVID, she volunteered her services at the testing site. In her spare time, Huff has volunteered with Tech's Clean-up Day, Science Olympiad competition for secondary students, and at the local farmers market. She is currently treasurer for the local chapter of American Association for University Women.
About Huff, Dr. Jones, assistant professor in Earth and Environmental Sciences, said that Huff has met the challenges presented while attending college during the pandemic, which "speaks to her resilience." Jones said, "I have been extremely impressed with her work ethic and dependability. Calyssa is enthusiastic and fun to have in the lab." Dr. Thomas Kieft, director of the biotechnology Ph.D program, said that Calyssa has "an unfailingly cheerful and upbeat attitude…(and) clearly takes joy in all that she's doing."
Samantha (Lindholm) Knight from Albuquerque was homeschooled and graduated from high school with dual-credit at Central New Mexico Community College. Knight graduated in May 2023 with a bachelor's degree in chemical engineering. Hired as an undergraduate researcher, and then navigating COVID restrictions, Knight was able to participate in data collection and the research process. This work produced her first publication in which she was listed as first author. Since that time, Knight has presented her research at national conferences for chemical engineers in Boston and Chicago, and recorded a talk that was sent to a conference in Korea. She served at the AIChE (American Institute of Chemical Engineers) student chapter president for NM Tech, and organized events, fundraising and conference travel. Knight was also recognized in 2023 as the Tech Engineering Student of the Year from the National Society of Professional Engineers.
About Knight, Dr. Corey Leclerc, Dean of Engineering, said, "Samantha is one of the most well-rounded students I have seen at New Mexico Tech, (and) has left an impact on her classmates and on the department." Dr. Youngmin Lee, assistant professor in chemical engineering, said simply that "Samantha is the best student" because of her communication and research skills, and because of her leadership and service for others in the group. Dr. Lee also said, "She has been successfully exploring and leading her own way to develop her research projects" and "always works in the frontline and gives great presentations" for both visitors on campus and at international conferences.
Knight is currently a year-round intern at Sandia National Labs and is working on a graduate degree in chemical engineering at Tech.
Ruthie Mulvaney will graduate in May 2024 from New Mexico Tech with one of the hallmark transdisciplinary degrees available: major in biomedical sciences, with a chemistry option and biochemical engineering concentration. Mulvaney won the Excellence in Organic Chemistry award from the department last year and holds a 4.0 GPA. During her career at Tech, Mulvaney has mentored younger STEM students and tutored in the OSL on campus. She was hired to work in Dr. Praveen Patidar's biochemistry lab, studying DNA damage and repair as well as immune system response and enzyme research for possible cancer treatments. Mulvaney will publish her findings as the first author in a scholarly journal. Working on an engineering project for medical eye-dropper headsets has enriched her perspectives and improve her scientific thinking. Mulvaney loves to perform music, volunteers as a grader and judge in the Science Olympiad, and works as a teaching assistant in the general chemistry labs.
About her, Dr. Kaarin Goncz of the Biology department said that Ruthie "is a natural at research, teaching and leadership." Dr. Patidar called her "a gifted teacher" with a talent for explaining difficult concepts. He said, "Ruthie is among the top 1% of students I have known" in his 14 years of training more than 30 students. "Ruthie has produced outstanding quality and quantity of research work" as an undergraduate that "is superior compared to many of our graduate students."
Mulvaney plans to pursue a doctoral degree in biochemistry studying DNA damage and repair pathways with an eye to the design of drugs that will treat many diseases including cancer.