Community & Junior College Students to Present at the 2021 NMT Student Research Symposium (SRS)
---
Community & Junior College Presenters Invited to Participate in the NMT Student Research Symposium (SRS) on April 14 - 16, 2021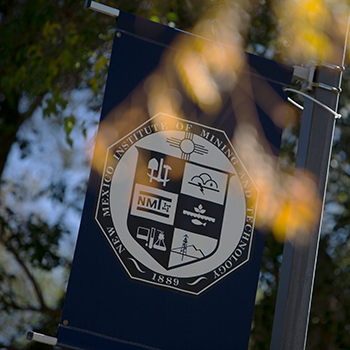 New Mexico Tech (NMT) has opened up poster session registration to all New Mexico Community & Junior College students to participate in the 10th Annual Student Research Symposium (SRS) on April 14 - 16, 2021. We invite students to present in one of four poster sessions (student's preference on which session time), and to attend our other SRS events such as our 3-minute Speech Competition and the Oral Presentations.
All presenters will have a valuable opportunity to enhance their presentation skills, as well as receive constructive feedback on their research/project and poster presentation. They'll also learn about other researchers in their field, and other fields as well. Networking and meeting like minded individuals is another benefit of the symposium participation.
In effort to aid participation for all community and junior college students, there are no fees for attendance or to participate in the poster sessions.
NMT is a wonderful college that promotes and sponsors STEM related projects and research. If you haven't visited Tech in the past, we are excited to share our campus and educational opportunities with you. If you are interested in a STEM education beyond your community college, we would love for you to join us. To help support your educational pursuits, NMT is able to provide student presenters who are awarded a first or second prize for their poster presentation in the Community/2-Year/Junior Colleges category the following:
if you apply to NMT, your application fee will be waived
if you attend NMT, you will receive a $500 scholarship to advance your studies
Thanks to the efforts of the Office of Student Life, the Office for Student Learning, Skeen Library, and the NMT Student Government Association, this year's symposium promises to be a grand event. Please come and share your projects and research with us. We'd love to see what you're working on!
---
Register for the event in two easy steps:
In order to participate, you must register for the symposium here. Make sure to choose Poster Presentation when given the option.
After registering, you must submit a Project Title and Abstract through this form.
Then you're all done! We'll contact you with further instructions.
More about the Symposium:
Presenters range from freshmen to graduate students, which includes community & junior college transfer students. Participants and visitors will be able to talk to NMT students about their research, meet faculty from different NMT departments, and learn about the opportunities that New Mexico Tech can offer.
To help coordinate and make the most of your visit (including campus tours), please contact the SRS Committee at srs@nmt.edu.