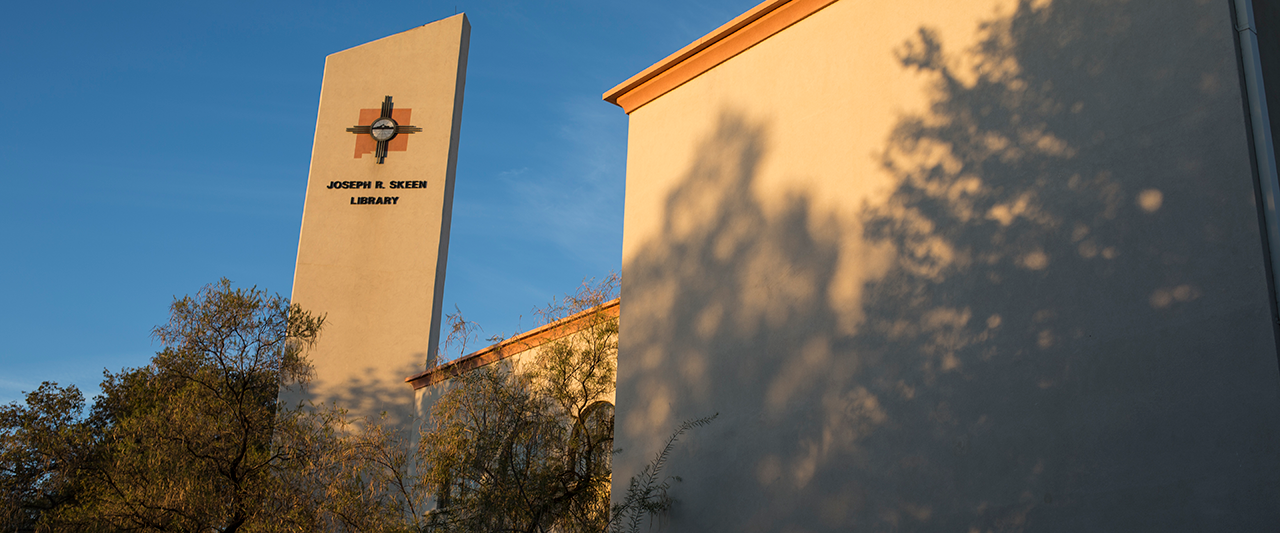 New Mexico Tech
Skeen Library

Welcome to Skeen Library!
Due to COVID-19, the Skeen Library building is open by reservation only to the NMT community.
If you have a valid NMT ID and 900#, you may make a reservation for a workstation, printing, or scanning.
Reservations are limited to one person at a time. Group work and study groups are not permitted.
All study rooms, conference rooms, and meeting areas are closed. Reservations are for individual workstations only.
Need something from the physical collection? The stacks are closed for browsing, but curbside pickup is available! Fill out this form to place your request.
To learn more about what how we're operating during COVID-19 and resources that are available to you, please see our Skeen Library COVID-19 Response webpage.
---
Schedule (beginning Mon. Aug 17)*
Mon-Thur 9am-9pm
Fri 9am-5pm
Sat CLOSED
Sun 12pm-8pm
View all of our hours here
*Schedule is subject to change due to COVID-19 restrictions and requirements
---

Skeen Library eResources are available 24/7!
(You must have an active Library Account in order to access electronic resources online. Need to check your account, or having issues with your log in? Try this!)
Learn more about Skeen's Electronic Resources!
---

Have Questions on Access? Need a Password Reset? Explore these topics!
Check out these resources and commonly asked questions. If it's not answered here, contact us via chat, email, or text!
LIBRARY CATALOG (SEARCHING & ACCESSING YOUR LIBRARY ACCOUNT)
ONLINE LIBRARY ACCOUNT (INFO & PASSWORD SET/RESET)
Looking for off-campus access to ITC resources and information on Distance Education?
---

STAFF MEMBERS ARE AVAILABLE ONLINE!
CHAT/IM

with us from any of our Skeen Library web pages
EMAIL

us at

NMTLIB@NMT.EDU
TEXT

us at

575-214-7621
make an APPOINTMENT for one-on-one reference questions
NMT Joseph R. Skeen Library
801 Leroy Place
Socorro, New Mexico, 87801
575-835-5614
email: nmtlib@nmt.edu