Oral Presentation Dinner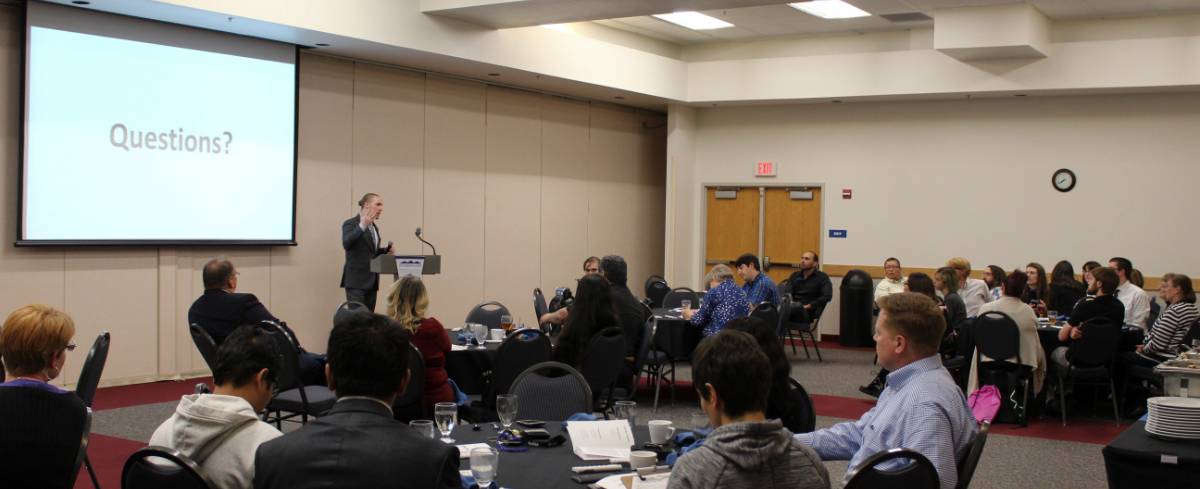 To be eligible for this event, you must be a registered student at NMT.
---
EVENT INFORMATION
Tuesday, April 14 @ 5PM, Fidel Ballroom B
Event Coordinator: Liz Lyons, 575.835.5001
Six individual presenters (no teams) will be selected to attend and present at the Oral Presentations Dinner on Tuesday evening. Each presenter will have an eight-minute PowerPoint slide presentation followed by two-minute Q&A with dinner attendees. Attendees include fellow presenters, students, evaluators, reviewers, faculty and staff, and special guests.
Spaces are limited so apply early, and make sure to select Oral Presentation as part of your registration. You must submit an abstract as well. Both are due by 5pm on Wednesday, March 11th.
The presenter selections will be based on your abstract submission. The SRS Abstract Review Committee will look at your title and abstract to determine the top six students who will be selected to present. The selections will feature a range of topics and disciplines.
You will receive valuable feedback on your presentation through evaluator comments and reviewer feedback.
Dinner Information
Each selected presenter will receive two dinner invitations - one for the presenter and one for their invited guest. Dinner will be catered by Chartwells.
---
FAQS
How will I know if I'm selected to present?
All applicants will be notified through email if you've been selected or not.
What if I'm not selected?
Presentations not selected for the Oral Presentation Dinner are guaranteed a poster space at one of the four Poster Sessions at Fidel on April 14th or 15th.
How will I be evaluated?
Interested in knowing what and how you will be evaluated? Here's the Oral Presentation Evaluator Criteria.
I'm not a presenter, but I want to attend the Oral Presentations Dinner. How do I reserve a seat to eat dinner?
Since seating is limited for the Oral Presentations Dinner, we reserve seating for the presenters and one guest ahead of time. Any other attendees are asked to participate as Evaluators or Reviewers. To learn more about what it means to be an Evaluator, please check out this page.
To register for the dinner, please click here.
Have other questions?
Please email us at srs@nmt.edu with any questions you may have. We're happy to help!
---
READY TO REGISTER FOR THE SRS?
It's time to Register & Submit your Abstract!
Registration and Abstract Submittal closes at 5pm on March 11.
---
Need more information or clarification?
For general information, please email srs@nmt.edu, or call 575.835.5614.
You may also directly contact one of the SRS staff below:
Sarah Obenauf: 575.835.5531; sarah.obenauf@nmt.edu
Liz Lyons: 575.835.5001; liz.lyons@nmt.edu
David Cox: 575.835.5030; david.cox@nmt.edu
---
The Student Research Symposium (SRS) is an initiative of the Office for Student Learning (OSL) and the Joseph R. Skeen Library. The SRS is further enriched by the support of the Office of Student Life, the Center for Graduate Studies, and the Student Government Association (SGA).