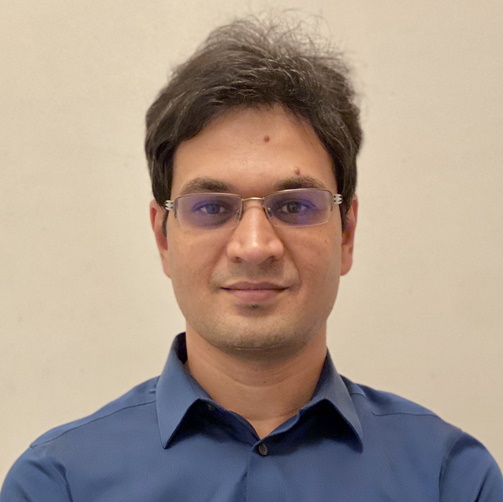 ---
Education
Postdoctoral Research, Simmons Comprehensive Cancer Center, University of Texas Southwestern Medical Center, Dallas, TX
PhD. (Biochemistry), New Mexico State University, Las Cruces, NM
M.S. (Life Sciences), Devi Ahilya University, Indore, MP (India)
B.S. (Biology/Chemistry), Holkar Science College, Indore, MP (India)
Research Interests
Genome maintenance is an essential cellular task. Compromised genomic integrity results in several debilitating diseases such as neurodegenerative disorders, autoimmune diseases, and cancer. Genomic integrity is constantly challenged due to the intrinsic susceptibility of DNA to various kinds of damage from exposure to various endogenous (e.g., reactive oxygen species, R-loops, replication stress) and exogenous (radiation, chemical mutagens) factors. The intricate task of genome maintenance is promoted by myriads of proteins involved in preventing, recognizing and resolving DNA damage.
The Patidar lab is interested in understanding the mammalian DNA damage and repair response with emphasis on delineating the molecular functions of novel DNA repair proteins and seeking translational research avenues. We are also interested in developing anti-cancer drugs that create DNA damage and trigger cell death exclusively in cancer cells. Interdisciplinary approaches including protein biochemistry, cell & molecular biology, cancer biology, genomics, proteomics and RNAi are routinely employed to drive on-going research.
Currently recruiting graduate (Ph.D. and M.S.) students. Interested students are encouraged to email their CV and a brief statement of interest.
Current Funding
1R15GM128071-01A1, National Institutes of Health/NIGMS, "The Interplay of XRN2 and PARP1 in Preventing R-loop-induced Genomic Instability".
Role: Principal Investigator
Divisions
Recent Publications
Cystargolide-based amide and ester Pz analogues as proteasome inhibitors and anti-cancer agents. Viera CRBT, Stevens BT, Viera T, Zielinski C, Uranga LA, Rogelj S, Patidar PL, Tello-Aburto R. Royal Society Open Science. 2022, 9(9), 220358.
DNA damage induced by KP372-1 hyperactivates PARP1 and enhances lethality of pancreatic cancer cells with PARP inhibition.Viera T, Patidar PL. Sci Rep. 2020 Nov 19;10(1):20210. doi: 10.1038/s41598-020-76850-4.PMID: 33214574.
XRN2 interactome reveals its synthetic lethal relationship with PARP1 inhibition. Patidar PL, Viera T, Morales JC, Singh N, Motea EA, Khandelwal M, Fattah FJ.Sci Rep. 2020 Aug 28;10(1):14253. doi: 10.1038/s41598-020-71203-7.PMID: 32859985.
Please visit link below for the complete publication list,
https://www.ncbi.nlm.nih.gov/myncbi/1lwzQs9q7c697M/bibliography/public/
Patents
"KP372-1-induced DNA damage as a chemotherapeutic approach to treat cancer", Patidar P.L. and Viera, T., U.S. Provisional Patent Application No. 63/111,994.
"Kub5/Hera as a determinant of sensitivity to DNA damage", Boothman D.A., Motea E. A., Patidar P. L. and Morales J. C., U.S. Patent Application No. 62/132,985.
"XRN2 as a determinant of sensitivity to DNA damage", Boothman D.A., Motea E. A., Morales J. C. and Patidar P. L., U.S. Provisional Patent Application No. 62/340,782.