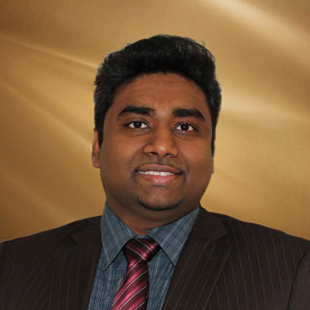 ---
Education
Assistant Professor, Saint Cloud State University, 2013-2014
Visiting Assistant Professor, University of Iowa, 2011-2013
Postdoctoral Researcher, University of Iowa, IA 2011-2013
Ph.D., Physical and Environmental Chemistry, University of Iowa, 2011
B.Sc., Chemistry, University of Kelaniya, 2005
Keywords
environmental interfaces, heterogeneous chemistry, photochemistry, mineral dust, climate, biogeochemistry, marine chemistry, environmental toxicity and health, implications of nanoscience and nanotechnology, wastewater treatment.
Research Interests
Dr. Rubasinghege's research revolves around nanomaterial, polymer composite and environmental chemistry, studying hidden reaction pathways and mechanisms in environmental processes to better understand the impact of mineral oxides and engineered nanoparticles on poorly understood environmental process. One of his projects focuses on (i) how and why different metal oxides and engineered nanoparticles behave differently during their environmental processing under various environmentally relevant conditions and (ii) the potential impacts of these processes on aquatic life and human health. These interdisciplinary studies specifically focus on effects of particle size (nano vs. micro), ionic strength, organic and inorganic pollutants and solar radiation on chemical reactivity and environmental processing of metal oxides in mineral dust as a source of trace metals to aquatic life, and their follow up aqueous phase behaviors.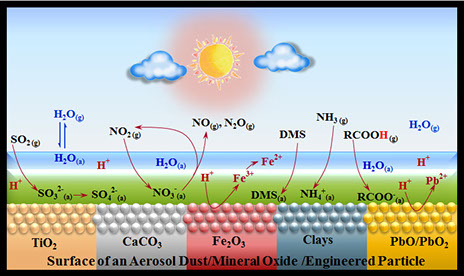 In another research project Dr. Rubasinghege will combine molecular level insight from above aqueous phased studies to develop inorganic polymer and carbon nanotube based catalytic systems to address various environmental issues in open water bodies, including increasing amounts of wastewater pollutants. His research involves cutting-edged-technologies in spectroscopy (FTIR, XPS, ICP & AAS, UV-VIS, DLS), microscopy (SEM, TEM) and chromatography (GC-MS, HPLC).
Ongoing Projects:
1. Chemistry and Photochemistry of Mineral Oxides and Engineered Nanoparticles in Atmospheric Aerosol.
2. Linking Biological Activity of Ocean Diatoms to Atmospheric Processing of Fe-containing Minerals.
3. Fate, Trasformation and Toxoclogical Implications of Emerging Contaminants.
4. Development of Nanoparticle based Catalytic Systems / Polymer Composites for Wastewater Treatments.
5. Toxicity, Mechanisms and Human Health Effects of Airborne Heavy Metals.
Research Divisions
Solar Energy and Sustainability
Meet Dr. Gayan Rubasinghege discussing his reseach
Recent Publications
Ellepola, N.; Viera, T.; Patidar, P. L.; Rubasinghege, G. Fate, Transformation and Toxicological Implications of Environmental Diclofenac: Role of Mineralogy and Solar Flux, Ecotoxicology and Environmental Safety, 2022, 246, 114138.
Hettiarachchi, E.; Das, M.; Cadol, D.; Frey, B.A.; Rubasinghege, G.; The Fate of Inhaled Uranium-containing Particles Upon Clearance to Gastrointestinal Tract. Environmental Science: Processes & Impacts, 2022, 24(8): 1257-1266.
Salinas, V.; Das, M.; Jacquez, Q.; Camacho, A.; Zychowski, K.; Hovingh, M.; Medina, A.; Rubasinghege, G.; Rezaee, M.; Baltrusaitis, J.; Fairley, N.; Roghanchi, P. Characterization and Toxicity Analysis of Lab-Created Respirable Coal Mine Dust from the Appalachians and Rocky Mountains Regions, Minerals, 2022, 12(7): 898.
Ellepola, N.; Rubasinghege, G. Heterogeneous Photocatalysis of Amoxicillin under Natural Conditions and High-Intensity Light: Fate, Transformation, and Mineralogical Impacts. Environments, 2022, 9, 77. DOI: 10.3390/environments9070077.
Salvador, F.; Miller, V.; Shimada, K.; Wang, C-H.; Wright, J.; Das, M.; Chen, Y-P.; Chen, Y-S.; Sheehan, C.; Xu, W.; Rubasinghege, G.; Gao, W-Y, Mechanochemistry of Group 4 Element-Based Metal–Organic Frameworks, Inorganic Chemistry, 2021, 60 (21), 16079-16084. DOI: 10.1021/acs.inorgchem.1c02704.
Hettiarachchi, E.; Ivanov, S.; Kieft, T.L.; Reynolds, R.; Goldstein, H.; Moskowitz, B.; Rubasinghege, G.* Atmospheric Processing of Iron-Bearing Mineral Dust Aerosol and Its Effect on Growth of a Marine Diatom, Cyclotella meneghiniana, Environmental Science and Technology, 2020, 55, 871-881.
Thapa, S.; Hettiarachchi, E.; Dickie, D.A.; Rubasinghege, G.*; Qin, Y. A.* Charge-Separated and Lewis Paired Metal–Organic Framework for Anion Exchange and CO2, Chemistry-A European Journal, 2020, 26, doi:10.1002/chem.202002823.
Hettiarachchi, E; Rubasinghege G.* Mechanistic Study on Iron Solubility in Atmospheric Mineral Dust Aerosol: Roles of Titanium, Acid Anion, Dissolved Oxygen, and Solar Flux. ACS Earth and Space Chemistry, 2019, 4, 101-111.
Ellepola, N.;Ogas, T.; Turner, D.; Gurung, R.; Maldonaldo-Torres, S.; Tello-Arburto, R.; Patidar, P.; Rogelj, S.; Piyasena, M.; Rubasinghege, G.* A Toxicological study on Secondary Residues of Ibuprofen: Environmental and Human Health Implications. Ecotoxicology and Environmental Safety, 2019, 108, 109892.
Hettiarachchi, E.; Reynolds, R.; Goldstein, H.; Moskowitz, B.; Rubasinghege, G.* Bioavailable Iron Production in Airborne Mineral-Dust: Controls by Chemical Composition and Solar Flux. Atmospheric Environment, 2019, 15, 90-102
For the complete list of publications, please visit our Group website.