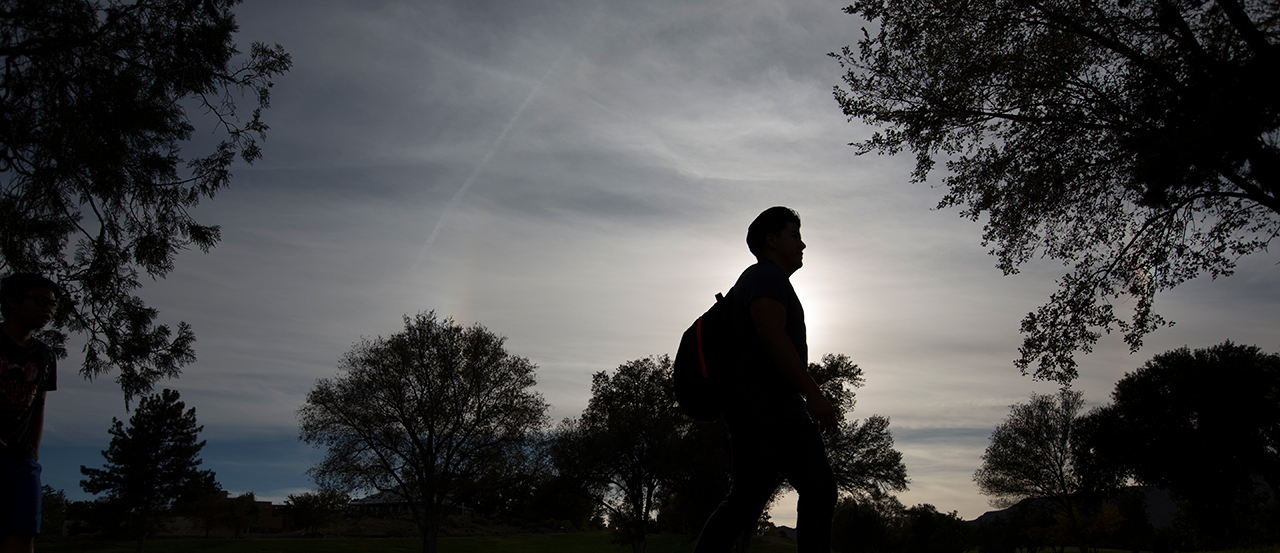 NMT Auxiliary Services
Apartment Communities
Two affordable and convenient apartment communities are available on campus and are open to graduate students and families. Graduate student apartments offer furnished spaces with living rooms, full kitchens and on-site laundry facilities. Family apartments are unfurnished spaces with a variety of close proximity offerings to parks, recreational facilities and elementary schools. Mountain Springs Apartments offers individual single bedroom apartment living for graduate students as well as spacious two bedroom apartment living for student with families. Desert Willow Apartments offers townhouse style two bedroom apartments in a quiet corner of campus aimed at supporting graduate students.
Location
Mountain Springs Apartments are located on the southwest corner of Bullock Blvd. and El Camino Real St. and offer campus living closer to the community.
Desert Willow Apartments are located in the southwest corner of campus on Romero Dr. off of Neel Dr.
Mail
All mail should be addressed to your student mail box on campus, including deliveries needing a physical address.
Example:
Student Name
PO Box 1234
Socorro, NM 87801
Contact
All correspondence regarding apartment living should be made with the Auxiliary Services Office by emailing: apt-housing@nmt.edu or by calling 575-835-5905.
Who Can Live in the Apartments?
Preference given to:
Students who are married/have a domestic partner with/without children
Graduate students
International students
Students 21 or older
Undergraduate juniors and seniors
Application Process
Application Dates:
Submit the online application https://form.jotform.com/220557273696162
Submit the $200 Housing Deposit if you have not already done so (If applying for family housing, add $50 for each additional person). This deposit is the same for both the aprtments and the residence halls. The Housing Deposit can be paid in one of three ways:
Online via Banweb (Deposit Instructions)
Call the cashier's Office at 575-835-5515 to pay via card
Mail a check payable to "New Mexico Tech" with the students 900 ID number in the memo line to: Apartment Housing –NMT
Auxiliary Services
801 Leroy Place
Socorro, NM 87801
Once both the application and the deposit are received, a confirmation email will be sent to your NMT student email.
Upon verification of students needs and verification of available apartment units, you will receive an assigned apartment with a lease agreement.
New Mexico Tech Housing Agreement
Apartment Prices
(Summer 2023, 2023-2024 School Year)
Grad Students

One bedroom single apartment -$850, $931

Single bedroom shared apartment -$735, $805

One space in double bedroom in shared apartment $605, $668

Buyout both spaces in the double bedroom -$1000, $1095

Families

New Families are being assigned into MSA ONLY

Standard 2 bedroom $900, $986

Large 2 bedroom $975, $1068

Families in Desert Willow on Grandfather Clause

Townhouse 2 bedroom $900, $986

Undergraduate (Currently being assigned to Desert Willow)

Single bedroom shared apartment -$735, $805

One space in double bedroom in shared apartment $605, $668
Buyout both spaces in the double bedroom -$1000, $1095
Meal Plans
Apartment residents are not required to have a meal plan.
Summer meal plans are a declining balance card worth $100. The cost is $90. It can be used in the Dining Hall, Fire and Ice Cafe, and the M Mountain Grill at the Golf Course. Pease email apt-housing@nmt.edu to find out more or add this to your account.
Meal plan information can be found here.
Students without meal plans can purchase meals, billed to their student account. A minimum of 25 meals must be purchased at one time.
Students can purchase a single meal ticket upfront at the Chartwells counter. Prices vary by meal being served.