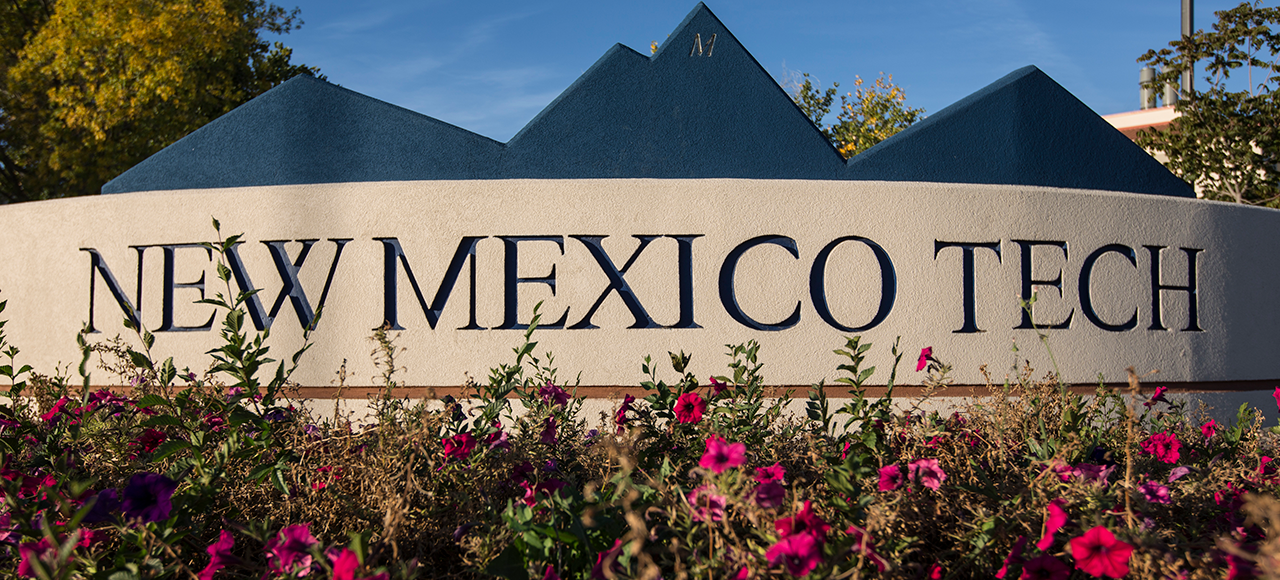 Office of Admission
Transfer Students
New Mexico Tech seeks to admit students who are intrigued by STE2M and will thrive in a small school setting that provides an intense, focused education. Our students look forward to the challenges and opportunities presented to them alongside our faculty who share their passion for knowledge. Hands-on learners do especially well at New Mexico Tech due to the abundance of research opportunities. We invite you to explore all that New Mexico Tech has to offer!
Not sure if New Mexico Tech has the degree that you are looking for? Are you still not entirely sure what you would like to study? Do you want to get more information about a specific program? Take a look at all of our Academic Programs that we offer!
Transfer Credit Information
New Mexico Tech accepts academic credits from accredited institutions of higher education. All credits will be evaluated and transferred on a course-by-course basis. Credit earned at any institution while a student is on academic or disciplinary suspension will not be accepted at New Mexico Tech. For more information on transfer credit visit our Transfer Student Resources and Transfer Student FAQ pages.
New Mexico Transfer Students: New Mexico's Higher Education Department has a more complete list of courses offered at other New Mexico colleges or universities and their Tech equivalents through the Common Course Numbering System.
To Qualify as a Transfer Student
You will be considered a transfer student if you have been enrolled in a college or university since graduating high school or completing a GED or HiSet. If you have taken 30 or more credit hours at another college or university, you will abide by the below transfer student admission requirements.
If you have taken fewer than 30 credit hours at another college or university, you will still be considered a transfer student, but will follow the first-time freshmen admission requirements. You also will not be able to qualify for any of New Mexico Tech's merit based scholarships.
If you are still currently in high school and are taking dual credit courses you will be considered a first-time freshman. This applies regardless of the number of credit hours that you have completed.
Transfer Student Admission Requirements
The minimum admission requirements for a student who is classified as a transfer student are as follows:
Cumulative GPA of 2.0.
Minimum of 30 credit hours.
The student must place into Math 1240 (Pre-Calculus) or higher.
The student must have completed the same high school course work requirements as entering freshmen (either from high school or from equivalent courses taken since high school).
The student must be eligible to re‐enroll at the institutions from which he or she wishes to transfer. An applicant who cannot re‐enroll at that institution is not eligible to enter New Mexico Tech.
If a student is not offered admission due to failure to meet the academic requirements listed above, their application may be reevaluated upon the receipt of updated official college transcripts that satisfy the requirements.
Applying for Undergraduate Admission as a Transfer Student
To be considered for admission, all students must complete the Application for Undergraduate Admission and Scholarships. You may apply online or submit a print application (PDF).
In order for the Office of Admission to evaluate an application, the following documents must be submitted:
Official college transcripts from ALL colleges attended, reflecting all completed and in progress course work.

Transcripts from outside of the United States will require a Comprehensive Course-by-Course Report from World Education Services. More information can be found

here

.

Mailed documents may be addressed to:

Office of Admission

New Mexico Tech

801 Leroy Place

Socorro, NM 87801
Applying for Scholarships
No application is necessary! The Application for Undergraduate Admission and Scholarships will automatically consider the student for one of New Mexico Tech's Transfer Student Merit Scholarships and Tuition Reduction Scholarships (non-New Mexico residents). Scholarships will be awarded on the basis of the student's completed credit hours and cumulative GPA (Phi Theta Kappa certificate required for associated scholarship). A transfer student must be admitted before April 1 in order to be considered for any of the above scholarships.
New Mexico Tech continually updates your GPA as we receive new official documents. A greater scholarship than what the student initially receives may be awarded based upon an increase of GPA.
Although no separate application is required for the aforementioned scholarships, New Mexico Tech does offer a list of endowed scholarships, as well as scholarships from outside organizations that students may apply for separately. Please be aware that these scholarships each have their own individual deadlines and requirements.
Additional Scholarship Information
Why New Mexico Tech is a Great Choice Financially
If you wish to be considered for Federal Student Aid, you must submit a FAFSA.
Applying for Housing
There are many great reasons to live on campus at New Mexico Tech! When living on campus students are close to their classes, the dining hall, and a variety of social events. They are also close to an assortment of important student resources such as the Office for Student Learning (OSL), the Writing and Communication Lab, and Skeen Library. Living on campus comes with some amazing perks as well, such as access to free laundry facilities and free parking!
Housing is assigned on a first-come, first-served basis. The sooner that you are able to complete your Room and Board Application, the better your chances of receiving your first choice dorm or apartment! If you have any questions regarding the Room and Board Application or would like additional information about living on campus, please contact Residential Life. If you wish to live off-campus, you may also request an off-campus housing list from Residential Life.
Please direct any questions or concerns about the content of the Office of Admission's website to admission@nmt.edu