Volunteering at the SRS
Volunteer Coordinator: James Klarkowski, 575.835.6600
---
We appreciate your interest in volunteering to help at the symposium!
Volunteers are integral to the success of an event such as SRS. Supporting students in their educational endeavors and research is an amazing feeling. The help we provide in making things seamless from event to event, the feedback we give through reviews and discussions with the students, the help we lend in just helping attendees find the right places to visit, is very satisfying. Volunteers help not only by making this event possible, they help to make it great.
Volunteers can be students, faculty, staff, or community members from a variety of backgrounds, and with varying expertise. Anyone is welcome to attend and/or volunteer!
We can use volunteers for a variety of duties:
Event Set Up
Event Break Down
Assisting the Event Coordinators
Helping with Registration
Giving Directions & Guidance to Attendees
Putting Together Information Packets
Light Custodial Duties
Greeting Attendees
Counting Attendees
Acting as a Reviewer or EVALUATOR
And a variety of other things!
Questions about volunteering?
For more information on how you can help, please contact our Volunteer Coordinator, James Klarkowski, at 575.835.6600, or james.klarkowski@nmt.edu.
Ready to volunteer?
Just fill out this quick form and we'll be in touch!
Click Here to volunteer for the SRS!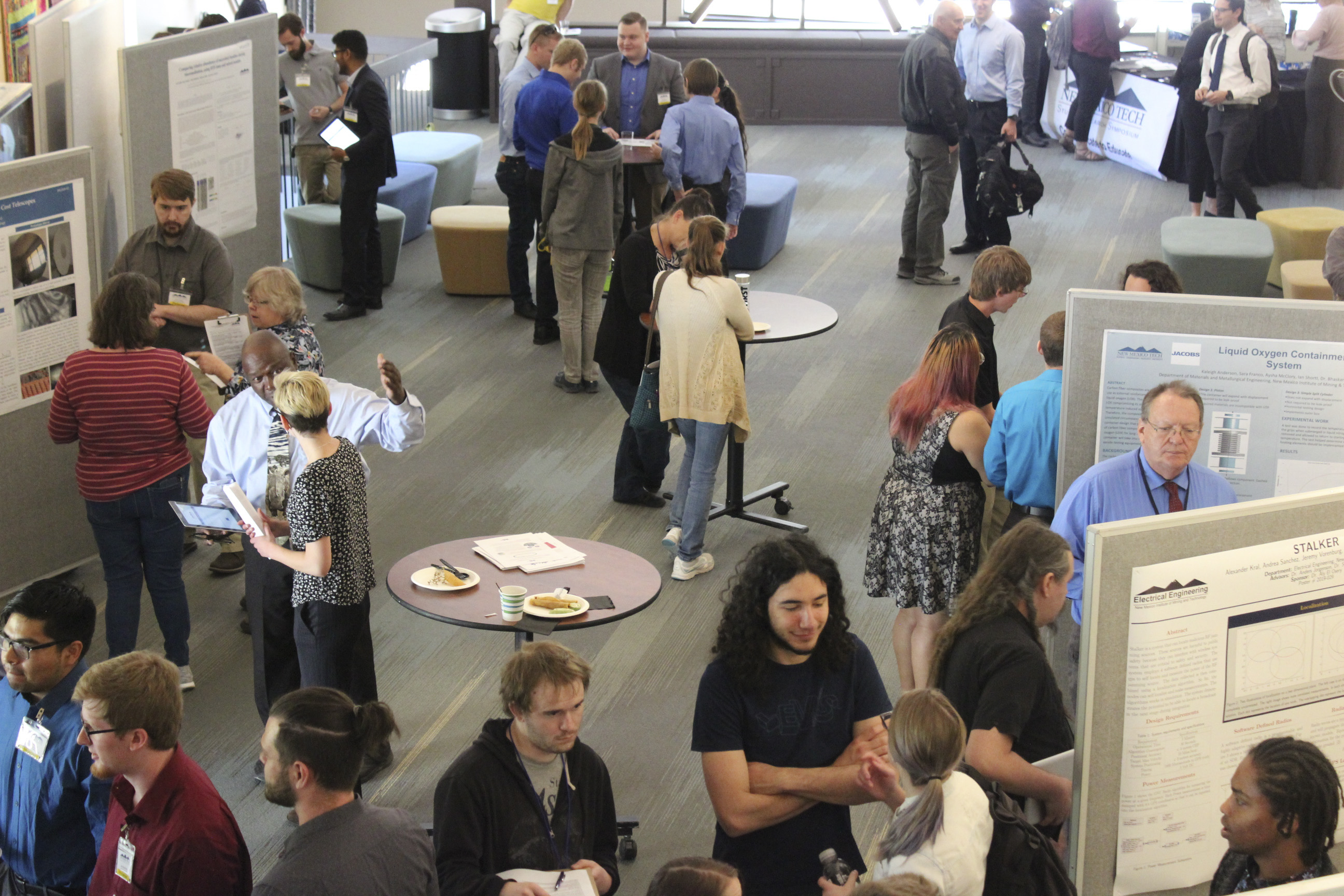 All of our events (Poster Sessions, Oral Presentation Dinner, and 3-Minute Speech Competition) take place in the Ballrooms on the 3rd floor of the Fidel Center on the NMT Campus. Refreshments are provided and we welcome you to partake! If you're interested in volunteering for the Oral Presentations, we encourage you to consider staying with us for dinner and also act as an evaluator or reviewer for the presentations as well.
---
FAQS
Can I volunteer only for one session, or do I have to volunteer the whole day?
You can volunteer for whatever you'd like! We're just happy for the help.
To help us in planning, we have divided the volunteer times into 1 hour increments on both April 14 and 15. When you fill out the volunteer form, you'll be asked to select the times that work best for you. If you stay longer than anticipated, we're always happy to have you! If you can only spare 15 minutes and don't have the availability to volunteer for an hour or more, we encourage you to participate as a reviewer.
I'm presenting at the SRS, can I volunteer to help out for other times/events?
YES! We would love to have you join us. You'll see other presenters and information that you might miss otherwise.
I'd like to volunteer at the dinner. Do I get a free meal?
Yes! However, you must register for the dinner separately if you want to stay for the meal. You can register for the dinner here!
Since seating for the dinner is limited, we ask that you consider acting as an Evaluator for the oral presentations as well. Check out our EVALUATORS webpage for more information on the requirements to participate in this way.
I'm interested in helping! How do I volunteer?
To volunteer, please fill out the form below. If you have any questions on the form, please contact James Klarkowski at 575.835.6600.
Click here to volunteer at the SRS!
---
---
Need more information or clarification?
For general information, please email srs@nmt.edu, or call 575.835.5614.
You may also directly contact one of the SRS staff below:
Sarah Obenauf: 575.835.5531; sarah.obenauf@nmt.edu
Liz Lyons: 575.835.5001; liz.lyons@nmt.edu
David Cox: 575.835.5030; david.cox@nmt.edu
---
The Student Research Symposium (SRS) is an initiative of the Office for Student Learning (OSL) and the Joseph R. Skeen Library. The SRS is further enriched by the support of the Office of Student Life, the Center for Graduate Studies, and the Student Government Association (SGA).