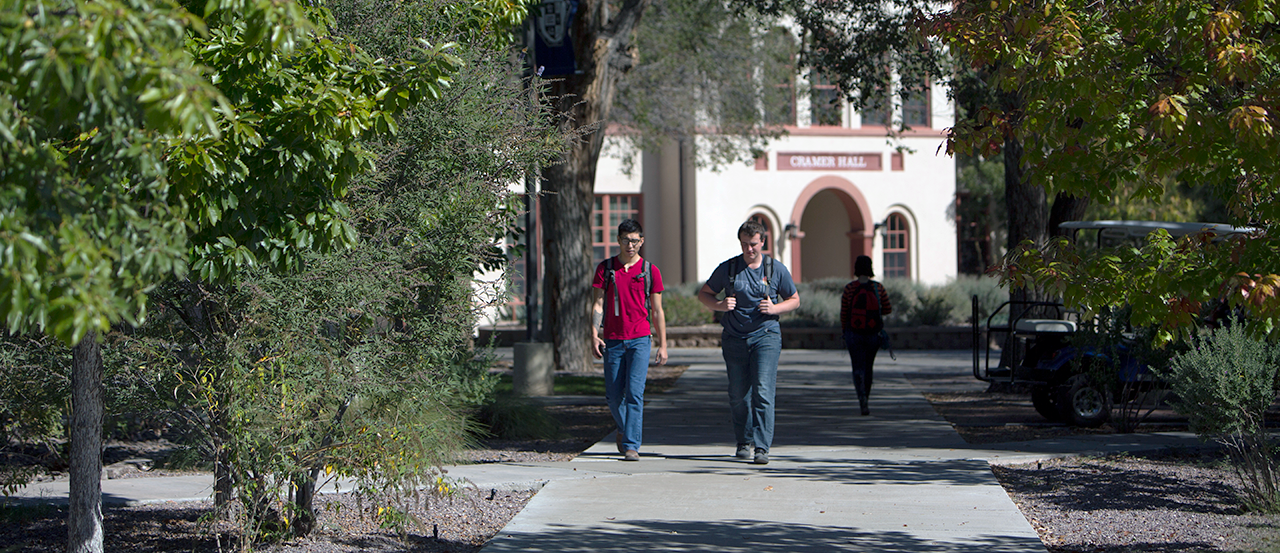 Business and Technology Management
Undergraduate Programs
Welcome to the Business and Technology Management (BTM) program at New Mexico Tech.
The Business and Technology Management (BTM) program affording you an opportunity to not only develop your business and management knowledge and skills but also to strengthen your analytical and information management skills required for today's technology managers. The undergraduate program draws on the science and technology focus of the university, while providing you an opportunity to explore your interests in social science and humanities from across the campus. Our approach to business and management education is unique in New Mexico with a focus on the high demand skills in technology and engineering organizations.
The mission of the BTM program is to develop your substantive decision-making, analytical, and people skills and tools, as well as the fundamental and practical business knowledge required to lead complex organizations in today's competitive global environment. The undergraduate program offers an additional career path that prepares you to start your own business and become a future entrepreneur. In addition to the university's General Education requirements, you will take courses in accounting, economics, human resources, finance, management, business strategy, marketing, operations management, project management, statistics, computer programming and entrepreneurship.
Degree Programs
Undergraduate Degree Options
As a management student at New Mexico Tech, you have several degree options. Whichever degree option you may select, BTM students are problem solvers prepared to pursue careers in public and business organizations as project managers, logistics planners, marketing managers, human resource managers, accountants, economists, lawyers, and entrepreneurs, among others.
We offer three bachelor degree options: B.S. in Management, B.S. in Management of Technology, and B.A. in Business Management. All degree options require students to complete the core business and management curriculum; degrees are differentiated by the electives and institute general education courses required to complete the degree. In addition, all degree options prepare students to pursue their own business interests as entrepreneurs. The degree options are described below:
The B.S. degree in Management (120 credit hours) provides students with the knowledge and skills required to manage complex projects and functional areas of an organization, i.e. accounting, finance, logistics, marketing, and human resources. In addition to the business and management curriculum, students are exposed to basic courses in engineering or science, depending on their interests.
The B.S. degree in Management of Technology (130 credit hours) integrates the business and management curriculum with more extensive coursework in an engineering or science field of the student's choice, providing specific technical knowledge and skills required to lead project teams and technical organizations with an in depth understanding of both the technology and business components of the organization.
The B.A. degree in Business Management (120 credit hours) provides students with the knowledge and skills required to manage business operations and lead project teams within a functional area of the organization. Students have extensive choice in electives from across the university based on their career and personal interests, providing additional breadth to their skill set.
In addition to the bachelor degree options, students have three further options:
The A.S. degree in Business (60 credit hours) is designed for students seeking to learn about the inner workings of business and organizations who are interested in pursuing a management career in their respective field of study. In addition, this option is available for NMT staff and community members interested in pursuing a terminal two-year business degree and those wishing to acquire an associate's degree before working toward a bachelor's degree to increase their career options.
The Certificate in Business (18 credit hours) provide students with an introduction to business fundamentals that can meet their diverse educational needs and prepare them for future career opportunities. Students select courses of interest from the management program. This option is an opportunity for community residents, business owners, government and public school employees, and NM Tech employees to increase their business knowledge and skills. The certificate program serves as a catalyst to develop local entrepreneurs who can start their own business or work for existing and new businesses.
The Minor in Management degree option (18 credit hours) provides NMT students with an opportunity to develop their knowledge and skills in business and management through courses of their interest within the management curriculum, and explore a management career path in their respective field of study.
Please see the NMT course catalog for program objectives and specific courses. For further information, or to explore your degree options, please contact Dr. Frank Reinow (frank.reinow@nmt.edu) or Dr. Haoying Wang (haoying.wang@nmt.edu).
Opportunities for Student Involvement
As a Business and Technology Management student, the following extracurricular clubs, projects, and activities are available to you:
Student Makerspace is a hands-on creativity and design lab where you can make your ideas come to life. The space provides opportunities for students from across the campus to collaborate with others in an unstructured and fun environment at no cost to use computers, 3-D printers, drones, and Arduino boards. Come by Cramer 105 to invent and innovate.
NMSU Studio G is a business accelerator whose purpose is to assist students and community members throughout New Mexico to develop businesses and technologies to grow the economy in the state. As a NM Tech student and Studio G member, you have access to technical and business experts to help grow your ideas.
Student Investment Club is an opportunity for students to learn about stock market investing. You and your fellow students conduct company research, analyze market trends, and make buy and sell decisions in an actual account with real dollars. The club is open to students from all departments and majors.
The New Mexico Small Business Assistance Program provides funding opportunities for our students to work with inventors and entrepreneurs on their product innovations. Depending on the assistance required, you may research, design, and develop solutions for a company taking their product to market or providing a service to their customers. You can even get paid for your efforts.