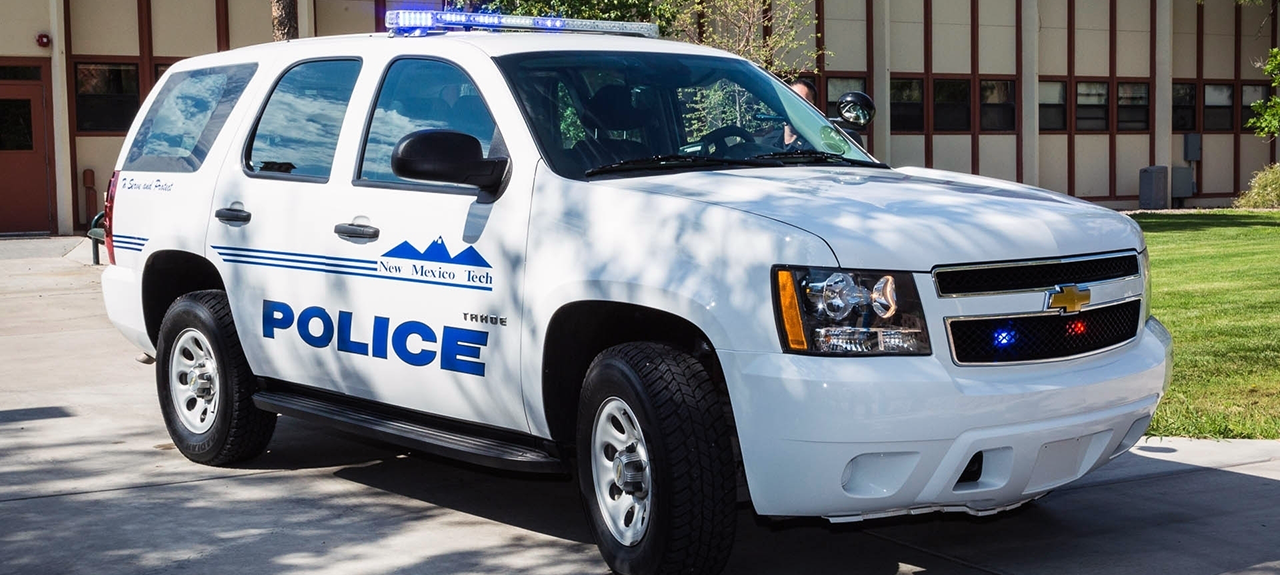 New Mexico Tech
Campus Police
2023 ANNUAL SECURITY AND FIRE SAFETY REPORT (PDF)
Contact Campus Police
Emergency: ext. 5555 or 911 (campus phones); 575-835-5555 (off-campus or mobile phones)
Non-Emergency Call: 575-835-5011 (off-campus or mobile phones) or extension 5434 or "0" (on campus)
Dispatch: dispatcher@nmt.edu
New Mexico Tech Police Department Student Activity Center Building 600 Navajo Loop Socorro, NM 87801
We provide 24-hour-a-day police and security patrol services to the campus property, parking lots, and residence halls, as well as the 20,000-acre field laboratory of the Energetic Materials Research and Testing Center.
Campus Police officers are vested with full law enforcement powers and responsibilities to enforce all municiple, state and federal laws. All Campus Police officers are trained at the New Mexico Law Enforcement Academy and receive additional in-service training in first aid, firearms, defensive tactics, and legal updates, as well as training in laws relating to DWI and traffic investigation.
Officers are responsible for a full range of public safety services, including all crime reports; investigations; medical and fire emergencies; traffic accidents; enforcement of laws regulating underage drinking, the use of controlled substances, and weapons; and all other incidents on the Tech campus requiring police assistance.
When necessary, we share information on arrests, serious crimes and other incidents with other local law enforcement agencies, that would help bringing criminals to justice sooner providing a better over all protection and law enforcement services for the students, staff and faculty at New Mexico Tech.
NMT Police Services
In addition to law enforcement functions, the NMT Campus Police provide the following services to the campus community:
Dead battery jumpstarts
Key extractions for keys locked in vehicles (on campus for staff, students and visitors)
Assistance with building access and dorm room lockouts
Safety escorts to any on campus location
Non emergency medical escorts to nearby facilities
Crime prevention programs for students and staff
First Aide Assistance
Campus directions and information
Key creation and distribution services - Key Request Form
Bicycle and Product Registration
Do you need to contact the NMT Behavioral Intervention Team? Click here
Training Videos
Recognizing and Preventing Violence on Campus
Guidance for Survining Active Shooter Situations: