New Mexico Tech's Kooktae Lee Receives NSF CAREER Award
Oct. 18, 2022
---
Mechanical engineering professor awarded prestigious National Science Foundation award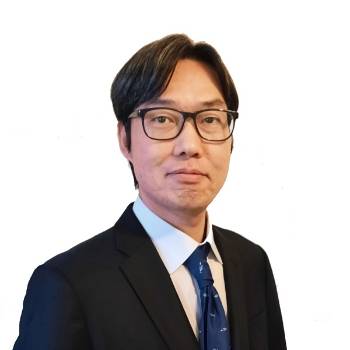 SOCORRO, N.M. – A research project examining the challenges of deploying multiple robots in an efficient manner to complete a task is garnering national recognition and aims to inspire young scientists. The National Science Foundation (NSF) recently awarded New Mexico Tech Assistant Professor Kooktae Lee, Ph.D., a $542,258 CAREER Award for his five-year project titled "Optimal Transport-based Density-Aware Multi-Agent Exploration." Dr. Lee, who has a background in robotics and control, has been a mechanical engineering faculty member at New Mexico Tech since 2017.
The NSF CAREER Program is a foundation-wide activity that offers its most prestigious awards in support of early career faculty who have the potential to serve as academic role models in research and education and to lead advances in the mission of their department or organization. Activities pursued by early career faculty should build a firm foundation for a lifetime of leadership in integrating education and research. NSF is an Alexandria, Virginia-based independent federal agency that supports fundamental research and education in all the non-medical fields of science and engineering.
Multi-robot systems can be much more efficient than solo robots and can work in a collaborative manner to perform assignments that are hazardous or for which enough manpower doesn't exist, such as military missions, precision agriculture, search and rescue missions, surveillance and reconnaissance, infrastructure inspections, weather monitoring, and planetary exploration. Dr. Lee's research focuses on wildlife monitoring and how to efficiently control robots working together as a team tasked with surveilling coyotes, mule deer, elk, and other species in the Sevilleta National Wildlife Refuge. Besides being one of the top wildlife areas in the United States, it's also conveniently located 21 miles north of New Mexico Tech, near San Acacia.
Dr. Lee's research involves testing a theory he developed to orchestrate multiple robots to spend their time in the most efficient manner possible patrolling the 230,000-acre refuge to detect wild animals. After gathering information from scientists about the probability of finding wild animals in certain locations at certain times, the robots can be directed to spend more time exploring the peak areas for wildlife activity.
Being outfitted with sensors, night vision, thermal cameras, and solar panels help robots spend more time in the field without having to be recharged. Real-time data gathered from the set of four robots is then transmitted to a lab computer for analysis.
Dr. Lee said that his research on making heterogeneous robot systems operate more efficiently has the potential to benefit many fields in multiple applications, even those with large domains.
"We hope that this multi-robot, multi-agent system can help us to make our world better, safer," Dr. Lee said. "It seems many people are interested in outer space (like Mars) while tending to care less about our planet. I also truly support extraterrestrial and space explorations as I dreamed of being a roboticist looking at Mars Rovers and shining stars in the night sky during my childhood. But, it is also important to protect our planet not only for us but for our future generations. I hope that our research group's ongoing work with the support from the NSF CAREER Award can contribute to this purpose by applying our multi-robot control scheme to broad applications such as environmental monitoring, wildlife monitoring, smart farming, infrastructure inspection, and search and rescue."
Dr. Lee said he is honored and humbled by the NSF CAREER award and, in addition to involving mechanical engineering students in his research, he also plans to conduct educational outreach efforts to K-12 students to inspire them to consider scientific careers and for other public education opportunities, such as robotics competitions. He's working on an educational plan for New Mexico Tech to host a summer program for middle and high school students involving learning about the research and accessing images and videos of the robots and their interactions with ecosystems.
Dr. Lee earned bachelor of science and master's degrees from the School of Mechanical Engineering at Korea University in Seoul, South Korea. He received a doctorate from Aerospace Engineering at Texas A&M University in College Station, Texas. Dr. Lee has been an assistant professor in New Mexico Tech's Mechanical Engineering Department since August 2017. Prior to joining the Tech faculty, he was a postdoctoral scholar in the Department of Mechanical and Aerospace Engineering at the University of California San Diego in La Jolla. He also served as a postdoctoral research associate in the Department of Aerospace Engineering at Texas A&M University and a visiting scholar at the University of Notre Dame in Indiana.
Dr. Lee joins a select group of New Mexico Tech faculty members to be awarded the prestigious NSF CAREER Award. Other Tech honorees are: Dr. Caitano L. da Silva, Dr. Baolin Deng, Dr. Paul Fuierer, Dr. Chelsey Hargather, and Dr. Joel Sharbrough. Dr. Alexander Gysi transferred the award from his former institution in 2020.