NMT Logos and Visual Identity Guidelines
The official University logos serve the same purpose as a trademark — to build New Mexico Tech's visual identity through a uniform and recurrent presentation. Members of the New Mexico Tech community — faculty, staff, and students — are welcome to download the graphic symbols for official university applications. Display the logos prominently on promotional materials, including printed works (brochures, booklets, newsletters, advertisements, etc.) and electronic media (web pages, video, etc.). The symbols give proprietary identification to New Mexico Tech. They are restricted for use by recognized entities of New Mexico Tech.
NMT Name
The official name of the institution is "New Mexico Institute of Mining and Technology." It may also be referred to as New Mexico Tech or NMT. There is no hyphen and no periods when initials are used.
NMT Logos
The logos cannot be redrawn, reconfigured, modified, or altered in any way. Logos should always be reproduced from high resolution, camera-ready art (available at the Office of Marketing and Communication) or downloaded from the following link:
Official Colors
The official NMT publication colors are dark blue, rust, and white.
The specification for the blue ink is PMS 295, and for the rust, it's PMS 181
To build PMS 295 using the 4-color process inks, the formula is:
C: 100
M: 57
Y: 0
K: 40
To build PMS 181 using the 4-color process inks, the formula is:
C: 0
M: 72
Y: 79
K: 47
Logos Usage
The logo should be used conspicuously on all university web pages and related materials. For all pages and sites that represent Tech and are intended for external audiences, the logotype must appear on either the front or back cover.
The tagline, "SCIENCE • ENGINEERING • RESEARCH UNIVERSITY" is recommended, but may be changed or omitted in certain circumstances on a case-by-case basis upon the approval of the Marketing and Communication Office. The "M" on the mountain must always appear. If you wish to amend the tagline, please contact the Marketing & Communication office for assistance.
When produced, the logo shall appear as identified below.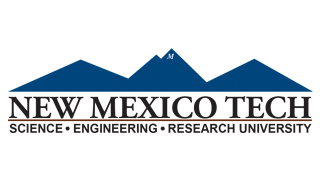 The Pantone Matching System (PMS) is a widely used color profile system for color matching, using color charts to assure you get a specific color, even if it is not the same color you see on your monitor, by giving a unique identification number to a specified color.
Incorrect Logo Usage
Use only the provided logos. Logos are not to appear any smaller than 3/4". The logo should not be used as a design element. The logo should not be altered or redrawn in any way, such as outlining, screening, adding shadows, changing proportions, col- ors, or typefaces, rotating, using parts of it, or cropping. Other art type should not be added (other than prescribed uses of school names), and it should not be combined with any other logo.