Robot Competition Workshops
NMT faculty and students have prepared a basic bot kit including: parts, parts list, instructions, and videos. The program is designed to get the student or team an operational bot with defensive and passive weaponry in under an hour. From there the NMT students and faculty will get the team started on researching options for improvements, modifications, and additions to the bot. We will present engineering design methodology for your team or class to use and teach an engineering decision making process. This process will include how to decide what improvements to prioritize and which design modifications add the greatest value to the bot.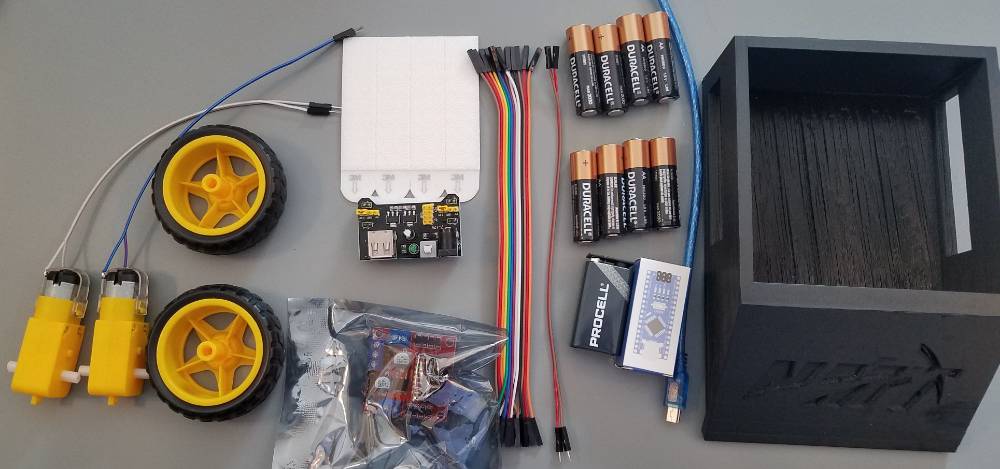 Educators and Organization Leaders
If you're interested in NMT leading a workshop for your class or group there is an inquiry form
General Workshop Information
The basic bot kits are an arduino based robot with 3D printed and machined frame components. Parts cost very over time but currently(2022) between (approx) $150 to $250 per kit depending on the type of kit and market rates and NMT can pre-assemble the kits, or provide you with a set of links to purchase kit components.
The original bot does not require the class to code so the initial workshop can be completed with out computers or arduino software. However, design modifications (such as adding reverse driving functionality) will require the students to learn how to read the arduino code and modify it.
Robot Combat Team Support
After the initial workshop if your combat team/club is interesed in zoom based support from NMT Student Volunteers please complete this inquiry form. Or if your team is interesting in participating in the next competition at NMT please fill out the inquiry below and we will be in touch regarding upcoming events.