Mechanical Engineering Department Will Host Eight Summer Interns
November 13, 2018
---
National Science Foundation supporting three-year program in robotics, smart materials, and explosives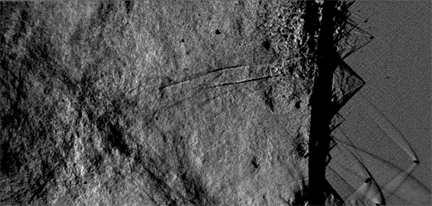 SOCORRO, N.M. – The National Science Foundation (NSF) has announced funding for a new Research Experiences for Undergraduates (REU) program in Intelligent Energetic Systems Engineering (INTENSE) at NMIMT.
For each of the next three summers, NMT will host eight students from across the nation to participate in a nine-week program. The successful candidates will conduct research in laboratories with faculty and graduate student mentors on topics including: robotics, smart materials, explosives, high-speed fluid dynamics, and shock physics.
The INTENSE REU is based in the Mechanical Engineering Department and the topic mirrors the department's primary research directions and Ph.D. specialization in intelligent energetic systems.
The grant is led by Principal Investigator (PI) Dr. Michael Hargather, Associate Professor of Mechanical Engineering, and Co-PI Dr. David Grow, Associate Professor of Mechanical Engineering. Hargather said, "The fun is just beginning."
The application period begins December 1 for the summer 2019 offering. A major goal of the INTENSE REU is to recruit heavily from the southwestern U.S. and specifically the two-year colleges in New Mexico which have limited ability for students to participate in research. Students who are invited to participate will receive a weekly stipend, food and housing allowances, and travel reimbursement to and from Socorro, N.M., from the program.
The students accepted to the program will each be assigned to an individual project, working closely with a faculty member and graduate student mentors. Participants will broaden their engineering "toolbox" through hands-on research in faculty laboratories and a series of group Toolbox Development Activities covering topics including library resources, experiment planning, data analysis, and technical communication. Students will connect with each other and their faculty and graduate-student mentors through weekly social lunch gatherings and by presenting a three-minute speech and technical poster in an end-of-summer technical conference held at NMT.
This award reflects NSF's statutory mission and has been deemed worthy of support through evaluation using the Foundation's intellectual merit and broader impacts review criteria. This new program follows in the heritage of other NSF REU programs at NMIMT in topics including atmospheric science, environmental science, astronomy, and cyber-security. For more information, visit the INTENSE REU website: www.nmt.edu/INTENSE or contact the PIs at intense.reu@nmt.edu The INTENSE REU is funded through the NSF Division of Engineering Education and Centers Award 1757793.
– NMT –
Schlieren image of a 500mg explosion in the Tunnel for High-speed Optical Research (THOR) from Dr. Hargather's laboratory. Hargather is proposing a student project to investigate turbulent mixing in the post-blast environment using MATLAB digital image processing to extract turbulent motion statistics and size scales from explosive test images such as this.