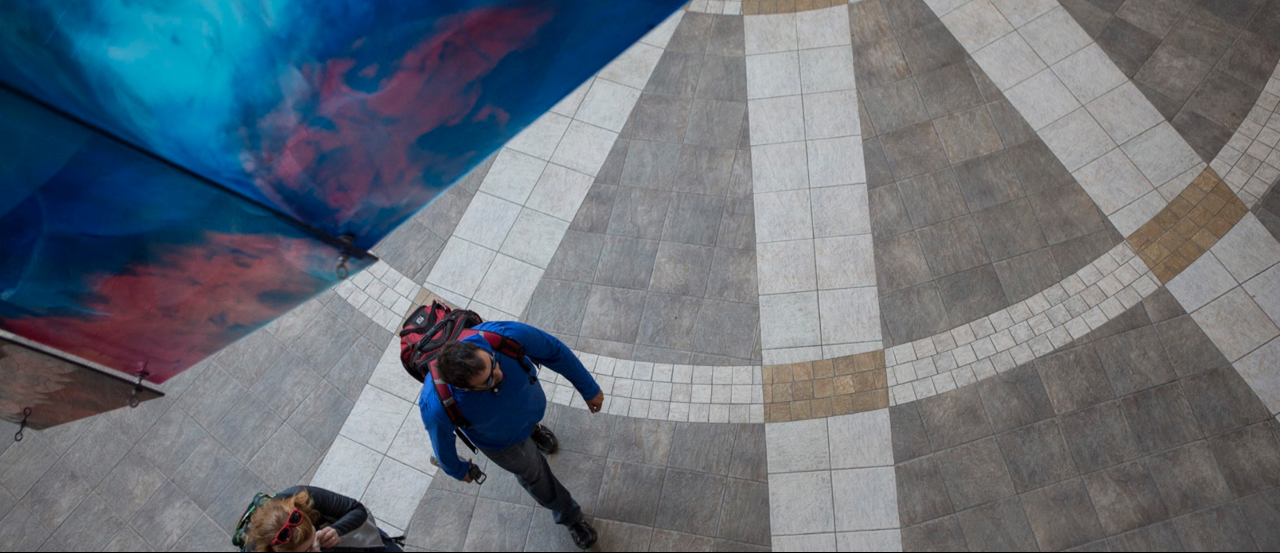 Mechanical Engineering Junior and Senior Design Clinic
---
The Mechanical Engineering Design Clinic is a 2-year capstone course sequence that provides students the opportunity to work on real-world problems and to develop unique solutions. Each Design Team includes students at both the Junior and Senior levels, guided by a faculty mentor and industrial sponsor. Annually about 20 teams are sponsored. Below is a summary of some recent teams and their final techincal posters that are presented at the end of each year.
Our design clinic is supported each year through external sponsor donations, alumni donations, and internal department funding. If you would like to help our design teams by donating to the Mechanical Engineering Department Design Clinic Fund, you can do so here:
Space Navigation Simulation
The Space Navigation Simulator is going to help students decide if they are interested in learning all about the simulation by accurately demonstrate a space shuttle navigating through space from Earth to Mars with the effects of gravity.
Sponsor: Department of Mechanical Engineering of New Mexico Institute of Mining and Technology
Faculty Advisor: Dr. Curtis O'Malley
Autonomous Encased Safety Inspection Drone for Underground Mines
Design and manufacture an autonomous drone with collision resilience and video recording capability, for underground mine inspection.
Faculty Advisor: Dr. Mostafa Hassanalian, Dr. Pedram Roghanchi
Graduate Student Representative: Javad Shahmoradi
Sponsors: AFASL
Automatic Retrieval Media System (ARMS unit)
Design and manufacture an electromechanical dvd storage system. The system must be able to be built with readily accessible mechanical and electrical parts.
Sponsor: Dr. David Cox
Faculty Advisor: Mr. Jim Ruff
NMT Baja SAE Design Team
Baja SAE is a design team dedicated in constructing a personal single seat off-road competition vehicle from scratch. Their competition is held every year in various locations and students get the chance for real world engineering experience.
Sponsors: New Mexico Tech, Thermal Transfer Products, NMT Student Government, Rainbow Ryders, Solidworks, NMT Mechanical Engineering Department and NMT SGA
Faculty Advisor: Dr. Curtis O'Malley
Integrated Sensing Device Capstone Competition Team
The goal was to develop an integrated sensing device (ISD). An ISD is compact sensing package capable of analyzing environments to meet the requirements listed below.
Sponsor: Sandia National Laboratories
Faculty Advisor: Curtis O'Malley and Dr. Kooktae Lee
Cryogenic Composite Team
The team's objective for this project is to find and test an epoxy that can withstand the cryogenic tensile tests that Jacobs is performing on carbon fiber tows.
Sponsor: Daniel McDonald of Jacobs Technology
Faculty Advisor: Dr. Jamie Kimberly
Fatigue Testing Device
The MENG 302 Lab for Mechanics of Materials would greatly benefit from a fatigue test device to teach a lab exercise with this type of material failure, however, test devices currently on the market cost in the range of $20,000. This design team is building a similar device from scratch to test fatigue failure of samples under cyclical loading at a fraction of market cost.
Sponsor: Dr. Curtis O'Malley
Faculty Advisor: Mr. Jim Ruff
NMT Battle-Bot Design Teams
The NMT battle bot team has created a three pound battle bot to compete in the beetleweight class for any battlebot competition the team wishes to enter.
Sponsor: SPARC, Melissa Jaramillo-Fleming
Faculty Advisor: Dr. Curtis O'Malley
Experimental Sounding Rocket
The Mustang 6C will fly higher and faster than previous designs and will carry an experimental payload designed to deploy four parachutes. The aerial experiments will be used to derive performance characteristics of the parachutes and correlate the findings with the manufactures data.
Sponsor: White Sands Research and Developers LLC (WSRDs), Dr. Christina Lohn, Dr. Pual Jaramillo
Faculty Advisor: Dr. Micheal J. Hargather
Musical Hopscotch
In partnership with the Cottonwood Valley Schools, Mr. Ruff and a team of students are working on a modular hopscotch device that will resonate a sound when stepped on by a person and can be placed on public playgrounds in the city of Socorro.
Sponsors: New Mexico Tech and Cottonwood Valley Schools
Faculty Advisor: Mr. Jim Ruff
Ring IR Inc. Absorption Resistant Pathway
This team is developing an explosive detection device using a coanda effect nozzle. This nozzle creates a low pressure area inside the tube and determines the explosives density for more accurate explosive detection.
Sponsors: Dr. Charles Harb, RingIR CEO President
Faculty Advisor: Dr. Michael J. Hargather
Model Airplane Team
The objective is to design a micro UAV style aircraft that can not only be quickly deployed from a small package in under 3 minutes, but also be capable of carrying as much payload (represented as a 2" diameter PVC pipe) as possible.
Sponsors: NMT Mechanical Engineering Department
Faculty Advisor: Dr. Hassanalian Mustafa
Visually Impaired Cane Optimization
Design and fabricate a working prototype to aid the population with visual impairments in order to reduce head-level injuries.
Sponsor: Carla Wilhite, UNM School of Medicine
Faculty Advisor: Mr. Jim Ruff
Water Desalination Project
In response to this problem, the Petroleum Research and Recovery Center (PRRC) has patented hollow nano-fibers capable of desalinating water at significantly lower cost than reverse osmosis.
Sponsor: Mr. Leonard Garcia, PRRC
Faculty Advisor: Dr. Jianju Yu, PRRC & Dr. Wei
NMT Robot Combat Arena
New Mexico Tech's mechanical engineering department has plans to host a robot fighting competition in the near future. In order for said plans to become reality, our team needs to construct the arena for this event.
Sponsor & Faculty Advisor: Dr. Curtis O'Malley
Owens Corning's eLUGant Designs
The eLUGant Designs team's mission is to design a fastening system that will secure the frame with an easy and consistent application. For this project, the team used several techniques such as material and environmental simulations to come up with iterative designs that will lead to the best solution.
Sponsor: Byron L. Bemis, Owens Corning
Faculty Advisor: Dr. Michael J. Hargarther
Steinhoff Prosthetic Research Initiative
The SPRI team has been iterating a custom prosthetic for Edie Steinhoff, a New Mexico Tech Employee, since fall of 2017. The team has continued to research innovative ways to to provide Edie with a prosthetic that has accurate grip type classifications and high-level control while also being developed at a low cost.
Sponsor: UNM School of Medicine
Faculty Advisor: Dr. Mostafa Hassanalian