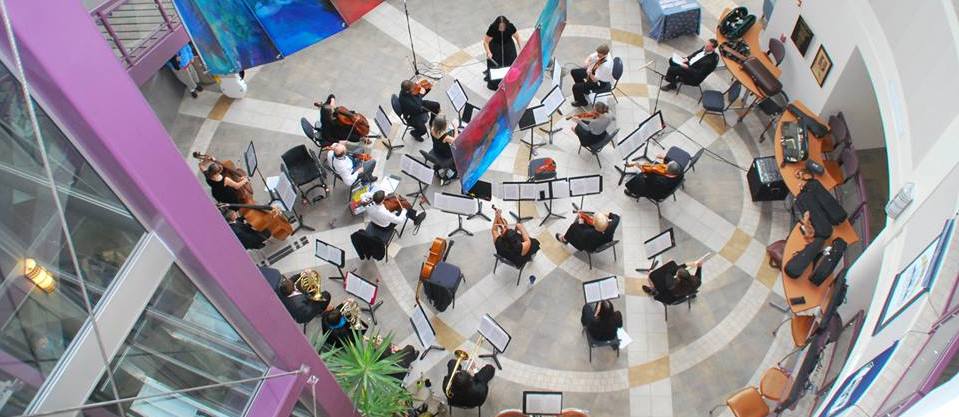 NMT Communication, Liberal Arts, and Social Sciences
Music Program
Lecture Courses, Ensembles, and Music Lessons
Visit the "Music" and "Community Education" categories on Banweb for a listing of courses, ensembles, and lessons currently being offered. The NMT Catalog (PDF files) includes course descriptions and information on prerequisites and course credit.
For more information on music ensembles, including repertoire, how to join, and upcoming performances, please contact Gaby Benalil.
For more information on music lecture courses, including planned offerings and general degree requirements, please contact Steve Simpson (Department Chair ) at steve.simpson@nmt.edu or (575) 835-5149.
Minor in Music
Required Theory
MUSC 1210 Fundamentals of Music, 3 credits (or successful audition)
MUSC 300, 300L: Music Theory, 3+1 credits ( or successful audition)
MUSC 300: Music Composition, 3+1 credits
Elective
Students must take 3 credits from the list:
MUSC 1130 Music Appreciation, 3 credits
MUSC 2420 : Comprehensive Musicianship
MUSC/HUMA 309: Song and Society
MUSC 311: Opera  GRMN, FREN  HUMA 311, Shakespeare and Music
Special non-repeatable music or theater topics courses under MUSC, HUMA, THEA
Performance
At least 4 credits should be taken from any of the music performance courses (including special topics music performance courses).
Successful Auditions
If a student auditions out of MUS 1210 or MUS 300, they should replace them with credits from the "Elective" or "Performance" categories. Up to 4 of these additional credits can be satisfied by performance classes.
Music minors are required to complete a Senior Recital before graduating.
Practice Rooms in the Jean Macey Music Annex
There are two practice rooms in the Jean Macey Music Annex available for use by members of the NMT music community. A keycard is required for entry; a form to have a keycard or ID coded for entry may be obtained from the C.L.A.S.S. Department Secretary, Liza Apache, in Fitch 103.
Please note that keycards are generally issued for the duration of the fall, spring, or summer semester, and practice rooms may be unavailable from time to time, including during school holidays.
Kay and Elise Brower Music Scholarship
The Kay and Elise Brower Music Scholarship was established for the benefit of undergraduate and graduate students who participate in NM Tech music ensembles. Initially named the Elise Brower Scholarship Fund, it was renamed after Kay's death in 2014 to honor the couple's shared contributions to musical life in Socorro. Kay, a chemistry professor at Tech from 1956 to 1996, made many important contributions to the field of high-pressure organic chemistry, resulting in over 70 publications. His wife Elise earned three degrees from Tech, including a Ph.D. in geochemistry, but was first and foremost a musician who played piano, organ, recorder, and oboe, and taught piano privately.
Joined by their daughters Karen (on violin) and Candace (on cello), the Browers eventually formed a family piano quartet. The Brower living room was long the epicenter of musical activity in Socorro, at one time housing three harpsichords, a pipe organ, a grand piano, and numerous string and wind instruments, many made by Kay himself. The Browers were avid supporters of the arts, and were instrumental in founding the Performing Arts Series at Tech. Kay and Elise also played in the Tech orchestra for many years (Kay on cello, Elise on oboe). Elise continues to serve as artistic director of Las Cantantes, founded as a women's chorus in 1986, and as music director of the Socorro Unitarian-Universalist Church, and teaches piano privately.
Information for Applicants
The Kay and Elise Brower Music Scholarship is awarded annually to one or more New Mexico Tech students. To be eligible for consideration, current undergraduate and graduate students must be: 1) enrolled at New Mexico Tech, 2) in good academic standing, and 3) active in, or planning to be active in, music ensembles at New Mexico Tech. Incoming freshmen are also encouraged to apply; incoming freshmen applicants must demonstrate prior involvement with music ensembles.
To apply, submit a completed application form by April 2. (PDF) NOTICE: SCHOLARSHIP DEADLINE EXTENDED TO APRIL 15
For questions regarding this scholarship, please call the Financial Aid Office at (575) 835-5333. Recipients will be notified in writing of the award of funds. Awards will be made based on the availability of monies in funding sources.
Performances and Activities
In addition to the ensembles and courses offered through the NMT Music Program, there are various music performances and activities available in Socorro. In particular, we encourage you to visit the NMT Performing Arts Series.
Contacts