General Education Assessment
Courses required for the general education core curriculum are assessed separately by the departments. This information is formally reported to the Office of Academic Affairs and reviewed by the Assessment Task Force.
A statewide steering committee recently overhauled general education requirements for all public universities in New Mexico (see https://provost.nmsu.edu/state-wide-gen-ed/). This included developing common essential skills for general education courses (Table 1) and draft rubrics for conducting the assessment. These skills were formally adopted by the New Mexico Department of Higher Education (https://hed.state.nm.us/resources-for-schools/public_schools/general-education) and we are required to assess them, and associated component skills, going forward for courses used to satisfy general education degree requirements. New Mexico Tech is currently in the process of revising associated general education assessment practices for implementation starting in the fall semester of 2019.
TABLE 1. NEW MEXICO HIGHER EDUCATION DEPARTMENT ESSENTIAL SKILLS FOR GENERAL EDUCATION COURSES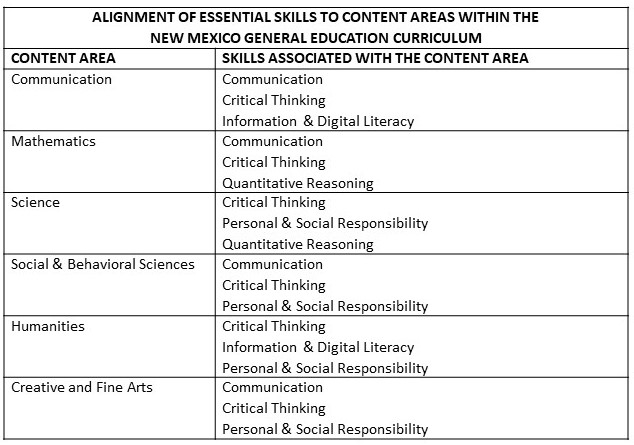 Source: http://www.hed.state.nm.us/programs/general-education.aspx