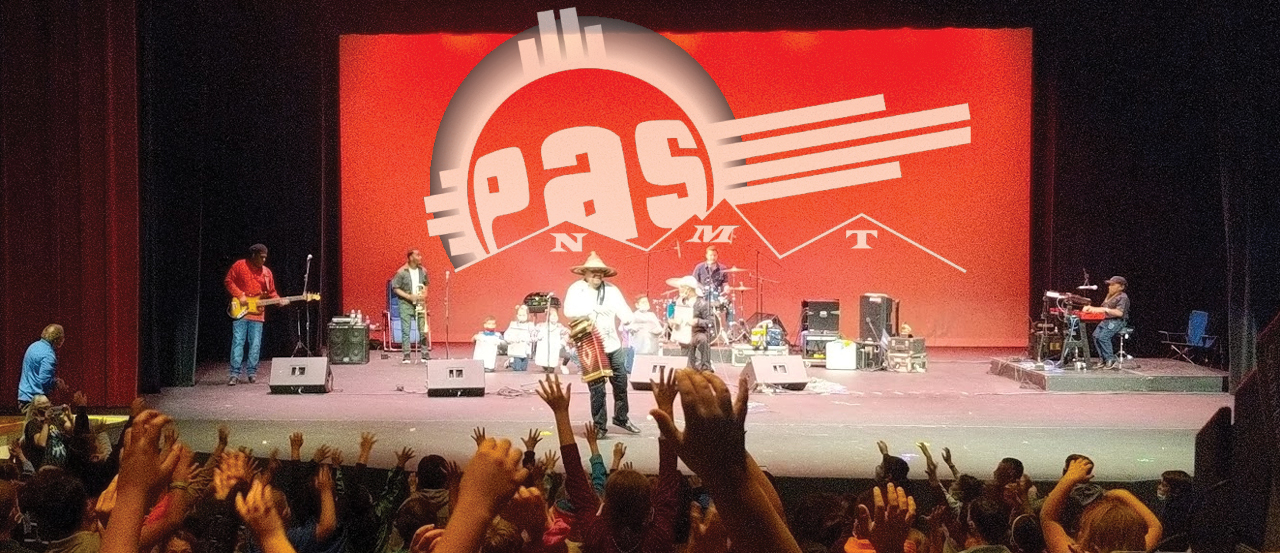 NMT Performing Arts Series
Contribute and Volunteer
Support the Arts in Socorro and at New Mexico Tech!
Donations support the arts for Socorro County. They are used for community outreach programs: Youth Concerts in Socorro, Magdalena, and the Alamo-Navajo Community; Community Arts Party; July 4th Celebration; Complimentary and Discounted tickets for students and special populations; AND, to help keep our ticket prices affordable. Ticket income comprises only 20% of the necessary income to pay for PAS performances.
Private individuals who donate to NMTPAS are credited in online and printed performance programs according to their donation level and can select a show to sponsor, if desired, for $500 and above.
Businesses and organizations donating $1,000 and above ($500 for small, Socorro-based businesses) can select show(s) to sponsor, 1 per $1,000, and receiving marketing recognition with logo in Season Calendar, on NMTPAS website with a link, and in all advertising for your selected shows, plus receive complimentary tickets, 4/$1,000, if requested.

Private Individuals
Contributor $25
Patron $ 50
Donor $100
Benefactor $250
Sponsor $500
Major Sponsor $1,000
*The above may be designated as a Memorial for a chosen individual

Corporate Supporters
Sponsor $500
Major Sponsor $1,000
Partner $3,000

Memorial Endowment
Established to fund arts education and outreach programs
Platinum $50,000+
Gold $25,000
Silver $10,000
Copper $5,000
Bronze $3,000
Turquoise $1,000

Marketing Recognition
Select Show(s) to Sponsor, 1 per $1,000; or 1 per Memorial Endowment
Logo Displayed in: Season Calendar; Website with Link; All Advertising w/your Sponsored Shows
Complimentary Tickets: 4 per $1,000 Donation, if requested

Advertisers
Advertise your Business, Organization, Event or Activity in our
Online and Printed Performance Programs

Ads are NOT Tax Deductible
$1,000 = Full Page = 8.5" x 11" h
$500 - 1/2 page = 8.5" w x 5" h
$300 - 1/4 page = 8.5" w x 2.65" h
$150 - 1/8 page = 4.15" w x 2.65" h




Volunteer
Ticket, Merchandise & Consession Sales
Ushers
Stage Crew
Set-up & Tear-down at Special Events
Arts Party Presenters
Arts Education and/or Concert Selection Committees


To Send or Call-In a Contribution, Volunteer or For More Information
Ronna Kalish, PAS Director or Dana Chavez, PAS Coordinator
New Mexico Tech Performing Arts Series
Macey Center, 801 Leroy Place
Socorro, NM 87801
Phone: (575) 835-5688
Email: pas@nmt.edu