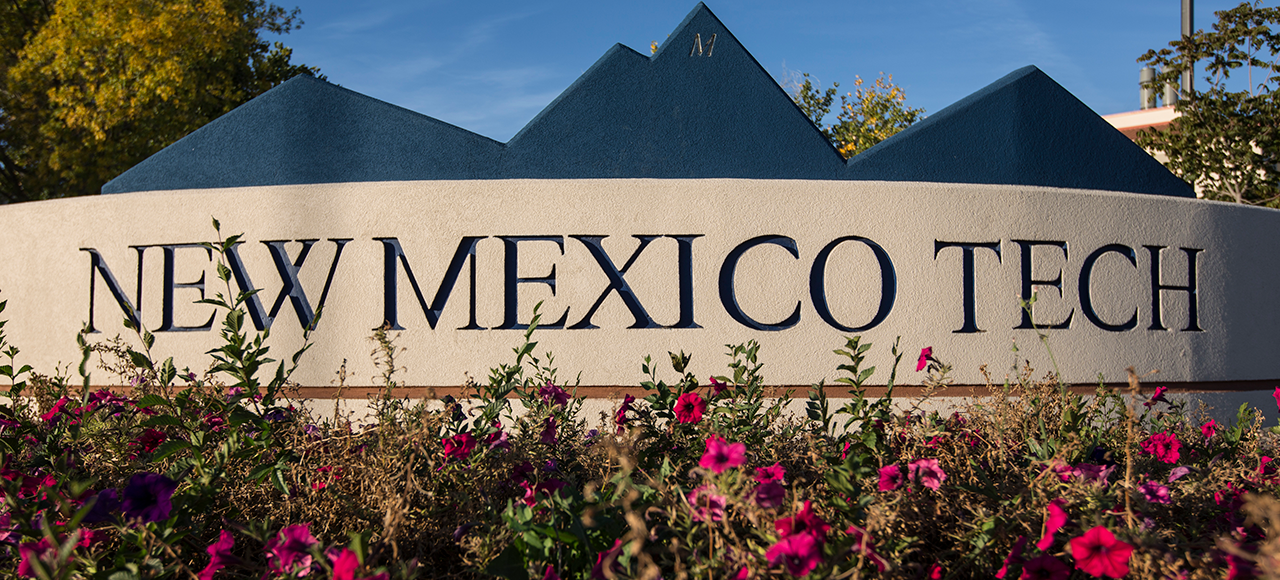 Counseling and Disability Services
Counseling Services
****In person visits at the Counseling Office are currently suspendend****
We are still offering counseling services to studens throught this difficult time.
We are offering phone check-ins with students who are currently within of the state of New Mexico. Phone check-ins will consist of brief targeted, 30-minute sessions to review coping skills and saftey and provide referrals and resources.
If anyone is interested in receiving telephonic mental health services from the Counseling Office at at NMT, please email counseling@nmt.edu for more information. Or call our main number 575-835-6619 Monday - Friday from 8:00a.m to 4:00p.m.
Note: The way we provide services has been amended in order to meet the standards recommended by Governor Lujan Grisham as well as to adhere to the ethics required by our licensing board.
Making an Appointment
For returning students, complete a Returning Clients Form, found at the bottom of this web-page prior to your appointment.
For new students to OCDS, please go directly to the The Counseling Intake Form, also at the bottom of this web-page. You will be contacted within 1 to 2 business days by email to schedule an appointment.
Students with emergencies can be seen immediately during regular office hours Monday - Friday 8:00 am to 5:00 pm. For after-hours emergencies please contact Campus Police at 575-835-5434.
Cancellation of Appointments
We require24 hours notice by phone 575-835-6619 or email counseling@nmt.edu. Students who miss two or more consecutive appointments (without providing notice) will have their file closed and could be referred to community services should they require psychological care.
Confidentiality
The State of New Mexico legally recognizes that communication between a counselor and her/his client as privileged and confidential. We will not disclose your contacts with us to your spouse/partner, your parents, professors, or anyone else without your permission.
There are few narrow exceptions:
If you are in imminent danger to yourself or are a significant danger to someone else, we have a legal obligation to break confidentiality to protect you and/or others.
If you are abusing children/vulnerable adults or inform us concerning someone who is, then we have a legal responsibility to report this to the proper authorities. Such a report could potentially lead to disclosure of your being a client and require testimony concerning the suspected abuse.
If, as part of an employment process or security screening you sign a release of records form about services received from us, we will ask that you sign our form to ensure that you are freely and knowingly releasing a brief summary of your contact with us.
Your records can also be subpoenaed by a court of law (e.g. if you claimed emotional damages in a lawsuit).
We also reserve the right to consult with the NMT Health Center and NMT Behavior Intervention (BIT) Team when professionally appropriate.
SERVICES
Individual Counseling
You will meet with a counselor one-on-one to address your concerns in up-to-50 minute sessions. During the first meeting, you and your counselor will set goals, discuss the need for ongoing therapy and talk about a meeting schedule. In individual counseling, people will often discuss relationship concerns, family difficulties, feelings of depression or anxiety, academic issues, recovery from traumatic events, or hopes of wanting to better their lives.
Couple's Counseling
The student and their partner will meet with a counselor to address relationship concerns in up-to-50 minute sessions. Couples will be able to learn effective communication skills, conflict resolution and to gain better insight into their relationship. At least one partner of the couple must meet NMT eligibility requirements for counseling.
Eligibility
Currently enrolled NMT graduate or undergraduate student registered for a minimum of 6 credit hours will be seen for an initial appointment. The initial appointment is an opportunity for your counselor to determine if the services we offer are appropriate for your needs and for you to decide if our services are a good fit for you.
Some Reasons People Seek Counseling:
Adjusting to university life

Difficulties with motivation or decision-making

Relationship difficulties with friends, roommates, family, partners, etc.

Communication skills

Depression

Anxiety

Loneliness

Worries about behaviors (eating, alcohol/drug use, sex)

Feeling suicidal or thoughts that life is not worth living.

Loss (illness, death of a loved one, personal loss, etc.)
Resources:
How Drunk Are You Without Sleep
Resources for International Students:
Free Guide To Living With Worry And Anxiety Amidst Global Uncertainty
International Association for Suicide Prevention
This is China's version of Psychology Today. Is is a national database of MH professionals, both psychotherapists and psychiatrist, in China who can provide services both in person and online. They usually only accept out-of-pocket private pay. They also have appointments students can download to their phones. Similar to Psychology Today, this website/app also offers a lot of helpful psychoeducation content covering a wide range of MH topics in Mandarin.
New Clients
Below is the Counseling Intake Form for students seeking services from the Counseling Department for the first time. Please, complete the form, especially the 3 different dates and times that you are available for an appointment.
Returning Clients
If you have been seen before at any time by OCDS, please email your request for an appointment and be sure to include 3 dates and times that you are available for a session to counseling@nmt.edu. Below is the Returning Clients Form for NMT students.