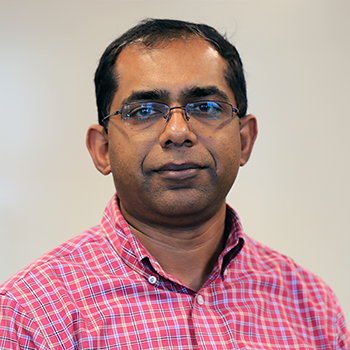 ---
Education
Postdoctoral Researcher, University of New Mexico, 2009
Postdoctoral Researcher, University of Maryland, 2007
Postdoctoral Fellow, California State University-Los Angeles, 2005
Ph.D., Analytical Chemistry, University of New Mexico, 2005
B.Sc., Chemistry, University of Kelaniya, 1997
Keywords
Bio-analytical, Microfluidics, Biosensors, Acoustofluidic, Microfabrication
Research Interests
The Bio-analytical and Microfluidics research group at NMT primarily focuses on developing novel analytical and bio-analytical methods for environmental, biological, and chemical analysis. The on-going projects explore the development of microsphere and polymer monolith based bio-assemblies as reactive surfaces for target binding. These bio-assemblies will be utilized in disease diagnostics. In another approach, bio-reactive surfaces are integrated with microfluidic systems to create portable detection systems. Our group also involve in developing sound wave-based microfluidic bio-analytical systems. This includes the development of silicon and aluminum-based microfluidic systems for bacteria, viruses, mammalian cells, and micro and nano particle separation. Our group also has interests in developing microfluidic based techniques for the removal of toxic chemicals like Bis-phenol A and particulate matter like nano and microplastics in aqueous systems.
Divisions
Recent Publication
Gayatri Gautam, Rubi Gurung, Frank Fencl, and Menake Piyasena. Separation of submicron particles from micron particles using acoustic fluid relocation combined with acoustophoresis. Analytical and Bioanalytical Chemistry, 2018, 410, 6561-6571.
Gayatri P. Gautam, Tobias Burger, Andrew Wilcox, Michael J. Cumbo, Steven W. Graves, and Menake E. Piyasena. Simple and inexpensive micromachined Aluminum microfluidic devices for acoustic focusing of particles and cells. Analytical and Bioanalytical Chemistry, 2018, 410, 3385-3394.
Sabino Maldonado-Torres, Rubi Gurung, Hom Rijal, Andrew Chan, Shishir Acharya, Menake Piyasena, Snezna Rogelj, and Gayan Rubasinghege, Fate, Transformation and Toxicological Impacts of Pharmaceutical and Personal Care Products in Surface Waters. Environmental Health Insights, 2018, 12, 1-4.
Gayan Rubasinghege, Rubi Gurung, Hom Rijal, Sabino Maldonado, Andrew Chan, Shishir Acharya, Snezna Rogelj, and Menake Piyasena. Abiotic degradation and environmental toxicity of Ibuprofen: Roles of mineral particles and solar radiation. Water Research, 2017, 131, 22-32.
Menake E. Piyasena and Steven W, Graves, The Intersection of Flow Cytometry with Microfluidics and Microfabrication. Lab on a Chip, 2014, 14, 1044-1059.
Patent
Separation of Nanoparticle via Acoustofluidic Flow relocation (US 2018/0264482 A1), 2018 Gayatri Gautam and Menake Piyasena (Patent application)