The 3-Minute Speech Competition (2020 SRS)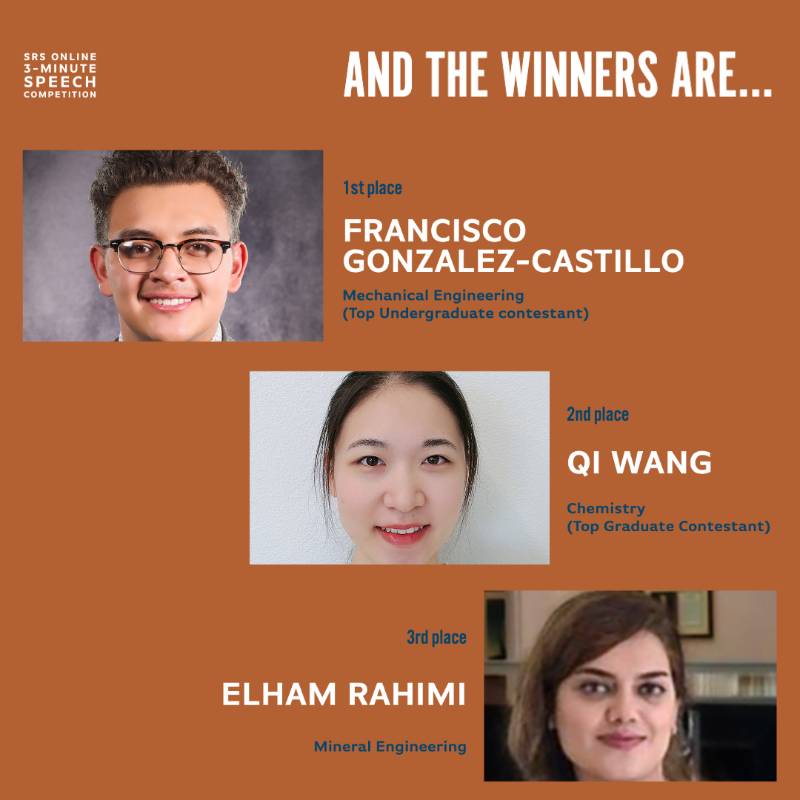 The 3-Minute Speech competition will be held as planned on Wednesday, April 15 from 9:30-11:00 AM MST.
The event will be hosted in one Zoom room, where all presenters and the public can access. Presenters will be required to submit their slides for the presentation by Sunday, April 12th at 5 PM MST. The slides will be displayed by the moderator of the competition. The moderator will enable speaking by each student presenter during their time. The competition will be judged as planned and there will also be audience feedback on the presentations captured via Zoom. All speeches will also be recorded through Zoom. Submit slides in PPT (power point) format by Sunday, April 12th.
Missed the event? See the recording here:
Presenters

Project Title & Slide

Shahriare Hossain

NMT Chemistry

Fluorescent Lipid Coated Beads for the Sensitive Detection of Disease Biomarker Phospholipase A2 and Annexin-3

Elham Rahimi

NMT Mining Engineering

Lung deposition of respirable coal mine dust

Susantha Ganegamage

NMT Chemistry

Mechanofluorescent N-Aryl-2,3-Napthalimide Based Dyes as Structurally-Sensitive Probes for Fluorescence Lifetime Characterization of G4 Quadruplex Topologies

Elijah Pelofske

NMT Computer Science & Mathematics

Decomposition Algorithms for Scalable Quantum Annealing

Younes Shekarian

NMT Mining Engineering

A systematic review of occupational exposure to RCMD in the mining industry

Qi Wang

NMT Chemistry

Effects of Breast Cancer Lipid Changes on Membrane Oxygen Permeability

Arezou Rasti

NMT Mineral Engineering

Assessment of Wet Bulb Globe Temperature (WBGT) monthly changes in New Mexico – a case study

Francisco Gonzalez-Castillo

NMT Mechanical Engineering

Owens Corning's eLUGant Design

Hamid Ranjkesh Adarmanabadi

NMT Mineral Engineering

Long-Term Effects of Cement Kiln Dust (CKD) on Erosion Control of Slopes

Javad Shahmoradi

NMT Mineral Engineering

Utilizing Drone Technology to Improve Safety and Productivity in Underground Mining