---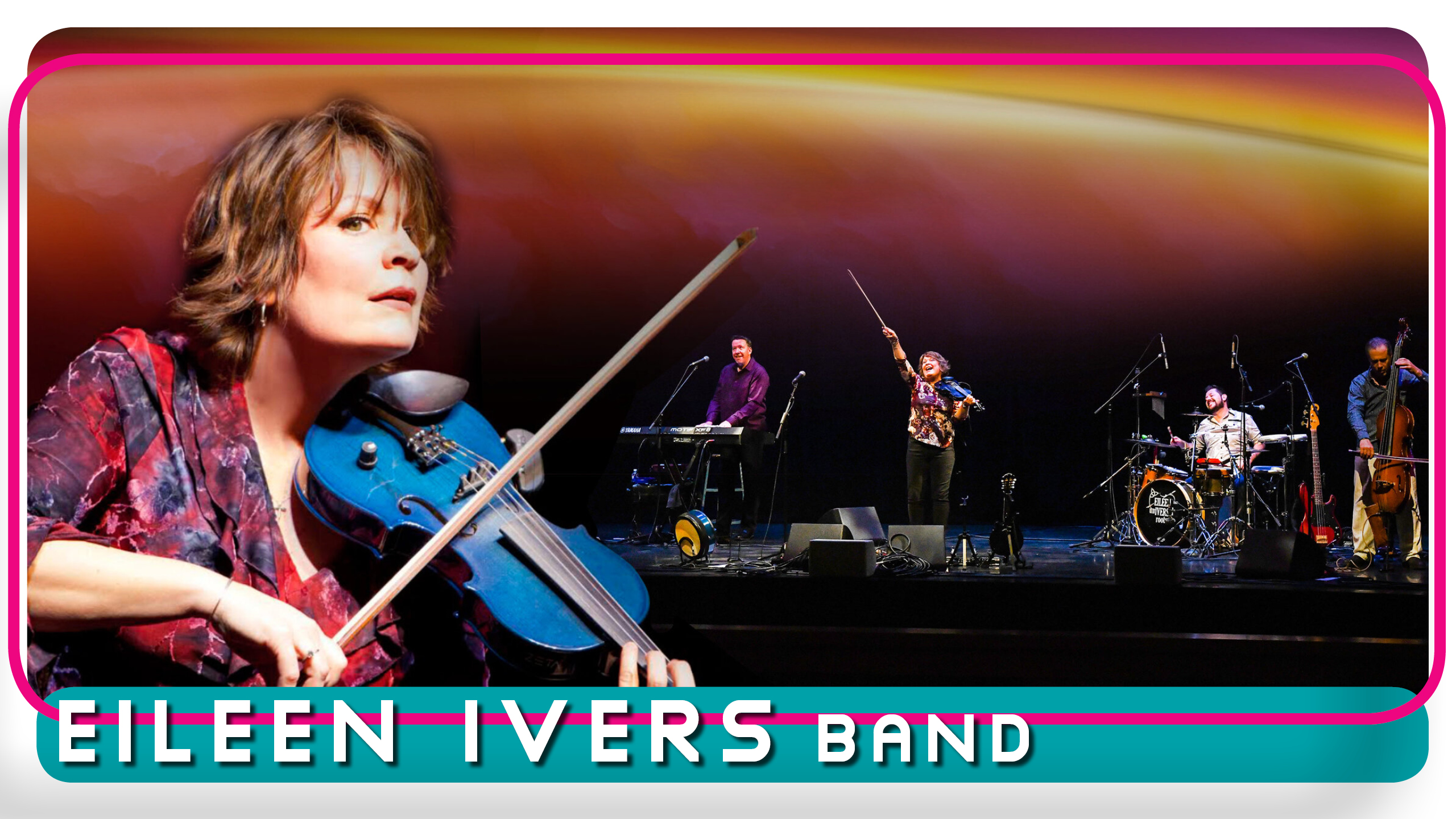 About the Artist
Grammy awarded, Emmy nominated, London Symphony Orchestra, Boston Pops, guest starred with over 50 orchestras, original Musical Star of Riverdance, Nine Time All-Ireland Fiddle Champion, Sting, Hall and Oates, The Chieftains, 'Fiddlers 3' with Nadja Salerno-Sonnenberg and Regina Carter, Patti Smith, Al Di Meola, Steve Gadd, founding member of Cherish the Ladies, movie soundtracks including "Gangs of New York", performed for Presidents and Royalty worldwide…this is a short list of accomplishments, headliners, tours, and affiliations. Fiddler Eileen Ivers has established herself as the pre-eminent exponent of the Irish fiddle in the world today. It is a rare and select grade of spectacular artists whose work is so boldly imaginative and clearly virtuosic that it alters the medium. It has been said that the task of respectfully exploring the traditions and progression of the Celtic fiddle is quite literally on Eileen Ivers' shoulders. The Washington Post states, "She suggests the future of the Celtic fiddle."
She's been called a "sensation" by Billboard magazine and "the Jimi Hendrix of the violin," by The New York Times. "She electrifies the crowd with a dazzling show of virtuoso playing" says The Irish Times.

Ivers' recording credits include over 80 contemporary and traditional albums and numerous movie scores. Eileen is hailed as one of the great innovators and pioneers in the Celtic and World music genres.
The daughter of Irish immigrants, Eileen Ivers grew up in the culturally diverse neighborhood of the Bronx, New York. Rooted in Irish traditional music since the age of eight, Eileen proceeded to win nine All-Ireland fiddle championships, a tenth on tenor banjo and over 30 championship medals, making her one of the most awarded persons ever to compete in these prestigious competitions.
Being an Irish-American, the intrigue of learning more about the multicultural sounds of her childhood took hold. After graduating magna cum laude in Mathematics from Iona College and while continuing her post-graduate work in Mathematics, Eileen fully immersed herself in the different genres of music which she experienced growing up in New York. With "unIVERSal roots", her energetic, joyous, passionate band, Eileen continues to connect music, cultures, stories, and emotions that tie us together. In 2019, Iona College conferred upon Eileen Ivers the degree of Doctor of Arts, honoris causa for her "lifelong commitment to innovation, excellence and deep dedication to bringing people together through music.

Eileen and her ensemble headline prestigious performing arts centers, guest star with numerous symphonies, perform at major festivals worldwide, and have appeared on national and international television. The L.A. Times proclaims, "Ivers' presentation was music with the kind of life and spirit that come together when talented artists from different backgrounds find the linkages that connect all forms of music...no wonder the audience loved every minute."

About the Band

Buddy Connolly: Accordion, Whistles, Keyboards
Three time All-Ireland accordion champion Buddy Connolly hails from Newark, New Jersey with parents from Clare and Galway in Ireland. In 1995, he moved to Nashville and was introduced to bluegrass, Cajun and country music and toured/recorded with Tim O'Brien, Kathy Mattea, Rodney Crowell, Christian rockers Ceili Rain, Orleans, Matt Molloy (Chieftains), Joel Sonnier and many others.
Matt Mancuso: Guitar, Trumpet, Fiddle, Vocals
Brooklyn, New York native Matt Mancuso is an inspired multi-instrumentalist who has performed with many Irish and Celtic acts, including Lord of the Dance, Grada, Runa and Cathie Ryan. Matt is well known for his fiddle playing and studied jazz trumpet at the Laguardia School for Music and Art.

Lindsey Horner: Upright & Electric Bass, Baritone Sax
Julliard alum Lindsey Horner has recorded and performed with diverse artists from Susan McKeown and Johnny Cunningham in the Celtic realm to Greg Osby, Bill Frisell, Bobby Previte, Dave Douglas, Don Byron and Muhal Richard Abrams in the jazz world. He has performed for dozens of Broadway shows from the "Lion King" to "Tommy" and has produced five albums, including his most recent "Undiscovered Country" features Irish legend Andy Irvine on two tracks.

Dave Barckow: Percussion, Guitar, Vocals
Queens, NY native Dave Barckow has been playing music professionally since the age of 12 and has played with several national and international acts including Celtic Cross, The Diddley Idols and hard rockers White Trash. As song writer and performer, Dave's music has been used on several prime time network shows including "Mercy" (NBC) "Nurse Jackie" (SHO) and "Flesh & Bone" (SHO).
---
Our Partners and Sponsors
Jon


Morrison