---

Showtime: 11:00pm-10:00pm
Cornhole Tourney: 9:00am
Location: Socorro Rodeo & Sports Complex
Free: Public Parking; Entry to Rodeo Arena with Bands & Dancing; Picnic on Soccer Fields; WaterSlide; Fireworks
Fireworks: Shot from near the Rodeo Arena--perhaps visible from home, IF you can SEE Arena from your home
Parking: There is PLENTY of Parking for watching the Fireworks!!!
Seating: Bleachers or bring your own chairs
More Info: (575) 835-8927
or darmijo@socorronm.gov
Reservation Required for RV Camping ($30); Tailgate/Dry Camping ($15) if you want to BBQ, grill, cook; Vendors ($25-Nonprofit; $50-Profit)
RESERVE HERE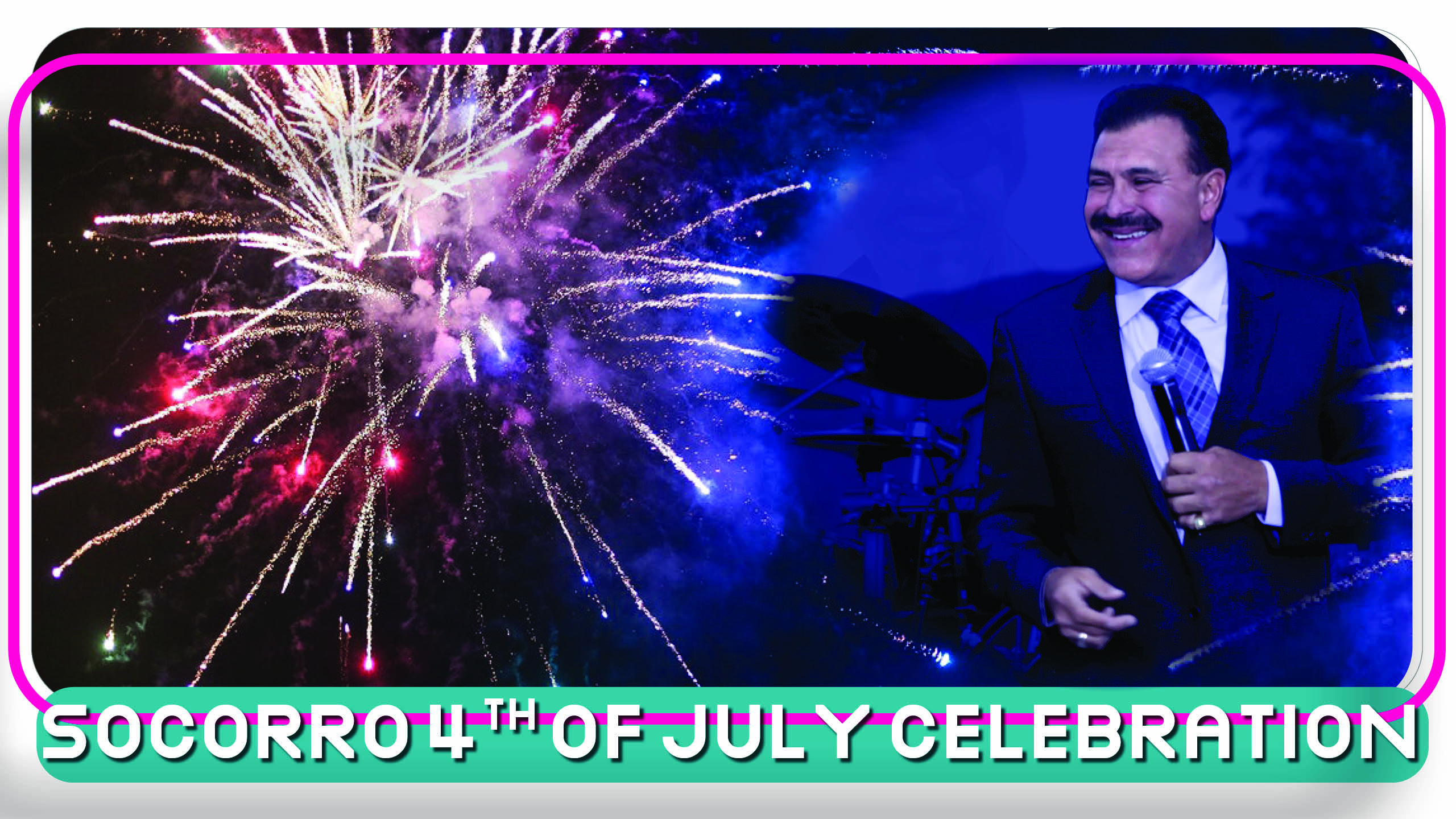 The Event
Get ready for an in-person 4th of July Celebration at its new home, the Socorro Rodeo & Sports Complex, with old and new features. Expect great music from Socorro's favorite local bands & NM's favorite son, Al Hurricane Jr. With plenty room for dancing, waterslide & jump balloon (1-5pm), food and other vendors, and of course, a fantastic fireworks display from NM Tech's EMRTC at Dark.

Reservations are required for RV Camping ($30), tailgate/dry camping ($15) if you want to bring your own grill (tailgate means you want to BBQ some food and that requires a reservation and a tailgate space). And there is still room for vendors: for-profit ($50), non-profit ($25).

The Socorro Fire Department will be running a Cornhole Tournament with signups starting at 9am; singles first, $25/player; then doubles, $20/player, BYOP. There will be cash prizes for first and second place in each category. Contact Humberto Lucero, 575-517-5277 with questions. Come support the SFD and join the Cornhole fun!

There is LOTS for FREE, which does NOT require a reservation, including public parking, entry to the Rodeo Arena with live bands and space to dance, picnic area on the soccer fields, waterslides and jump balloons, and of course, the spectacular Fireworks, this year accompanied by Socorro's own rock guru, Rob Lopez! Don't forget to bring your own chairs, blankets, tarps, sunscreen, dancing shoes, good cheer and great mood, ready to celebrate our great country and amazing community!
NOT ALLOWED: Alcohol - Fireworks - Grills in Arena or Soccer Fields - Pets - Glass - ATVs
The Schedule
Socorro Community Band 11:00am
A group of local musicians brought together by Dr. Eileen Comstock, play each year for the 4th of July Celebration and for Oktoberfest at the Hammel Museum. You will get to hear a mix of patriotic songs, marches and classic band music.
WISE FOOL NM 12:00pm
Aerial acrobatics, unicycles, stilt walking, juggling and more! It is Wise Fool New Mexico's mission to ignite imagination, build community, and promote social justice through performances and hands-on experiences in the arts of circus, puppetry, and theatre. Wise Fool is a beloved and award-winning non-profit organization at the center of Santa Fe's community arts scene. As a pioneer in the emerging North American social circus movement and the only contemporary circus arts company in New Mexico, Wise Fool is further evolving circus as an art form by developing quality productions, professional artists, and expert teachers for circus-based arts curriculum.
The Full(ish) Professors 1:15pm
Their music draws from a range of influences, from Americana and folk to popular, and even some '80s mixed in. In their day jobs at NM Tech, Julie Ford, vocals, is a Professor in the Mechanical Engineering department, Steve Simpson, vocals and guitar, is a Communication Professor and Dean of Arts and Sciences, and Ephraim Ford, bass, is head of NM Engineering at the National Radio Astronomy Observatory. They are joined by various other musicians, including Wes McHaley on fiddle and mandolin, and Paul "Saxypants" Demorest on saxophone. They are guided by Neil Peart's poetic lyric "All this machinery making modern music can still be open hearted."

The Murillos 2:30pm
A perennial favorite local band, playing on numerous occasions around Socorro County. Having performed two concerts, without an audience, for NMT PAS during the pandemic, then a parking lot concert on Primero de Mayo, they are now excited to be performing for the 4th of July Celebration in its first incarnation at the Socorro Rodeo & Sports Complex! Varying combinations of the Murillo family have been playing together for years, said Richard Murillo. "Any time anyone needs us, we play. We enjoy playing together as a family." Other members are brothers George and Patrick with his son Matthew. Lefty Gonzales plays drums. The group brings out a good crowd, always ready to dance to their music, a wide variety of Spanish favorites, classic rock, country and new sounds. Tori said she is looking forward to singing one of her newest learned songs "Drinking Alone," by Carrie Underwood. "It's kind of a bluesy country song," she said, adding, "I'm a huge fan" of Underwood's.
Blue Monday 4:00pm
Originated as the house band for Manny's Buckhorn in San Antonio in 2007 with Hot Chef Bobby Olguin, playing hot harmonica and percussion, and reigning over an evolving group of musicians. As member Jim Ruff puts it: "Starting at the Buckhorn Tavern in San Antonio with Hounddog Tom Romancik, they played every other Monday, hence the name (Blue Monday). Hounddog left town hot on the trail of an enticing scent and was eventually replaced…." Since then the band has expanded and contracted with new configurations and guest artists. Currently, Blue Monday is Bobby Olguin; Jim Ruff with his ever-present, ever-solid bass, vocals and humor. Gene Cole can belt out a smokey "Stormy Monday" and woo the audience with a crooning love ballads but his real forte is high energy classic blues and rock; and sax magician Tom Hunt will have everyone up and dancing with his rich full sound and lightning arpeggios. Former Vigilante band member Bill Giebitz adds his acumen on guitar, with drummer Ed Pias rounding out the rhythm section..
Et Alia Belly Dance Troupe 5:15pm
This is the long standing NM Tech Belly Dance Club. Their advisor is Julie Johnson, who teaches and choreographs all the dances. Belly dance is a folk dance, the world's oldest dance form. The group will perform several styles from regions of the middle east including classical, modern pop and folkloric.
Al Hurricane Jr. 6:00pm
Born to Alberto Nelson Sanchez (Al Hurricane) and Nettie M. Fleming on October 30, 1959, in Albuquerque, New Mexico. His birth name is Alberto Nelson Sanchez, Jr. Hurricane is a nickname inherited from his father. Al, Jr. grew up in Albuquerque, New Mexico throughout many parts of the city including: Old Town, 19th and Marble, the West Side, Academy Acres and finally settling in the Northeast Heights. His first public performance was at the early age of 5 at the Civic Auditorium in Albuquerque. The song he sang for the audience that night was "Love Potion #9." Early in his youth, he began to learn the drums and switched to guitar lessons at age 5. From guitar lessons he then began to learn the trumpet at age 8. In July 1970, Al, Jr.'s parents divorced and he decided to live with his father. At the age of 12, his father entered him into piano lessons while he continued playing the trumpet in school bands, such as the symphonic and the jazz band. This is when Al, Jr. started to learn some of his father's songs as well as those of his uncles', Tiny Morrie and Baby Gaby. This eventually led to him joining the Al Hurricane Band. He started out by going and playing just one song, then two, and then his repertoire grew from there. Most of his practice was from performances at the Far West Night Club where he and his dad performed for many years. Al, Jr. attended many schools while growing up in Albuquerque. For his final three years of high school, Al, Jr. attended and graduated from Highland High School in May 1976 at the age of 16. After graduation, Al, Jr. chose to take a year off before going on to college, which to this day he admits was a mistake. However, his decision to work with his dad was not a mistake. It was the beginning of a partnership that continued for the remainder of Al Sr's career. Along the way in his career, Al, Jr. has acquired many nicknames such as: El Joven, The Godson of New Mexico, and Berb. He was only 14 when he recorded his first song, "El Pintor," and has been performing for 30 years. Al, Jr. is also a main musician on his father's recordings, supplying trumpet, valve trombone, keyboards, keyboard bass, and has programmed drums. His trumpet and valve trombone were also featured on the recordings of Tiny Morrie and Baby Gaby. When Al, Jr. made his first recordings in the Hurricane Studios in Albuquerque, it was on the very equipment that Buddy Holly used in Clovis, NM.
Suavecito 8:00pm
A variety six-piece band, mostly from Socorro, performing New Mexico Spanish, country, oldies, funk, R & B, Top 40 and rock. They typically are the final band performing for Socorro's annual Fourth of July Celebration along with well-known performers such as Darren Cordova, Al Hurricane & Al Hurricane Jr., and El Gringo, and tour throughout New Mexico. But this year, they will close the 4th of July Celebration for the first time at the Socorro's Rodeo & Sports Complex; they are excited about this! Suavecito performs for weddings, retirement parties, Christmas parties, graduations, church fiestas, local events for the City of Albuquerque and Matanzas. Suavecito performs at the Route 66 Casino in Albuquerque and the Sky City Casino in Acoma. One of their highest honors was playing for the Archbishop Michael J. Sheehan at the re-dedication of the Catholic Church in Isleta. The six-piece band consists of two guitar players, bass, keys, and drums. Members of the band include two former members of La Raza Unida, whose songs still air on 89.1 KANW radio station in Albuquerque. Together they possess over a hundred years of musical talent that keeps the dance floors packed. Suavecito has a CD titled "Que Padre" and are working on another recording. They have sold over a thousand copies and have had great feedback.
Rob Lopez 9:15pm (during fireworks display)
Known for his hard-driving rock-n-roll sound, Rob Lopez has played around the state. Rob started playing the guitar in 1974. His mom gave him a $75 Les Paul copy for his birthday. Rob has been playing for 24 years and is always a crowd favorite. States Rob Lopez: "if you could take Zappa, Hendrix, Zeppelin and ZZ Top, throw it in a blender with a sprinkle of Pink Floyd and Black Sabbath, that's the sound I want!"
---
Our Partners and Sponsors