New Mexico Tech Provides Coordination on Key Water Initiatives
June 2, 2022
---
Tech expertise seen on new Governor's task force, water data projects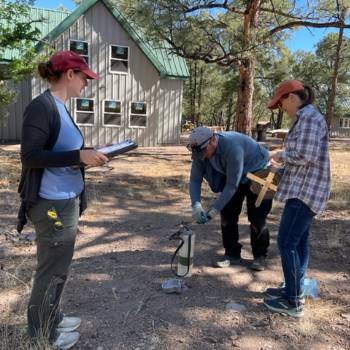 SOCORRO, N.M. – In addition to having one of its top leaders named to the Governor's Water Policy and Infrastructure Task Force, New Mexico Tech is known as a key resource for multiple water quality and water resource research initiatives. Through its involvement in multiple projects, New Mexico Tech demonstrates its strong commitment to sharing its knowledge, resources, and expertise to help state leaders address water challenges.
On June 1, 2022, Interim Vice President for Research Nelia Dunbar, Ph.D., temporarily on leave from her role as director of the New Mexico Bureau of Geology and Mineral Resources and state geologist, was appointed by Gov. Michelle Lujan Grisham to the panel of experts who will complete the state's 50-year water plan and set recommendations and infrastructure priorities.
In addition to this leadership role in the state's efforts to address water issues, New Mexico Tech is playing a central role in a number of other water-related initiatives and projects, including:
A scientific report, titled "Climate Change in New Mexico over the Next 50 Years: Impacts on Water Resources," prepared by a team of climate and water resources scientists convened by the New Mexico Bureau of Geology and Mineral Resources, was published in final format March 30, 2022. The report describes climate change impacts to water resources in New Mexico over the next 50 years. This report, also referred to as the Leap Ahead Analysis Assessment, will inform the development of the New Mexico 50-Year Water Plan, in preparation by the Interstate Stream Commission.
In 2019, New Mexico enacted the Water Data Act to identify, share, and integrate key water data. The Water Data Initiative is the project convened by the New Mexico Bureau of Geology and Mineral Resources involving state directing agencies, including the Office of State Engineer, Interstate Stream Commission, Environment Department, and Energy, Minerals and Natural Resources Department. Other key partners include the Internet of Water Coalition, Sandia National Laboratories, and Earth Data Analysis Center at the University of New Mexico. The legislation launched a multi-year effort of communication and collaboration among these agencies and others collecting or managing water data for the state. A key communication and coordination project is the New Mexico Water Data website, with data on water quality, quantity, and uses. Stacy Timmons, associate director of hydrogeology at the Bureau, is leading implementation of New Mexico Water Data Act and disseminates information to the public regularly in multiple formats, including a blog and YouTube videos.
New Mexico Tech is applauding legislation chiefly authored by New Mexico Congresswoman Melanie Stansbury and modeled after the New Mexico Water Data Act. New federal legislation authored by a bipartisan group of lawmakers, including the entire New Mexico delegation, aims to address water security across the West and the United States. The Water Data Act and the Rio Grande Water Security Act aim to transform and modernize water management practices, in partnership with farmers, ranchers, and communities hard hit by historic drought.
Funding from the Thornburg Foundation of Santa Fe will provide opportunities for New Mexico Tech, with the New Mexico Bureau of Geology and Mineral Resources, to sponsor field trips and educational opportunities for legislators and other decision-makers on water issues. Tech staff are currently working on developing content for a workshop and field trip this fall, prior to the 2023 legislative session, to provide the opportunity for participants to learn about water and other natural resource issues firsthand in a less formal setting.
Staff from the Bureau of Geology and Mineral Resources at New Mexico Tech have been engaged in hydrogeologic studies of New Mexico's aquifers in cooperation with partners at the New Mexico Office of the State Engineer, the New Mexico Environment Department, the U.S. Geological Survey Water Resources Program, and other federal, state, and local agencies. Beginning with geologic mapping and aquifer analysis in the Albuquerque Basin and a hydrogeology study in Placitas, the Bureau developed an Aquifer Mapping Program to apply a combination of geologic, geophysical, hydrologic, and geochemical information to develop descriptive models of groundwater flow in important aquifers around the state. The statewide water monitoring network is funded by The Healy Foundation.
New Mexico Tech is in the process of developing the Hantush-Deju National Center for Hydrologic Innovation, using, as a springboard, funds pledged by a Tech alumnus. The center's vision is to improve understanding of our water resources so that we can secure a sustainable supply of water for tomorrow. The hydrology faculty leading this initiative, in collaboration with a diverse slate of other Tech researchers, seek to further enhance the reputation of New Mexico Tech for prominence in subsurface hydrology, maintain its national ranking as a top-tier program, and be the academic institution of choice for high-caliber graduate students from throughout the world.