New Mexico Tech Alumni, Students Explore Spaceport America
July 18, 2022
---
Behind-the-scenes tour provides participants with insight into commercial space industry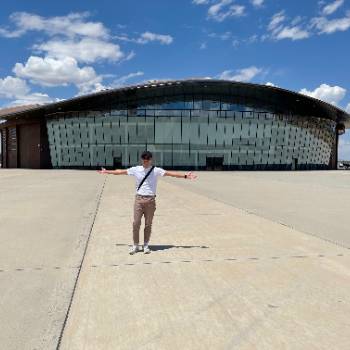 TRUTH OR CONSEQUENCES, N.M. – Exploring the world's first purpose-built commercial spaceport, a group of 40 New Mexico Tech alumni and their family members, students, and staff recently toured the facility, gaining a new perspective on the state's prominent role in the expanding commercial suborbital space industry. The tour group spent July 14, 2022, visiting behind the scenes of the 18,000-acre facility about 100 miles south of Socorro.
The Spaceport America tour was organized by New Mexico Tech's Office for Advancement as part of its alumni relations outreach efforts, according to event coordinator Sandi Lucero.
"It's a fun way for alumni to stay connected to Tech and each other," she said.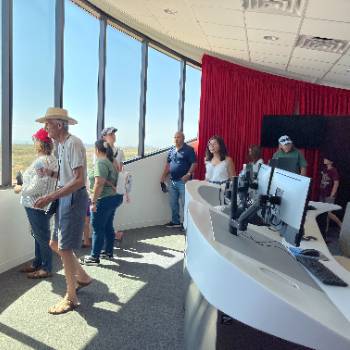 On the bus to and from the tour, Dr. Van Romero, physics professor and inaugural director of Tech's Space Science Program, provided commentary about the university's involvement with Spaceport America over the years, especially in the facility's development.
"New Mexico Tech had a lot to do with Spaceport being in New Mexico," said Dr. Romero, who served on a feasibility study committee for the facility in 1997. Because of the state's investment, he said, "New Mexico is a mecca for the space industry" and many Tech graduates are finding jobs with the three big commercial space flight companies – Virgin Galactic, Blue Origin, and SpaceX – and with associated organizations and businesses after completing internships and participating in rocketry competitions and engineering research projects during their college years.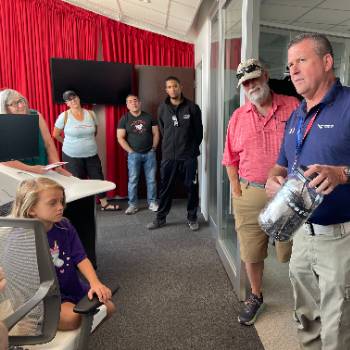 Interest in Spaceport America has grown exponentially since the historic launch on July 11, 2021, of Virgin Galactic Unity 22, carrying company founder Sir Richard Branson and five other crew members from New Mexico to the edge of space. The mission, which lasted approximately one hour and reached a peak altitude of 53.5 miles, captured the attention of millions of space flight enthusiasts across the world as well as the 5,000 people on site for the launch. Virgin Galactic, Spaceport America's main tenant, plans to offer commercial flights starting in early 2023 and has more than 1,600 people on its waiting list.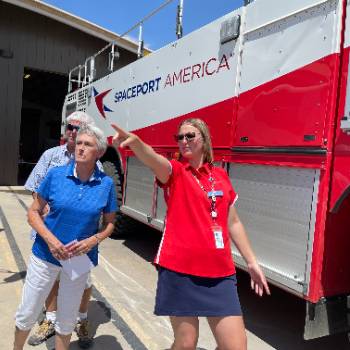 The behind-the-scenes tour provided participants with historical information about Spaceport America, which is owned and operated by the state of New Mexico, leasing its facilities to aerospace and engineering companies. The Tech group toured the site's operations center, including its fire station, emergency response vehicles, and mission control room; the runway and launch area where horizontal flights begin their journeys; and parts of the Gateway to Space Terminal Hangar, including the "astronaut's walk," a historical display and videos, and a multi-axis trainer that helps future astronauts experience the actual centrifugal forces they will be subjected to during space launches and re-entry to the Earth's atmosphere.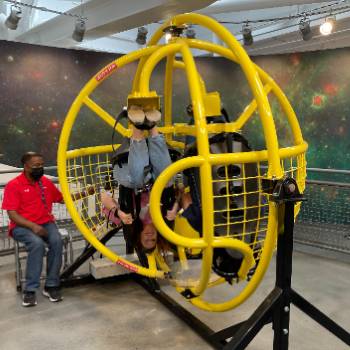 Tour participants learned that Spaceport America, which was built to accommodate both vertical and horizontal launch aerospace vehicles that fly higher than a commercial plane, is located in south-central New Mexico 20 miles south of Truth or Consequences because of its flat terrain, high altitude (4,600 feet above sea level), low area population density, abundant sunshine and mild weather, as well as its restricted air space due to its proximity to White Sands Missile Range, located on the other side of the San Andres Mountains.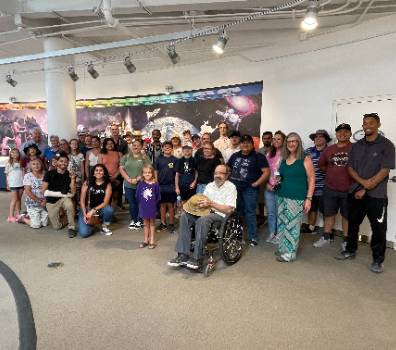 Petroleum engineering graduate student Hanh Nguyen, who is originally from Vietnam, said he signed up for the tour to learn more about the inland spaceport and the space industry. Tech alums Teresa Conner and David Pierce of Socorro said they jumped at the opportunity to learn more about the nearby space facility.
"It's cool," Conner said. "We were excited when we heard about it. Space flight is an interest of both of us. We're pretty excited to come out here."
To learn more about future Tech alumni tours and trips, contact Sandi Lucero at the Office for Advancement at 575-835-5618 or email advancement@nmt.edu.