New Mexico Tech Students Win Awards for Research Posters
Dec. 14, 2022
---
Students' research abstracts will be published in the New Mexico Journal of Science
SOCORRO, N.M. – Three New Mexico Tech students earned top awards for posters illustrating their research at the New Mexico Research Symposium. The annual conference, held Nov. 5, 2022, at the University of New Mexico in Albuquerque, features oral presentations, a poster competition, and a keynote address.
The conference, collaboratively hosted by the New Mexico Academy of Science and the New Mexico Established Program to Stimulate Competitive Research (NM EPSCoR), is geared to undergraduate and graduate students from New Mexico's colleges and universities. Presentation and poster abstracts are published in the New Mexico Journal of Science.
New Mexico Tech electrical engineering students Adrian Maez and Casie Taylor took first place in the undergraduate poster competition and also had the highest poster point total of all posters, making them the inaugural winner of the Dr. Vlad Stantovik Poster Competition, earning a cash award.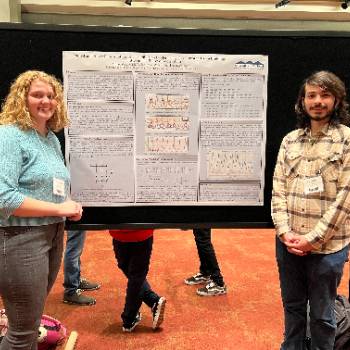 Maez and Taylor's poster, titled "Model and Power Flow Analysis of a Distribution Feeder using Data Recorded from Buildings, Facilities, and a Photovoltaic System," displayed the outcome of their efforts -- a new test distribution feeder that may be used by researchers to develop more sustainable and resilient power distribution systems in the future.
Zhirui Luo, who is studying for his doctorate in computer science and engineering at New Mexico Tech, also received a cash award for the top graduate student poster, titled "A Deep Attention Network for Non-intrusive Building Occupancy Detection Using Smart Meters." Luo's research examined smart meter data for efficient energy management.
"I liked the way this symposium gathered different audiences with different backgrounds participating in the poster session," Luo said. "I got many chances to hear about their questions and concerns about my research.