New Mexico Tech Rugby Team To Compete in National Championships
May 17, 2022
---
Miners heading to New Orleans for National Collegiate Rugby 7s Tournament May 28 to 30
SOCORRO, N.M. – The New Mexico Tech Rugby Team will compete over Memorial Day weekend in the National Collegiate Rugby 7s Tournament May 28 to 30 in New Orleans. The team, led by Coach Gearoid Dunbar, recently won the American College Rugby 15s National Championship in Dallas, Texas.
Hosted by MLR's NOLA Gold, the national championship tournament will be played at the Shrine on Airline stadium and adjacent fields over Memorial Day weekend. The three-day Collegiate Rugby Championship will bring together the top teams in the country to compete for national titles across six men's and women's divisions, including the men's Small College Division, comprised of 28 teams including New Mexico Tech.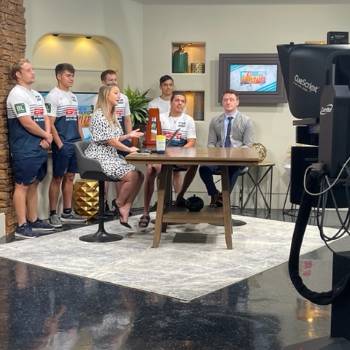 According to Coach Dunbar, a 15s game has 15 players on each team with an 80-minute playtime and 40-minute halves. A game of 7s is more intense, with seven players on each team with a 14-minute playtime and seven-minute halves.
"It's a lot of hard work to get ready for the tournament," said Coach Dunbar. "With only seven players on the field at a time, there's more responsibility. We have strong teamwork."
More information about the National Collegiate Rugby 7s Tournament is online at: www.ncrugby.org
More information about the New Mexico Tech Rugby Miners is online at: www.nmt.edu/physrec/clubs/rugby/index.php