Esports Gaming Academy Offered at New Mexico Tech
Aug. 3, 2022
---
Sixth- through 12th grade students participate on summer Saturdays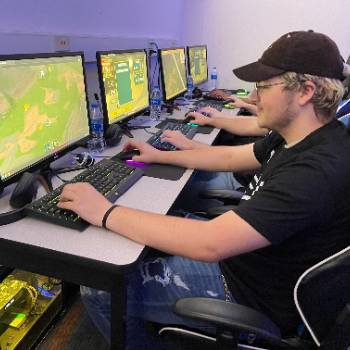 SOCORRO, N.M. – Aiming to build students' skills, confidence, and interest in electronic sports, also known as esports or gaming, New Mexico Tech is hosting an esports gaming academy eight Saturday afternoons this summer. Partnering with Ecliptix Gaming, a private esports organization, and DreamBIG, a nonprofit that offers enrichment programs, the free gaming academy is held from 1 to 4 p.m. through Aug. 20, at the esports lab in Tech's Gold Building.
Due to space reasons, the esports academy is limited to 10 sixth- through 12th-grade students of all skill levels per session on a first-come, first-serve basis. Participants are provided with T-shirts, top-tier equipment, and access to computers with the fastest Internet on the Tech campus.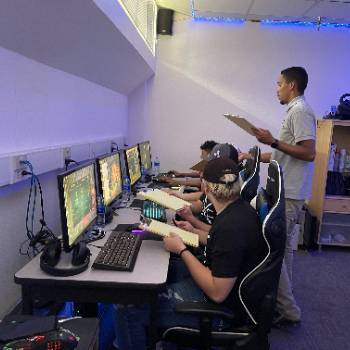 Damian Banks, esports program director at New Mexico Tech and major gifts officer within the Office of Advancement, also owns Ecliptix Gaming, a private esports organization. While Tech provides the venue for the academy, Ecliptix provides the curriculum, and DreamBIG provides clothing and equipment. Students are given access to gaming programs, such as "Rocket League" and "League of Legends," and build their own portfolios during the course of the academy.
Students also learn about careers within the growing esports industry. Roles like professional players, coaches, broadcasters, managers, and owners are explored, and opportunities to compete on a high school or collegiate level team are highlighted.
"When you're on a baseball team in high school, nobody really tells you about what it's like to be a coach, what it's like to be a scout, what it's like to be a broadcaster," Banks said. "You don't really have those conversations. You either play on the team or you don't. This is kind of taking a different angle towards that and really trying to open up everybody's minds as to the different possibilities."
Esports academy participants are exposed to the same equipment that New Mexico Tech esports team players use in their practices and competitions, Banks said.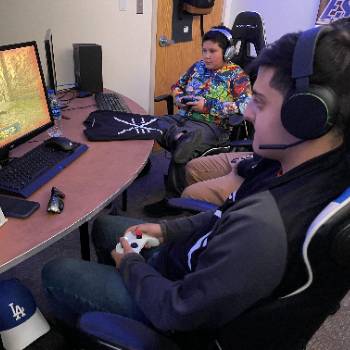 "Participants get to use the best of the best when it comes to gaming equipment, stuff that they may not have access to at home," he said. "Many gamers don't get top tier Internet.. They may not use computers that are up to date or up to competition speed. But in the Esports gaming academy, they are able to come in and practice and learn at that level."
Spending time in a college campus esports lab has had a positive effect on the grade school and high school students participating in the summer academy, Banks said.
"It's not just showing up and playing with your buddies," he said. "It's a different dynamic. You're actually thinking about your future. And if you're going to do something like play video games a lot, why not try to make a career from it? Why not try to use that as your catalyst?"
Being able to watch the students interact, learn, and grow has been incredibly rewarding for him as the instructor and sponsor of the esports academy, Banks said.
"We often see behavioral changes from 'I'm not going to college' to 'I actually really want to go to Tech now. This might be something I can do,'" he said.
This summer's academy is the first time since he formed Ecliptix that it has worked with Tech, Socorro High School, and the city of Socorro to publicize the academy and spark interest with students and parents, according to Banks. He foresees his company's expansion into Albuquerque to provide more venues and access for more students.
"We're trying to give as many kids an opportunity to be a part of this world and really understand how big it is and how many opportunities there are in general for them," Banks said. "Gaming has always been such a huge thing in Eastern countries – Korea, China, Japan. Now the western countries are starting to pick it up in the same regard. It's building to a point of becoming mainstream here."
With the success of the summer academy, Banks said the esports academy will continue at Tech during the fall and spring semesters but with a different schedule in order to accommodate the university team's practice times and matches. As the largest student organization at Tech, the esports program has continuously grown in the three years since it was created, according to Banks. The club has more than 300 members -- about one-quarter of the school's population.