Three New Mexico Tech Students Receive Recognition from Professional Engineer Society
April 27, 2022
---
NMSPE's recognition of outstanding academic careers, financial support help students succeed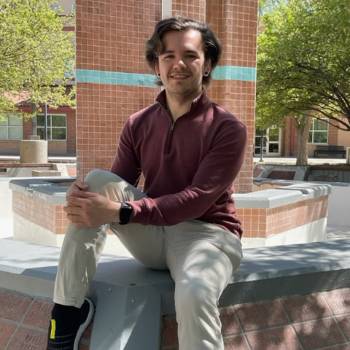 SOCORRO, N.M. – Three seniors pursuing engineering degrees from New Mexico Tech are being honored for their outstanding academic careers, activities, and contributions. Brandon McReynolds, Reilly Knox, and Britney Green recently received recognition from the Albuquerque Chapter of the New Mexico Society of Professional Engineers (NMSPE). Their awards were presented virtually via Zoom during the chapter's E-Week Conference Feb. 18. All three students will graduate May 14, 2022, with bachelor's degrees in engineering.
According to Corey Leclerc, Ph.D., dean of the Engineering Department at New Mexico Tech, three students from the three major technical universities in New Mexico are recommended for the outstanding engineer award by faculty members who are also professional engineers. Dr. Leclerc arranged an awards luncheon for the New Mexico Tech students on campus to celebrate their awards.
Brandon McReynolds, a graduate of Aztec High School, will soon receive a bachelor's degree in chemical engineering. He plans to attend graduate school at New Mexico Tech this fall, pursuing a master's degree in materials engineering researching reversible expoxies, especially in 3-D printing, under advisor John McCoy, Ph.D., professor of material and metallurgical engineering. McReynolds has been active on campus with the American Institute of Chemical Engineers (AICHE) Student Chapter, volunteered in the community by picking up trash, and led teams in Chemical Engineering Jeopardy, with questions on separations, thermodynamics, and chemical kinetics.
McReynolds said he became interested in engineering after first wanting to study astronomy and chemistry.
"I jumped around a lot," he said, but settled on engineering because it involves "trying to build things using science."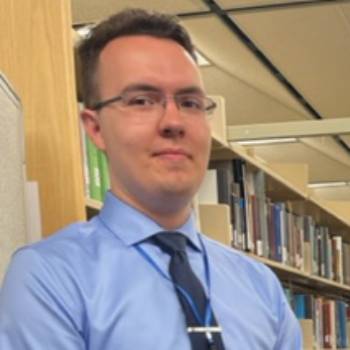 Reilly Knox, a graduate of Rio Rancho High School, will soon receive a bachelor's degree in materials engineering. He plans to attend Pennsylvania State University to pursue a doctorate in materials science and engineering. Knox is a member of the Computational Microstructure Physics Group, which does research in the area of Integrated Computational Materials Engineering under Deep Choudhuri, Ph.D., assistant professor of Materials and Metallurgical Engineering. Knox has been working on an Army Research Laboratory project in which atomistic simulations are used to identify unique molten-state structures, data that can then be used use to design melt pool and solidification behavior in alloy additive manufacturing. Knox is an officer in the Materials Engineering Society and a member of Tau Beta Pi, the Engineering Honor Society. He volunteered weekly as a teacher's aide for a freshman algebra class at a local high school when he was a member of the society's Colorado Alpha chapter at the Colorado School of Mines, where he spent the first two years of his undergraduate career before transferring to New Mexico Tech.
Knox said he knew in high school that he wanted to study a STEM-related field and had a strong interest in chemistry, physics, and mathematics.
"Near the end of my junior year of high school, I felt like the odd man out because most of my classmates already knew what they wanted to study and where they wanted to do it," he said. "There was a senior in one of my classes who was going to the School of Mines on an athletic scholarship. I had not heard of the school before so I looked it up and started browsing their list of majors, saw materials engineering in the list, read up on it, and haven't so much as thought about doing anything else since then."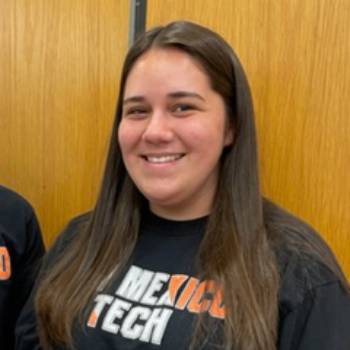 Britney Green, of Tijeras, a graduate of East Mountain High School, will soon receive a bachelor's degree in civil engineering. She plans to work as an engineer-in-training (EIT) at Wilson & Company engineering and architecture firm in Albuquerque after graduation. During her academic career, Green interned at Lee Engineering in Albuquerque, where she assisted the work of traffic engineers during the summer of 2019. In the summer of 2021, she worked on the Culvert Assessment Management Program (CAMP) at New Mexico Tech. She also worked on a research project during the 2020-2021 academic year studying the decarbonization of the transportation sector in New Mexico. Green has been a member of the American Society of Civil Engineers since 2020 and is currently serving as treasurer of the campus club. She also has been a member of Tau Beta Pi since 2020.
Green said she is looking forward to beginning her professional engineering career after graduation.
"I've always been interested in engineering due to the problem-solving aspect," she said. "It's always nice to know that you're helping other people with just a bit of hard work."
In addition to the recognition from the outstanding engineering student awards, funding from the New Mexico Society of Professional Engineers has made the difference for students pursuing professional engineering licensure, according to Dr. Leclerc. This year the society provided funding to cover faculty members' costs in presenting Fundamentals of Engineering review classes. NMSPE also covered test registration fees for the computer-based engineering exam students take in Albuquerque in their efforts to obtain a professional engineering license.
The NMSPE also helped fund student research in sustainable design courses. Funds helped students pay for equipment, materials, and testing. More information is in a story about sustainable design projects that students presented at the 2022 Student Research Symposium at New Mexico Tech.