New Mexico Tech Welcomes EV Charging Station to Socorro
July 7, 2022
---
Socorro is first city in the state to receive a publicly funded electric vehicle charging station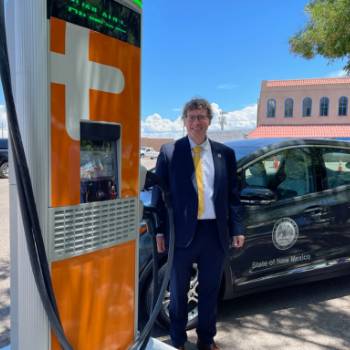 SOCORRO, N.M. – New Mexico Gov. Michelle Lujan Grisham visited Socorro today to celebrate the first electric vehicle (EV) charging station in a series to be deployed across the state. The EV charging station will be installed on city property near the Socorro Plaza, a short distance from the Tech campus, in the next few weeks and will be available for public usage.
Associate Vice President of Academic Affairs Michael Jackson, Ph.D., represented New Mexico Tech at the Governor's news conference and said Tech welcomes the EV charging station's arrival in Socorro.
"Tech is excited about the planned infrastructure to support electric vehicles being added to the Socorro community," he said. "These investments are important to help build out the alternative fuel corridor that expands access and reliability to individuals who have EVs. This infrastructure is important in helping the U.S. diversify its technology portfolio along with supporting the local economy of Socorro – that will benefit from increased interest by individuals who wish to charge their EVs here while enjoying everything Socorro has to offer."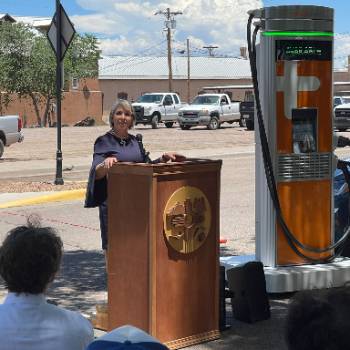 Dr. Jackson expressed thanks to the federal government for supporting and funding this initiative and to Gov. Lujan Grisham, New Mexico Department of Transportation Secretary Michael Sandoval, and local state legislators for their support and vision in bringing these facilities to Socorro.