NMT Senior Stand-outs Recognized With SPE Engineering Students of the Year Awards
March 2, 2021
---
Engineering faculty selected top annual winners from each department and overall
SOCORRO, N.M. – New Mexico Tech announced the top winners of Engineering Student of the Year awards for the 2020-21 school year.
1st Place - Trevor Fields - Electrical Engineering
2nd Place - Brenden Herkenhoff - Mechanical Engineering
3rd Place - Drew Krajeck - Civil Engineering
Honorable Mention
Morelia Cuevas, Chemical Engineering
Sabine Fuierer, Materials Engineering
Edgard Parra, Petroleum Engineering
Each engineering department nominated a top student. The faculty members who are Professional Engineers voted for the winners. Normally, the top three are honored at the annual meeting of the N.M. Society of Professional Engineers. This year, the awards were given virtually on Friday, Feb. 26, via teleconference.
Trevor Fields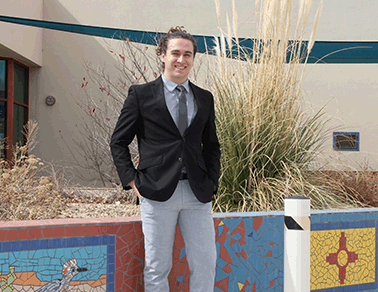 Trevor Fields knew he wanted to study electrical engineering from the time he was in middle school. What he didn't know at that time, was that one of the best programs in the country was just down the road in Socorro.
A native of Albuquerque, Fields graduated from El Dorado High School. As a teenager, he researched a list of the top electrical engineering programs in the country, then cross-referenced that list against the most affordable programs.
"New Mexico Tech was right at the optimization point – with an excellent engineering program," Fields said. "I was particularly interested in electrical engineering because the possibilities are endless. Everywhere you go, there's an e.e. component integrated. I realized that e.e. would allow me to work on any type of engineering project."
Fields was surprised to find out he won the top award.
"I feel honored to get this award," he said. "I was thinking, 'Well, now they'll have to accept me in grad school.' I am excited and honored. It's nice to feel the recognition from professors for all the extra effort over the years."
Fields completed an internship at the Air Force Research Lab in between high school and college. He also worked at EMRTC and in professor Dr. Aly El-Osery's lab, as well as a summer internship at Intel.
El-Osery nominated Fields for the award: "There are two critical things I look for when hiring students to work on research, the first is the attitude, and the second, is if they are able to work independently. Mr. Fields marked very high on both. He works very well as part of a team and doesn't hesitate to help colleagues."
Fields intends on studying optics and electrical engineering in graduate school, although he hasn't selected a school yet.
Brenden Herkenhoff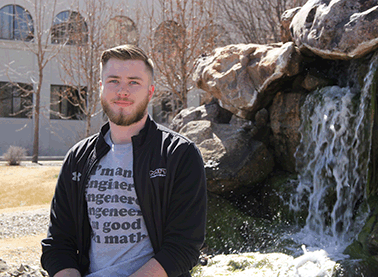 A native of Rio Rancho, Brenden Herkenhoff graduated from the ASK Academy.
Herkenhoff has also been involved with Hassanalian's project that is developing a a multi-part drone project – a flight drone that carries an amphibious drone. This sort of drone system is designed to study marine species – from fish to coral reefs – in a non-invasive manner.
He is graduating this semester with a bachelor's in mechanical engineering. He is staying on to start a doctoral program with advisor Dr. Mostafa Hassanalian in the area of drones.
He was nominated for the SPE award by faculty member Dr. Keith Miller. He wrote, "Brenden was one of the top students in [Dynamic Systems and Controls[], and from the first week of class demonstrated that he was fully committed to learning. He is aggressive in seeking clarification to engineering concepts that he does not fully understand, works hard, and does well in mastering the material."
He is the team lead for his senior design clinic team working on an underground drone, a project sponsored by Hassanalian. This drone is designed to explore mines and caves in instances that are dangerous to humans.
"I was kind of surprised to get this award," Herkenhoff said. "I kind of flew under the radar at New Mexico Tech for my first two years because I didn't do much research. It's nice to be recognized for my work. … Then, I found out and thought, 'Wow, this is really happening'."
Herkenhoff has a long family history at NMT. His great-great-grandmother was the "Grand Matron" at Tech in the early days of campus life. A plaque outside MSEC commemorates her contributions and the family's donations.
Drew Krajeck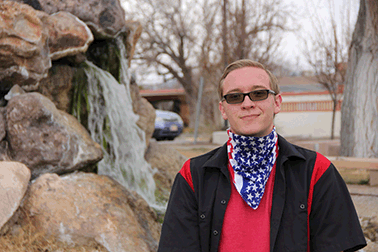 Drew Krajeck is set to graduate this semester with a bachelor's in civil engineering. A native of Albuquerque, he graduated from La Cueva High School.
"I was surprised to get this and it's kinda cool," he said. "It's a nice prize and I thought, 'Hey, I'm good at being an engineer'."
Krajeck was been a stand-out academically in all his classes and in research. He completed an internship with Chavez-Grieves Consulting in 2020 and has been involved with Dr. Claudia Wilson's research group.
In her nomination letter, Wilson wrote, "Drew is a bright individual who is always performing at the top of his classes. … I have found him to be hard-working, independent, resourceful, and reliable."
Wilson selected Krajeck to be the first student to provide management services on her project with the N.M. Department of Transportation. He moderated meetings with contractors and a technical panel, as well as reviewed invoices and writing professional reports.
He has also volunteered for outreach projects, ASCE efforts, and SGA leadership, and worked as a lab technician.
– NMT –