Bureau Lab Adds New Spectrometer, Thanks to NSF Grant
September 1, 2021
---
Proposal includes funding for science outreach program with local high school students
SOCORRO, N.M. – New Mexico Bureau of Geology Mineral Resources geochemist and analytical laboratory manager Bonnie Frey recently landed an NSF grant to purchase a new spectrometer for her lab, which supports numerous professors, scientists, students, and outreach efforts.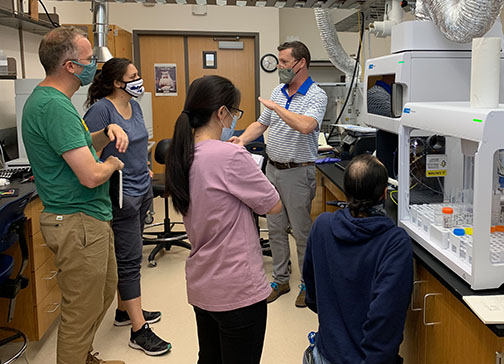 The $120,000 grant has funded the purchase of an Agilent 5900 Inductively Coupled Plasma Optical Emission Spectrometer, replacing a similar outdated/obsolete instrument.
(Bureau lab staff and scientists get a tutorial on the new OEM/NMT photo courtesy of Dr. Nicole Hurtig)
Frey's lab conducts water chemistry testing for a variety of constituents on campus as well as government agencies and other universities. Frey's co-PI's are New Mexico Tech professors Dr. Benjamin Duval in Biology, Dr. Gayan Rubasinghege in Chemistry, and Drs. Nicole Hurtig and Michael Schaefer in Earth & Environmental Science.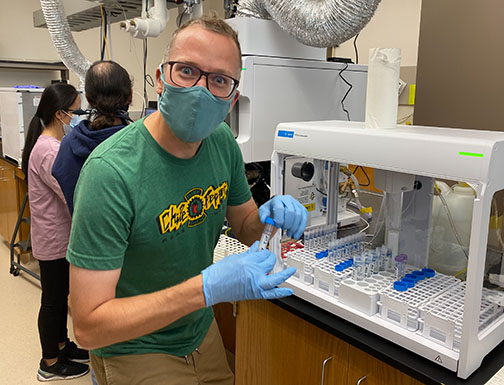 "We are mainly a water chemistry lab, but we do other testing as well," Frey said. "The new spectrometer is especially suited for running metal analysis. The Optical Emission Spectrometer will allow us to work with samples that are high in phosphates or high in rare-earth elements without much sample prep."
(At right is Dr. Alex Gysi during a training session with the new OEM/NMT photo courtesy of Dr. Nicole Hurtig)
Recently hired faculty and researchers – including Schaefer, Hurtig, and Bureau geochemist Dr. Alex Gysi (pictured at right) – are establishing programs to address the increasing need for rare earth elements, changing demands on water resources sustainability and water quality, and the urgent need to develop carbon capture and sequestration. The instrumentation will also support new research in ecology, environmental chemistry, chemo-mechanics and plasmonics nanoresearch.
The faculty members who use the lab all have graduate and undergraduate students working on funded research who use the lab and learn the instrumentation. Additionally, Frey has students on staff to help run the lab and get hands-on experience in lab operations.
Frey's award also supports a new outreach program to educate local high school students about their local water resources. This program targets science students at Socorro, Magdalena, and Alamo high schools. Frey designed the program to broaden participation – implementing a two-year high school program that supports Next Generation Science Standards.
"We are hoping to work with science teachers to provide projects for different school groups," Frey said. "They'll do sampling and see how we run tests on the instrument. They will learn what science looks like and what research looks like."
– NMT –