NMT Presents Top Faculty Awards at 2021 Graduation
May 8, 2021
---
Top faculty awards go to Dr. Nelia Dunbar, Dr. Bert Kerr, and Dr. Bruce Harrison
SOCORRO, N.M. – New Mexico Tech announced the top faculty awards for the 2020-2021 school year at the Commencement ceremony on Saturday, May 8, at the City of Socorro Sports Complex.
More than 220 members of the Class of 2021 and 2020 participated in the event. The Class of 2021 includes 446 graduates – 330 bachelor's recipients, 105 master's recipients and 11 Ph.D.'s. Hundreds of family and friends filled the venue for an event that culminated with the appearance of students dressed like Storm Troopers shooting confetti over the graduates.
The top faculty award winners are Dr. Nelia Dunbar, Distinguished Research Award; Dr. Bert Kerr, Distinguished Teaching Award; and Dr. Bruce Harrison, Distinguished Service Award.
Dr. Nelia Dunbar
The 2021 Distinguished Research Award winner is Dr. Nelia Dunbar, Director of the Bureau of Geology and Mineral Resources. The recipient of the Distinguished Research Award is chosen by a committee of Tech faculty and researchers from a list of candidates nominated by their colleagues.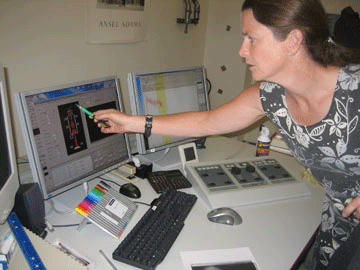 Dr. Dunbar first came to New Mexico Tech as a graduate student in 1983. She earned her master's and Ph.D. here at New Mexico Tech in geology and geochemistry. Since then, she's participated in more than 20 field campaigns in Antarctica, and research done there which formed the basis of her nominations. She has served as the New Mexico State Geologist and the Director of the Bureau since 2016.
Her nomination was supported by colleagues at the University of New Mexico, the University of Arizona, and the University of Leicester in England.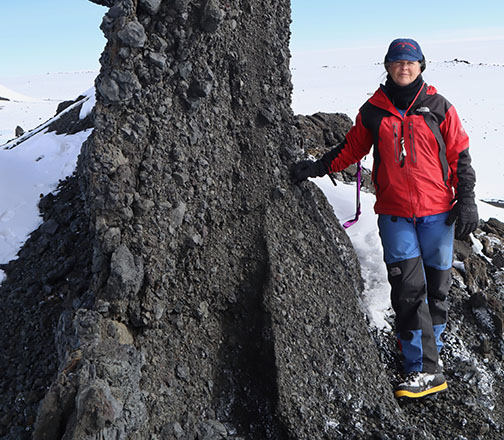 Dr. Dunbar has earned an international reputation for her work in dating studying volcanic ash in ice cores from Antarctica using her electron microprobe lab here in Socorro. In addition to work on ice cores, she has used her instrumentation and analytical skills to date study all sorts of rocks, minerals, and even human fossil remains.
Dr. Jay Quade of the University of Arizona wrote, "I regard Nelia as one of the best volcanic petrologists in the country. Her excellence flows from having worked on so many different volcanic rocks globally. "
Dr. Karl Karlstrom of the University of New Mexico wrote "Equally impressive to me personally is the collaborative and service context of Nelia's research accomplishments Her dedication to New Mexico Tech, the New Mexico Geological Society and New Mexico State Geologists have been unwavering for decades. … she insists on excellence in all realms of geoscience research, teaching and service."
Dr. John Smellie of the University of Leicester, wrote that "I was immediately impressed by two particular aspects of her character – 1) her ability to get on with and mediate between disparate groups of mostly male and often warring geologists, and 2) her considerable camp management abilities."
Smellie also praised Dr. Dunbar for creating the largest and highest-quality dataset of tephra volcanic ash analyses for Antarctica that have significantly enhanced our ability to correlate ice cores and the history of volcanic eruptions globally.
Each of the letter writers offered unqualified praised for Dr. Dunbar's breadth and depth of her research. They cited her high h-factor of 37 and her citations, which number more than 4,500.
Dr. Bert Kerr
The Distinguished Teaching Award of 2021 winner is Dr. Bert Kerr of the Mathematics Department. Dr. Kerr was nominated by 9 students, who offered detailed praise for his teaching skills, his knack for engaging students, and for his sense of humor.
One student wrote, "Dr. Kerr has such a contagious spirit and excitement about his field that keeps students engaged and really interested in applied mathematics."
Dr. Kerr earned his bachelor's degree at Heriot-Watt University in Edinburgh, Scotland. He then came stateside and earned his master's and Ph.D. at Old Dominion University in Virginia in computational and applied mathematics. He spent one year at New Mexico Tech as a visiting professor, and then officially joined the faculty in 1995.
Another wrote, "Best professor ever. He makes math fun and I never felt intimidated when going to office hours. He truly cares about his students and you can tell that he wants you to succeed!"
Dr. Kerr has published more than a dozen research papers over the years, along with colleagues at Sandia National Laboratory which has also accounted for more than $500,000 in funding to New Mexico Tech. But this award is for his teaching acumen.
One more student wrote, "Bert always goes the extra mile to make sure students are successful in learning the material. He makes extra lecture material for every class and creates extensive review sheets. He is always accessible for questions and clearly takes pleasure in teaching. He is also rather entertaining and uses humor to make sure students are engaged. His adaptation to the online course delivery has been impeccable."
Finally, one of our more literary and concise students wrote, "He be dank."
Dr. Kerr is also the first faculty member to ever win this award twice.
Dr. Bruce Harrison
The recipient of the 2021 Distinguished Service Award is Dr. Bruce Harrison of the Earth and Environmental Science Department. Dr. Harrison was nominated for this award for his long-term advocacy for transfer students, especially from minority-serving and international institutions. Since joining the faculty in 1994, he has secured more than $2 million in grants to support these initiatives.
Dr. Harrison earned his bachelor's and master's degree in agricultural science at Lincoln College of Canterbury in his native New Zealand. He came to New Mexico in the 1986 to get his Ph.D. in geology at the University of New Mexico. After doing a post-doc in Jerusalem, Israel, Dr. Harrison returned to New Mexico and a teaching post at New Mexico Tech in 1994.
In the nomination letters, his colleagues praised him for advocating relentlessly on behalf of students transferring to Tech. He has long argued that NMT admissions and NMT faculty must work together to improve students' transitions to Tech.
More importantly, Dr. Harrison has been the much-needed boots on the ground in traveling to these schools and establishing relationships with both prospective Techies and administrators.
Notable efforts that Dr. Harrison has championed are the creation of a center for Hydrologic Innovation and also a center of Artificial Intelligence and Data Science. Dr. Harrison is a member of the team that is working with NMT alumnus Dr. Raul Deju to create the Hydrologic research center. These new programs have created collaborations with national research laboratories and other departments at NMT.
Dr. Harrison has been a co-author of more than 45 papers, and more than 40 conference presentations. He has had a dozen master's students in geology and another 15 students in the Masters of Science for Teachers program.
In short, Dr. Harrison has shown countless times, both in his academic pursuits and his service to the institution, that he is a loyal and dedicated champion for students and for New Mexico Tech.
– NMT –