New Mexico Tech Extends President Wells' Contract
july 14, 2020
---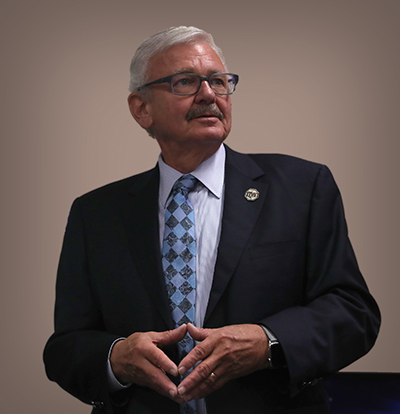 SOCORRO, NM -- The New Mexico Institute of Mining and Technology is pleased to announce that its Board of Regents has voted unanimously to extend the contract of President Stephen G. Wells for a second five-year term beginning on July 1, 2021.

Deborah Peacock, chair of the NMT Board of Regents said, " President Wells has the full support of all the Regents, and we have been highly impressed by what he has accomplished during his first four years at Tech, including his focus on entrepreneurialism. He is a leader in our State and globally regarding higher education, research, and the university's response to the pandemic."

Under President Wells' guidance during the previous four years, NMT is consistently ranked the top university in New Mexico and has earned some impressive accolades and rankings from prestigious national sources. For example, NMT was named No. 1 nationally in College Factual's Engineering and Physics value ratings in both 2017 and 2018 and is constantly ranked among Niche's Top 100 Public Universities in the United States. New Mexico Tech's engineering programs have ranked in the Top 1% nationwide for ROI, and in the top 10% of all engineering programs across the U.S.
Under his leadership, the university has collaborated to set a vision for 2027 that includes, achieving a Carnegie Doctoral-granting Institution status; becoming an Entrepreneurial, or STE2M®, University, where innovations by students, faculty, and staff are encouraged, supported, and rewarded. Tech has significantly increased research funding and outputs at all levels (academic units and research centers); and increased undergraduate enrollment by attracting students not only from New Mexico, but through partnerships in Mexico, Latin America and other countries around the globe. In order to achieve this vision, President Wells, working in conjunction with the NMT Foundation, has initiated a $100 million comprehensive campaign over the next five years.

More recently, President Wells has guided the university through the ongoing COVID-19 pandemic in a manner that prioritizes the health and safety of not only those in the NMT community but also that of the Socorro community and the region at large.

Dr. Wells said, "It is the highest honor of my professional life to serve as the President of New Mexico Tech. I want to express my deepest gratitude to our Regents for their support and confidence, allowing me to continue as president. I am very pleased with the progress we have made over the last four years, but there is still work to be done. Tech has long enjoyed a reputation for a world-class education, and we have added an entrepreneurial component that complements the education by giving students the tools to take their work to market more effectively. This contract extension allows us to continue that work and to further ensure that NMT remains among the best choices for a STEM education in New Mexico, the US, and globally."